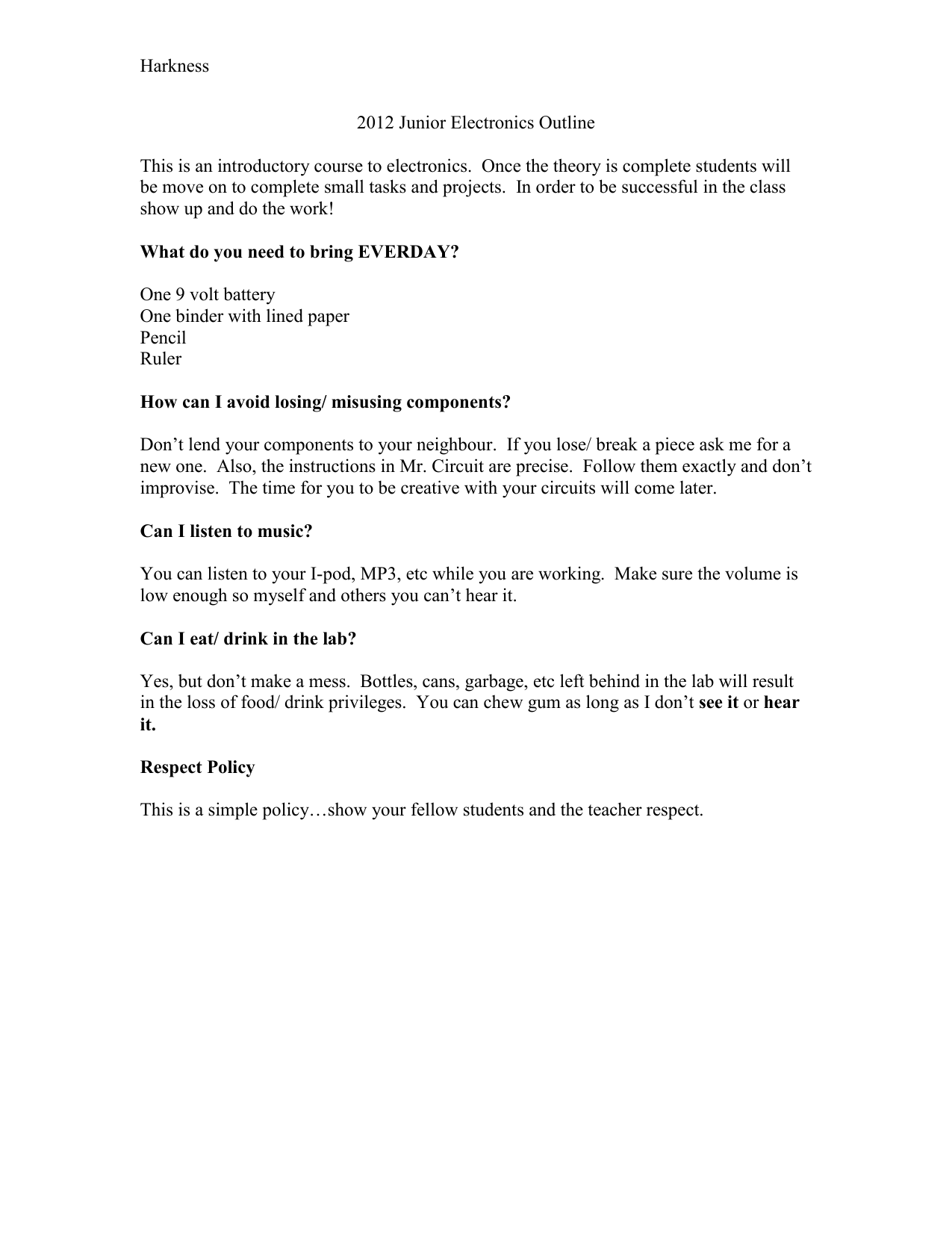 Harkness
2012 Junior Electronics Outline
This is an introductory course to electronics. Once the theory is complete students will
be move on to complete small tasks and projects. In order to be successful in the class
show up and do the work!
What do you need to bring EVERDAY?
One 9 volt battery
One binder with lined paper
Pencil
Ruler
How can I avoid losing/ misusing components?
Don't lend your components to your neighbour. If you lose/ break a piece ask me for a
new one. Also, the instructions in Mr. Circuit are precise. Follow them exactly and don't
improvise. The time for you to be creative with your circuits will come later.
Can I listen to music?
You can listen to your I-pod, MP3, etc while you are working. Make sure the volume is
low enough so myself and others you can't hear it.
Can I eat/ drink in the lab?
Yes, but don't make a mess. Bottles, cans, garbage, etc left behind in the lab will result
in the loss of food/ drink privileges. You can chew gum as long as I don't see it or hear
it.
Respect Policy
This is a simple policy…show your fellow students and the teacher respect.
Harkness
How will I be marked?
Term 1
Introduction to electronics computer assignment
Mr. Circuit theory and practice
Introduction to Design Project (Oct or Nov)
Electronics Video project
Lab conduct (daily mark out of 5)
10%
55%
10%
15%
10%
Term 2
Mr. Circuit theory and practice
Lab conduct (daily mark out of 5)
Roulette Wheel (after Mr. Circuit)
Electronics Video project
Extra Projects
65%
10%
10%
15%
Bonus!
Enjoy the semester!