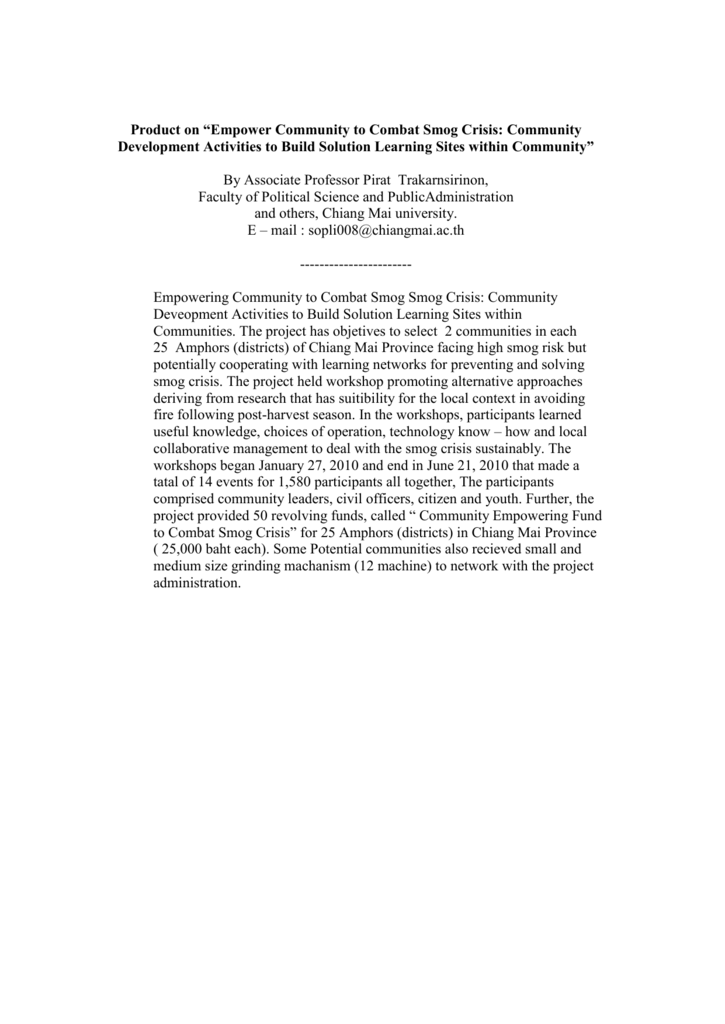 Product on "Empower Community to Combat Smog Crisis: Community
Development Activities to Build Solution Learning Sites within Community"
By Associate Professor Pirat Trakarnsirinon,
Faculty of Political Science and PublicAdministration
and others, Chiang Mai university.
E – mail : [email protected]
----------------------Empowering Community to Combat Smog Smog Crisis: Community
Deveopment Activities to Build Solution Learning Sites within
Communities. The project has objetives to select 2 communities in each
25 Amphors (districts) of Chiang Mai Province facing high smog risk but
potentially cooperating with learning networks for preventing and solving
smog crisis. The project held workshop promoting alternative approaches
deriving from research that has suitibility for the local context in avoiding
fire following post-harvest season. In the workshops, participants learned
useful knowledge, choices of operation, technology know – how and local
collaborative management to deal with the smog crisis sustainably. The
workshops began January 27, 2010 and end in June 21, 2010 that made a
tatal of 14 events for 1,580 participants all together, The participants
comprised community leaders, civil officers, citizen and youth. Further, the
project provided 50 revolving funds, called " Community Empowering Fund
to Combat Smog Crisis" for 25 Amphors (districts) in Chiang Mai Province
( 25,000 baht each). Some Potential communities also recieved small and
medium size grinding machanism (12 machine) to network with the project
administration.