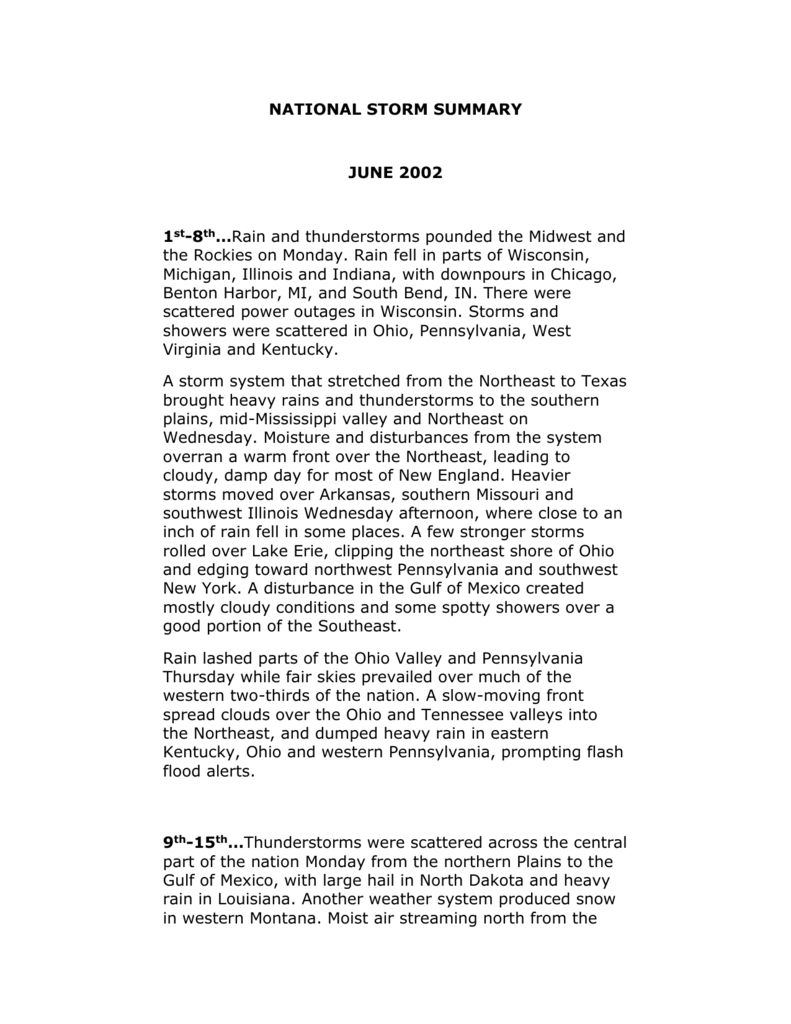 NATIONAL STORM SUMMARY
JUNE 2002
1st-8th…Rain and thunderstorms pounded the Midwest and
the Rockies on Monday. Rain fell in parts of Wisconsin,
Michigan, Illinois and Indiana, with downpours in Chicago,
Benton Harbor, MI, and South Bend, IN. There were
scattered power outages in Wisconsin. Storms and
showers were scattered in Ohio, Pennsylvania, West
Virginia and Kentucky.
A storm system that stretched from the Northeast to Texas
brought heavy rains and thunderstorms to the southern
plains, mid-Mississippi valley and Northeast on
Wednesday. Moisture and disturbances from the system
overran a warm front over the Northeast, leading to
cloudy, damp day for most of New England. Heavier
storms moved over Arkansas, southern Missouri and
southwest Illinois Wednesday afternoon, where close to an
inch of rain fell in some places. A few stronger storms
rolled over Lake Erie, clipping the northeast shore of Ohio
and edging toward northwest Pennsylvania and southwest
New York. A disturbance in the Gulf of Mexico created
mostly cloudy conditions and some spotty showers over a
good portion of the Southeast.
Rain lashed parts of the Ohio Valley and Pennsylvania
Thursday while fair skies prevailed over much of the
western two-thirds of the nation. A slow-moving front
spread clouds over the Ohio and Tennessee valleys into
the Northeast, and dumped heavy rain in eastern
Kentucky, Ohio and western Pennsylvania, prompting flash
flood alerts.
9th-15th…Thunderstorms were scattered across the central
part of the nation Monday from the northern Plains to the
Gulf of Mexico, with large hail in North Dakota and heavy
rain in Louisiana. Another weather system produced snow
in western Montana. Moist air streaming north from the
Gulf combined with low pressure centered over the
Dakotas to produce the wet, stormy weather.
Thunderstorms over northeastern North Dakota and
northern Minnesota produced heavy rain and wind gusting
to more than 50 mph. Hail more than 11/2 inches in
diameter was reported at Halliday, ND. Warroad, MN,
collected more than 2 inches of rain, and nearly an inch fell
at Devil's Lake and Dickinson, ND. Residents of Ada, MN,
piled sandbags against flooding on streams swollen by
more than 8 inches of rain that fell Saturday. Showers and
strong thunderstorms also extended southward through
parts of Minnesota, Wisconsin, Iowa, Illinois, Missouri,
Arkansas, Louisiana and Mississippi, the eastern edge of
Texas and western portions of Kentucky and Tennessee.
More than 2 inches of rain was reported during the
morning in the area of Lake Charles, LA. Showers were
scattered over parts of Nebraska, Kansas, Oklahoma and
Texas. Showers and thunderstorms also developed during
the afternoon across wide areas of Florida and
southeastern Georgia. The rain changed to snow over the
northern Rockies, and a winter storm warning was posted
along the mountains in Montana.
Intense storms dumped heavy rain in the central Plains
and Ohio Valley on Wednesday and moved into the
Northeast later in the day. The storms caused blinding
downpours, gusty winds and heavy lightning in Kansas and
Oklahoma. Rain fell at an estimated rate of an inch an hour
in Crawford, KS, and a flash flood warning was issued.
More than three inches of rain was recorded in parts of the
region, and wind gusted over 60 mph. The storms also
dumped heavy rain in Missouri and the Ohio Valley. The
clouds pushed into the Northeast, and rain also fell in
northern New England. Berlin, NH, recorded more than two
inches of rain.
16th-22nd…Scattered showers and thunderstorms rolled
across Florida and the Gulf Coast on Monday afternoon.
Fort Myers, FL, saw heavy downpours as a weak boundary
situated near the Southeast coast drew in moisture from
the south and southwest. An upper trough near the
Northeast also pulled in moisture, resulting in scattered
showers and thunderstorms, particularly around northern
Virginia, Washington, D.C., Maryland, Pennsylvania and
New Jersey. Isolated storms produced hail in Burlington
County, NJ. Widespread rain and thunderstorms were
reported across eastern Minnesota, Wisconsin, eastern
Iowa and northwestern Illinois. A few Iowa counties
reported flooding.
The central third of the nation received heavy rain with
some thunderstorms and severe weather on Friday.
Rainfall ranged from 1 to 2 inches, with isolated areas
receiving well over 3 inches. Litchfield, MN, received 3.4
inches by midday, while Brookings, SD, reported 3.97
inches.
23rd-30th…Thunderstorms stretched from the Plains to the
East Coast on Wednesday, with some strong storms and
heavy rain in the Midwest and along the Gulf Coast.
A cold front moving across the Plains and Midwest kicked
off a line of thunderstorms that moved during the morning
across parts of Iowa, northern sections of Illinois and
Indiana, and southern Michigan. A few showers and storms
also stretched into parts of Nebraska and Kansas. More
than an inch and a half of rain fell at Iowa City, Iowa, and
more than a half-inch was reported in parts of the Chicago.
Another area of storms developed along the western Gulf
Coast and expanded rapidly inland across eastern Texas,
Louisiana, Mississippi, Alabama, Arkansas and eastern
Oklahoma. More thunderstorms formed across Florida,
Georgia and the Carolinas, and spread during the
afternoon into eastern sections of Tennessee and across
much of Virginia and Maryland. Strong storms were
reported in parts of Louisiana and Mississippi, and in
Florida, where heavy rain fell around the Miami area.