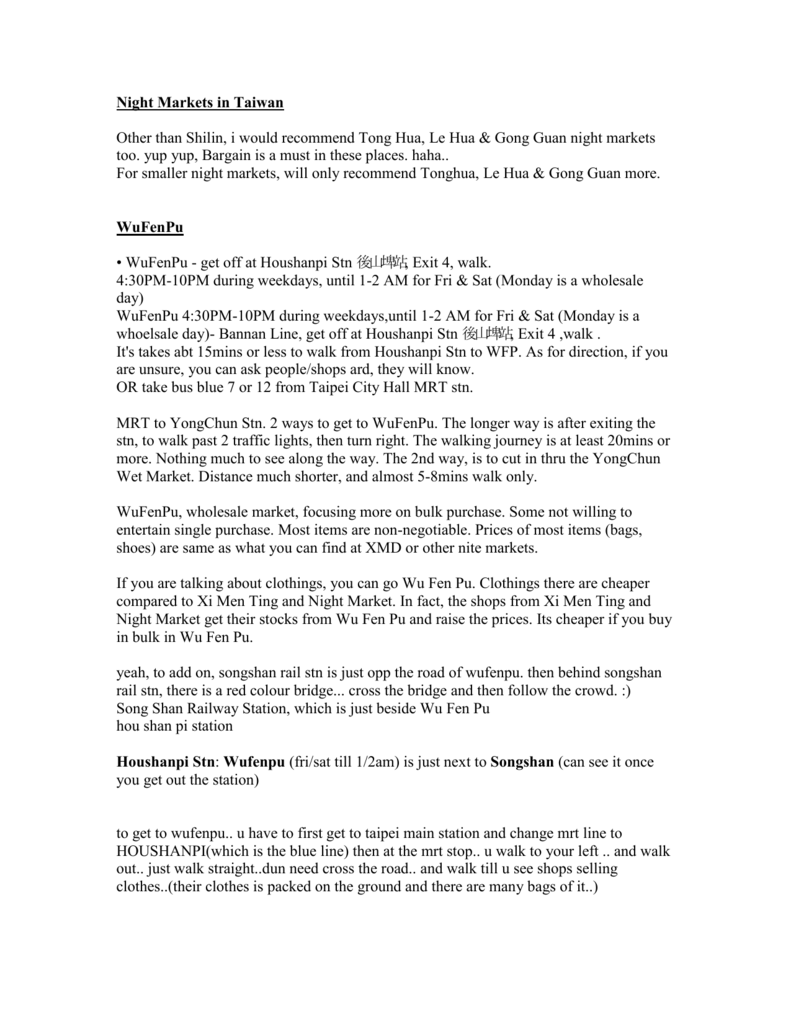 Night Markets in Taiwan
Other than Shilin, i would recommend Tong Hua, Le Hua & Gong Guan night markets
too. yup yup, Bargain is a must in these places. haha..
For smaller night markets, will only recommend Tonghua, Le Hua & Gong Guan more.
WuFenPu
• WuFenPu - get off at Houshanpi Stn 後山埤站, Exit 4, walk.
4:30PM-10PM during weekdays, until 1-2 AM for Fri & Sat (Monday is a wholesale
day)
WuFenPu 4:30PM-10PM during weekdays,until 1-2 AM for Fri & Sat (Monday is a
whoelsale day)- Bannan Line, get off at Houshanpi Stn 後山埤站, Exit 4 ,walk .
It's takes abt 15mins or less to walk from Houshanpi Stn to WFP. As for direction, if you
are unsure, you can ask people/shops ard, they will know.
OR take bus blue 7 or 12 from Taipei City Hall MRT stn.
MRT to YongChun Stn. 2 ways to get to WuFenPu. The longer way is after exiting the
stn, to walk past 2 traffic lights, then turn right. The walking journey is at least 20mins or
more. Nothing much to see along the way. The 2nd way, is to cut in thru the YongChun
Wet Market. Distance much shorter, and almost 5-8mins walk only.
WuFenPu, wholesale market, focusing more on bulk purchase. Some not willing to
entertain single purchase. Most items are non-negotiable. Prices of most items (bags,
shoes) are same as what you can find at XMD or other nite markets.
If you are talking about clothings, you can go Wu Fen Pu. Clothings there are cheaper
compared to Xi Men Ting and Night Market. In fact, the shops from Xi Men Ting and
Night Market get their stocks from Wu Fen Pu and raise the prices. Its cheaper if you buy
in bulk in Wu Fen Pu.
yeah, to add on, songshan rail stn is just opp the road of wufenpu. then behind songshan
rail stn, there is a red colour bridge... cross the bridge and then follow the crowd. :)
Song Shan Railway Station, which is just beside Wu Fen Pu
hou shan pi station
Houshanpi Stn: Wufenpu (fri/sat till 1/2am) is just next to Songshan (can see it once
you get out the station)
to get to wufenpu.. u have to first get to taipei main station and change mrt line to
HOUSHANPI(which is the blue line) then at the mrt stop.. u walk to your left .. and walk
out.. just walk straight..dun need cross the road.. and walk till u see shops selling
clothes..(their clothes is packed on the ground and there are many bags of it..)
• Shilin Night Market - Take MRT to Jiantan station, the night market is just opposite the
station. 07:00 PM - 01:30 AM
WuFenPu (Take MRT to Hou Shan Pi Stn/train to Song Sang Station. Open 1pm to
10pm. Avoid Mon. Nicer clothes can be found near Song Sang Station)
To get real cheap stuff at NT100 and up, best is to take train to songshan station. wfp is
just 5 minutes away and raohe nm is just across the bridge from the station. Basically go
raohe nm is just for the smelly toufu, the hu jiao bing and the japanese pizza which is
way better than sg pasar malam ones.
do nt go wfp on mon, and seriously i dun recommend gg to wfp to shop, cos frm my last
exp, it seems they only keen to entertain wholesalers or large buyers. If u r just buying a
piece frm the shop, they charge as expensive as XMD. Most of my shopping loots are
gotten frm SHilin NM, which basically has EVERYTHING and MUCH CHEAPER!
Trust me, i'm a shopping freak too and Shilin is indeed a BARGAIN SHOPPING
PARADISE!
Oh no, its a Tuesday. And its not advisable for u to go to WuFengPu. Becuz normally
Monday is their wholesale day, YES. But, sometimes, depends on the weather. If
Monday weather not good, alot of purchasers will go on Tuesdays instead. Thus, Mon
and Tues is more of a WHOLESALE day for WuFengpu. And as usual, they dont
entertain people who are not doing wholesale.... Its actually advised by one of the
wholesalers there when I was there doing some wholesale purchases with my friends last
yr... They strongly advise non-wholesalers to avoid gg on Mon and Tues... Best time to
go WuFengPu is Fri and Sat. Sat normally they will open till 11plus pm... Can really shop
till u drop!
Wufenpu only opens after 2pm, and only two mrt stops away from Taipei cityhall station.
i read in previous post ..sm podders mentioned that to go wufenpu ..its bettter to go
hou pi shan or hou shan pi stn..cos thats e part where the ncier clothes are...is this a
MRT route or? cos i cant seem to find it on the mrt track...any1 can help ??
hey..
just alight at 后山埤MRT (the blue line)
五分鋪is just opp the station :)
oh..so u mean algiht at the song shan MRT stn ? and jus cross over opposite n thats
wufenpu? it has got nicer n cheaper stuff there huh..
Actually Song Shan Station is directly opposite Wu Fen Pu. If you go by Hou Shan Pi
MRT, you have to walk about 5 - 10 minutes, which is what i did. Wu Fen Pu is quite
big. I started from the side that is near Hou Shan Pi station and ended up walking to the
other side which is opposite Song Shan station.
During my trip there, I went to Wu Fen Pu twice. I shopped from 2pm - 6pm. Think most
shops there open after 2pm. While you can get some good buys there, some of the prettier
clothes can be quite expensive. I saw some nice dresses there that cost SGD 80++.
Usually those that are more expensive, are design imported from korea. But overall, I still
managed to buy tops / skirts that cost over SGD 20+.
i think its better to alight at hou shan pi.. that time i alight from there ard 1pm+ shop to
7pm...then go rao he nite market~ like that more shun lu ba .. then take train from song
shan back or walk back to hou shan pi.. that time when i walk back..ard 10pm+ not so
much shop open liao loh .. u better go earlier ~
btw.. rao he have hu jiao bing gues its very famous the que damn long... and they have
super big tako pachi (octopus ball)almost as big as your palm..nv get to try~ :(
To go to Wu Fen Pu, alight at Hou Shan Pi Station (Exit 1), when u come out from the
underground, look opposite, there's a red building (few storeys only) tats Wu Fen Pu.
Song Shan Si Station better?? Podders claims cheaper clothes from that way
apparently wu fen pu is @ Hou Shan Pi station.. accessible by the MRT or the train.. but
they say better take the train and alight @ Songshan Station as it would be nearer to walk.
Wu Fen Pu - Can take Train to Song Shan Station, its faster (1 stop from Taipei Train
Station) in my opinion. Come out from Song Shan Train station turn left and cross the
road u can reach WFP. Very easy. While right side is Rao He Night Market.
It is best to visit shilin at ard 10pm. That's when all the hawkers are out on the
streets.You will also observed a very interesting sight. All the hawkers will suddenly
disappeared at ard 1am.hahaha. I shopped from 10pm til 2am. Super tiring
WFP - go after 1 or 2pm
Raohe饒河夜市
• Raohe St. night market 饒河夜市- Wufenpu is on one side and the other side is Raohe
night market. Across the road at the松山火車站and use the overhead bridge to get to
饒河夜市
Raohe St. night market- Across the road at the松山火車站and use the overhead bridge. It's
just a different 'entrance' from the Houshanpi side..
raohe very near wufenpu. if u are wufenpu, find out how to go to songshan railway
station. very near only den cross over the bridge at songshan to reach raohe night
market
Raohe NM - I like this night market. Not as crowded as shihlin, and i find some stuffs
even cheapr than shihlin. Yes, the luggage bag i bought is cheaper by shihlin by NT500.
to avoid crowd, go during wkdays slightly before night falls.
Raohe Night Market is behind Song Shan Station (Highly recommended foods: Hu Jiao
Bing, mango ice)
Raohe - Go by rail is Songshan Railway station, cross overhead bridge.
Raohe NM - I like this night market. Not as crowded as shihlin, and i find some stuffs
even cheapr than shihlin. Yes, the luggage bag i bought is cheaper by shihlin by NT500.
to avoid crowd, go during wkdays slightly before night falls.
Raohe St. Night Market 绕河夜市
After going to Wu Fen Pu -> Walk to Songshan Station -> There's a red bridge (See The Sign) ->
Cross over to the other side OR
Taipei Main Station 台北车站 -> Take Bus 605 or 276 -> Stop at entrance of Raohe
Shihlin Night Market
MRT from Taipei Railway Stn to Jian Tan Stn is NT25. Take note to alight at Jian Tan
Stn, instead of Shihlin Stn.
2 sections there. 1st section is the makan area, like a huge foodcentre. Has lots of nice
taiwanese foodfare., There's a constant queue for the big Chicken Cutlet. Also, the stench
of smelly beancurd is overwhelming... We tried the wanton soup (1st stall at main
entrance) after our proper meal, and its really good.
2nd section is opposite the makan area. Lots of shoppings, and roadside stalls. Shoes are
relatively cheap for their trendy designs NT$390. Take note to bargain, cos though they
say fixed price, but when we gt 2 pairs, the price was reduced to NT$350 each. Dun be
surprised if u halfway thru your haggling at the rdside stalls, u see the vendors packing up
and run. Its the authorities coming after them. Just 30secs u cant find space to walk cos of
the many stores, the next 30 secs, spacious area cos all cleared.
must-try food are ah zhong mian xian & the bbq muah chee in choc flavour! nice!
Also, we went shilin 3 times, but only on our last night then we realized tt we went to the
'wrong' shilin..
directly opp. the jiantan mrt station is a 'shilin fd centre', which is not the 'authentic' shilin
nite mkt cos its something like a hawker centre.. u gotta walk diagonally to the other
side.. tts where all the famous shilin nite mkt fd are.. n its open air. anyhow, the oyster
omelette @ the 'shilin fd centre' is vv nice! there are many stalls selling it n there is this
stall wif many poster n recommendations.. they filmed zhuan jiao yu dao ai @ tt stall too,
tts the one! walk to the extreme right n go straight in. its somewhere in e middle, towards
e back.
Take note that Shilin Night Market is diagonally across JianTan Mrt. Not the one
opposite it that only sells food at night. Should try to go there at about 5++pm when all
the street hawkers are just opening their stalls
Shilin is definately much better than wfp and raohe night market coz it's more
concentrated but it really depends. I managed to get quite some stuff at wfp, it's really a
huge area and they cater to different age grp and diff income grp at diff parts of wfp.
For Shilin, you can expect the hawkers to be there til 1am. Taiwan has really quite a
happening nite life unlike SG. You can still see ppl queuing for food in the alley at 2am.
Shilin - about 4 to 5pm
on weekdays.. i guess shilin closes shop by shop.. it dun close altogether.. but i think by
12..alot of them are closed le..raohe should be around the same
Shihlin NM - Jiantan MRT (Some do say Shihlin MRT is accessible to it) but stop at
jiantan easier in my opinion
Shilin night market
What's there : night market got food, shoes and everything. Go abt 7pm to midnight. Fri
and weekend more happening
Get there : Take mrt to Jiantan(Chientan) mrt, use exit 1 or 2?, cross the road, n there is
shilin nite market
Shihlin Night Market 士林夜市
Jiantan Station 剑潭-> Exit 2
(Shopping remember to bargain cos the price might be slightly more x than XMD or
Raohe Night market.)
Shihlin night market is just directly opposite jiantan mrt station.
Shilin night market.... Food and snacks are superb!! try the thousand layer strawberry
ice(the ice is flavoured, not like those white ice with strawberry sauce)... try smelly
doufu..... "i like". try the hao da da chicken cutlet...... try the jumbo sausage and must try
the BBQ muah chee..... very nice... its a small stall managed by a japanese couple....
they provide very good service and for 50NT you get 6 muah chee with your desired
sauce..... the cheese flavour is ... must eat woa.... Shopping wise is not must of a
bargain... canot bargain much cos they will say already special price.... best is to get
clothings from Wufenpu.
for shilin, u just cross opp the jiantan station,u'll see the food centre,den when u stand at
the food centre,food centre on ur left, station on ur right, u walk straight down, u'll see
buildings with lights and shops,that it shilin night market.dont forget go upstairs, got
great deals like 2 for 390NT clothes
for shilin u see the food place which is directly opp the station,den u walk diagonally
down,towards the left when ure at the food centre,den u see many lights and buildings(
wont go wrong cos the other side no buildings) den u'll see alot of shops and people
le.dont worry,even if u cant find,u just ask ppl they'll know.
Tong Hua
Tong Hua - Liu Zhang Li MRT station, follow by 15mins walk
Linjiang/Tonghua Night market - Liuzhangli MRT
Lingjiang / Tonghua Street NM - A small scale , easy to move around.
Gong Guan
Gong Guan Night Market 公馆夜市
Gongguan Station 公馆站-> Exit 4
Gongguan NM - The only one that open in the day. As usual stores selling mostly girl's
stuff. most of them located in stores, not those pushcarts type. They have nice snacks
there too.
just take their jie yun to gong guan station (green line). adidas outlet is opposite the
Taiwan Uni situated there ... which is abt 10 minutes walk from the station ...
their sports stores are situated all around the gong guan station, just walk around it. there
is a gong guan night market there too ...
i bought my dresses at gongguan night market... in fact i like there more cos.. its less
crowded though lesser stuff but.. at least i saw nice dresses... i bought my dress at 600
and xmd sells at 1280.... another dress i buy at shilin for 290.. xmd sells.. 580...
GongGuan NM so so only loh.. not comparable to Shihlin
- Gong Guan - Gong Guan MRT station
Gongguan Market you can take their MRT to the station called GONGGUAN. just come
out from the station, it is the market already.
Gongguan area lots of hotpot buffet restaurants priced at 20bucks/pax & southeast asian
food like viet, thai etc. Shopping mainly clothes and sports apparel as student area.
MRT: Gongguan station (green line), exit opposite NTU iirc exit 1 or 4.
Gongguan Day/Night market - Gongguan MRT
Gong Guan night market 公馆has many food stalls, cafes and shops. Recommended if
you tired of Shilin. Can try the chiken chop (boneless) 鸡腿排, a stall which has long Q. It
come with salad topping.
Gong Guan Night Market 公馆夜市
Gongguan Station 公馆站-> Exit 4
Shida
Shida Night Market 师大夜市
Taipower Building Station 台电大楼站-> Exit 3
Shihda NM - A small scale one, pack with food and shops. Some shops sells imported
stuffs that makes it expensive. Not much shopping for me to do here.
- Shi Da - pretty near to gong guan, nearest MRT station is Tai Power Building Station
(Tai Dian Da Lou), exit 3, turn right & right again to walk in the streets where there are
row of small shops. when you walked pass the second watson, turn right to get to shida
road.
Shida: Good mix of food and shopping. Youthful vibrant night market frequented by
Shida students. Another night market good for shopping and some food is Gongguan
nearby.
You can take the MRT to either Guting or Taipower Building stations. (I think the latter
may be nearer) Just ask around when you are there. If i recall correctly, the night market
is like across the road from Taipower Building MRT. :D Just to let you know, Shida is
small compared to Shilin or even Raohe. But still quite nice! :good:
Is Shida dn Gong Guan night market good for shopping n food? Cheap? How is it
compared to Raohe and Shilin?
=> From my understanding, Shi Da is frequent more by their uni students. Oh ya ... i
heard got good food there also. I saw a street of shopping stretch when i was in Gong
Guan when i was there. I saw shops selling clothes, boots, book stores etc ... . However,
this two are on a smaller scale compared to Shi Lin.
shida i haven been to but apparently heard that food cheaper over there coz cater to
students...gong guan don really have like nite market officially but there is a whole area
for food....gong guan is where u can find sports stuff too coz they have like a whole
stretch of nike, addidas etc....
For Shida market.. get down at Guting station.. i can't remember which exit that would
be.. but u have to walk quite a while to get there.. walk past Shi Da University then u turn
right and walk in.. there will be blocks of hostels i think.. after which Shida Night Market
can be seen.. quite prominent lar..
Shida Night Market (very crowded on Weekends, OH: afternoon - 22.30)
Shida Road and Longquan St. , Taipower Building Station, Exit 3, 6 mins walk
Go there for Crepes, Sheng jian bao
Misc on Night Mkts
night markets usually close around 1 - 2 am on weekends.
weekdays they'll start packing around 12 midnight or so...
If you want shopping for clothes - Wu Fen Pu, Xi Men Ding and Taipei 101 areas it will
be for you. When it comes to food, Shi Lin will be the best. Raohe is reasonably good
when it comes to food too. :)
Huaxi NM - Longshan MRT
- Hua Xi + Guangzhou - Long Shan Shi (Long Shan Temple) Station.
Tai Chung Feng Jia Night Market
- from Tai Chung railway station, take tai chung bus no. 27, 35, 135. or ren yeou bus no.
22, 25, 37, 45, 46
hee. xie xie for compliment..if day 2 is on mon night.. i suggest u go there around 10
instead of 11.. though they say night market hor.. but everytime weekday right.. the night
market alot of stalls close cos not much pple.. plus .. if u go there at 11.. then very
rushed.. cos the mrt line closes at 12 plus.. then have to chiong ur food like crazy.. try to
pack some good food back cos xi men ding is like a ghost town if u become hungry at
mid night.. onli got the 7 eleven..~ i suggest once u get the time at night.. u can try going
back to shilin.. realli a big place to shop and eat.. esp on weekends..lots of pple.. and
right.. tt time we went on fri.. we reached at 11.. still bustling with activity.. all stalls
open.. and at 12.30 .. the shopping area got those illegal stalls start to set up to sell
tops/clothes.. very cheap leh..even cheaper than wu fen pu.. but tt is when it is very late
cos they scared got police..
Xingnan Night Market
What's there :Xingnan Night Market in Zhonghe is notable for its ten or more sellers of
shave ice. Apart from the food stalls, there are also numerous sundry stores selling a wide
variety of inexpensive wares. Shoe and clothing stores are abundant, too.
Get there : Take to Metro Nanshijiao(Nanshih Chiao) Station n 3-minute walk.
Taiwan Visitors Bureau ( Singapore office )
5 Shenton Way, 31-11, UIC Building, Singapore 068808
Tel: 6223-6546/7
Email: [email protected]
[email protected]
For my case, i email them for the maps. They replied saying that i need to send them the
postage stamps so that they will send me the information. I've rcd the followings IIRC:
- Taiwan / Taipei Map
- 2006 (Jan - Jun) shopping / food discount coupons
- Map of Danshui and Jiu Fen
- Map of different scenics in Taiwan
- Tourist Guide
They send me 2 sets of each.
I mail them $2 worth of stamps, they used $1 and sent me a A4 envelope packed to full.
And they return me the remaining stamps. But is only that i stated in the email asking
them to help me gather useful info for my trip.
www.welcome2taiwan.net
Subway MRT/Bus
http://english.trtc.com.tw/travel95.asp
Tourist Attractions by subway line
http://img170.imageshack.us/img170/8663/mrtuk5.jpg
For those planning to travel by train, get the EasyCard from the MRT stn. Rem to return
it at the MRT stn to retrieve remaining balance/deposit of NT$100 on your last day
before you leave for airport. Get ready a copy of the MRT lines to carry with you and
scrutinize location maps at the mrt stn to get abt. I find them to be quite useful.
The ezlink is NT500 dollars. NT100 wld be the deposit that can be taken back when you
refund the leftover value that you didnt use. So NT400 would be the value that you can
use. They have single trip. But like Singapore's, it wld be more ex by like NT5 per trip or
something. So no harm getting the ezlink card (they call it the 优游卡) since you can get
the refund. If you won't be travelling ard alot, then get single trip lo.
I myself prefer the ezlink card coz have no need to purchase the single trip every single
time we have to take the mrt. It's up to you really.Buy from Metro stations or 7-11
Some buses do accept cash/ ezlink card. But if you are paying by cash, it means you have
to pay more compare paying by card.
E.g Cash payment NT40
Card payment only NT20
So save NT20 if you use card instead of cash.
Buses in taipei city and Taipei county itself normally accept ezlink card, so no worries.
Some buses in some routes might not accept card payment, iirc keelung to jiufen route is
one of them. Maybe those who took buses before can advise.
But i don't think the payment part is difficult, if they don't accept card, just pay cash
Bus rides around yeliu, jiufen those places need to use coins as they are not the public
buses in Taipei area. Hence, the Easycard cannot be used.
Normally in practice, you tap the card (yes, just like our ezlink system in Singapore)
upon alighting at the front door. The only card reader mechanism is beside the bus driver.
TAKING THE BUS IN TAIPEI:
http://www.tripadvisor.co.uk/ShowTopic-g293910-i9303-k676157-o20-Bus_RoutesTaiwan.html
Fare: TWD15 (double or higher if you ride into the suburbs)
Payment: Deposit exact change into the transparent box next to the driver, or hold your
EasyCard against the multi-colored logo on the EasyCard machine until you hear a beep.
If you ride into the suburbs from downtown, or vice-versa: You will most likely need to
use your EasyCard both upon boarding and alighting. If you pay in cash and deposit the
extra fare upon alighting, on certain routes the driver will hand you a plastic tag, to be
returned upon alighting.
When boarding, glance at the LED sign above the driver, which will display 上車收票(Pay
upon boarding) or 下車收票 (Pay upon alighting).
There are signs on the bus and at bus stops showing all the stops on the route.
Bus stops for the same bus going in the opposite direction are usually located on the
opposite side of the road, with a few exceptions, such as one-way streets.
Most Taipei City buses have numbers, but not all buses do, especially those heading out
of the city.
Taipei Metro (MRT) system map: www.tit.com.tw/upimg/ebig/7012218244629.JPG
To access the street maps of every MRT station in Taipei city, simply go to website of
Taipei Metro (MRT): http://www.trtc.com.tw Click "Route Map" on the right hand side
of screen. Select the desired station name and click "GO" Please note that some of the
area maps, particularly those for stations on the Red and Green Lines, are at a 90-degree
angle; that is, north is on the left of your computer screen, south is on the right. (Telltale
signs are when "N. Rd." leads toward the left and "E. Rd." leads toward the top of your
screen.)
For MRT route:
http://english.taipei.gov.tw/trtc/index.jsp?recordid=1779
http://english.taipei.gov.tw/trtc/index.js...p;recordid=1694
http://english.taipei.gov.tw/trtc/index.js...p;recordid=8073
http://www.railway.gov.tw/en/index/index.aspx
Hotels
http://www.tripadvisor.com/ShowTopic-g293913-i9546-k1922920-Alone_to_taipeiTaipei.html
http://www.freewebs.com/crazyazn/hotels.htm
Rainbow hotel and TS hotel are the top 2 popular hotels with singaporeans. Take jetstar,
now having promotion.
It will set you and SO back by about Sing $700 for a 1 week trip. If you still want it
cheaper, go for futurestar or Neijiang hotel.
I only noe KiLin Hotel is the worst
TS HOTEL
No. 170-172, HanZhong St., Taipei, Taiwan
(Take MRT Bannan Line or Xiaonanmen Line to Ximen Station) TS Near Ximen MRT
exit 1
I stayed at a budget hotel 'Pai Yueh Biz Hotel' @ XMD (refer to
http://www.hktc.com.tw/bh.htm) for NT$980 per night (plus NT$100 for sat). Room 95%
like picture in website. It's located very close to East Dragon Hotel (west, a building
away, infront of Fuxing Pri Sch, in a short alley, with purple neon light signboard). 1015mins away from XMD MRT stn and a straight route (left turn at end) to reach hotel.
It's a good deal for the location/quality (for budget hotel). Recommended. Though it
might have been better staying near TPE Main stn as it's the central pt of the MRT train
routes.
FutureStar
http://www.futurestarhotel.com.tw/
This hotel is very near XiMen station exit 6.
Price look attractive. Room is comfy enough. The cheapest room at NT1080 does not
have much walking space. Not sure how often they change their bed lining. I get them to
change the bed sheet after i found strange hair on the bed sheet whcn checking the room.
The reception is at level 7 and rooms at this level is renovated not too long ago. Friends
staying at level 8 mention there are mirror at the ceiling.
http://www.tripadvisor.com/ShowTopic-g293913-i9546-k1922920-Alone_to_taipeiTaipei.html
you may also want to look into Neijiang Hotel, it's also in Ximending. There are hair
dryers in the room, rooms cost NT $1280-1480, weekends (Fri Sat Sun) and national
holidays add NT $200. By MRT it's about a five-minute walk from Ximen Station Exit 1.
Unfortunately you can't book a room here online, you can view what the rooms look like
but to book call 02-2381-2147, 2381-2148 or fax 02-2331-6340. Rooms are large by
local standards and the breakfast (sandwich and juice) is said to be good.
http://www.neijiang-hotel.com
Xining South Road, #112, Wanhua District, Taipei City (台北市萬華區西寧南路112號)
Tel:02-2381-2148 Fax:02-2331-6340
If you're a YH (Youth Hostelling) member you can receive up to a 45% discount and try:
http://gocityinn.com
For a similar amount you can also stay in a suite at Tashun in Ximenting:
http://www.tshotel.com.tw
Or try Wonstar:
http://www.wonstar.com.tw
Lower priced budget hotels are available outside downtown areas of XMD and Taipei
Main Station. For instance, area around Jingmei MRT Station, NT$900 for a double
room. Further southwest of Taipei City in Banchiao or Shu-lin, NT$700 for a double
room. I have stayed in one budget hotel in Shu-lin for 4 nights at NT$600 per night
(single room). Travelling time on railway trains from Taipei Main Station to Shu-lin is
about 18 mins. Train frequency is regular. Train fare is less than NT$20
Multi-beds (up to 10 beds in a room) in hostels generally offer the lowest cost of
accommodation. A dormitory bed cost about NT$300, single bed in a room about
NT$500 and double room about NT$600 per night.
Some of the hostels in Taipei City:
Taipei Hostel: http://www.taipeihostel.com
Mandarin Hostel: http://www.mandarinhostel.com
Taipei Traveler Hostel
羅住宿接待家庭HOLO Family House
台北自助旅行家Taipei Traveler Hostel
In the Key Mall Building between Shin Kong Mitsukoshi Tower and Caesar Park Hotel,
opposite Taipei Main Station (Brown Exit 5)
22F-2, No 50 Zhongxiao W Rd Sec 1
台北市忠孝西路一段50號22樓之2
Tel / Fax: (02) 2331 7272
http:// www.taiwanholohostel.com.tw
E-mail address: [email protected]
The only hostel serving breakfast.
Hostelling International Taipei
In the same K Mall building as Taipei Traveler Hostel
http://www.hihostels.com
Rainbow Hotel charges quite high. Slightly higher than TS Hotel and East Dragon Hotel.
Rainbow:
Tel: 886-2-23119193 Fax: 886-2-23885011
http://www.ncznhotel.com.tw/rainbow/intro/all.htm
East Dragon Hotel
http://www.hoteleastdragon.com
Tel: (02)2311-6969, Fax: (02)2311-6967
Wonstar:
http://www.wonstar.com.tw
Neijiang http://www.neijiang-hotel.com (has older/new wing)
Royal Castle (Chengdu)
http://www.ncznhotel.com.tw/chengdu/guest/all.htm
Future Star http://www.futurestarhotel.com.tw/index.phtml
've only stayed in futurestar so far and really loved that place alot, due to its accessible
location. it occupies only the last 3 levels of a building however.
the XMD Station underpass is within a few steps away from the hotel. cashbox ktv is just
one road away, which is really convenient for us as we sang until 3am on 2 occassions
and need not worry about getting back home, since we're staying so near. the happening
XMD area is just at the back of the building.
the hotel room is really cozy.. i would recommend that you take the rooms on the 7th
level only, which starts from a flat rate of NT1380. better call to find out. the rooms on
the other levels (8th & 9th) are not very worth it because the decor is kinda old. rooms on
the 7th level however, are more modern and very very cozy. there was ample space to put
our luggages in the room. plus there's a bathtub, cable tv, fridge, hairdryer, hot water
dispenser and windows with curtains.
the staff also gave us 20% discount on the overall price and are very friendly. just tell
them that you require the rooms to be cleaned every time you leave the hotel and they
will do it for you.
on the day you're waiting for the freego bus to pick you to the airport, they will give you
a room to clean and freshen up as well.
anyway, that was our first trip to taipei and we decided on futurestar because of its
pricing and our budget. the stay was really pleasant and both my friend and i have
decided to stay back at the same hotel again on our return visit to taipei in the future.
oh yes, this hotel is booked quite fast..so if you decide on it, better call them early.
TS
http://www.tshotel.com.tw/english/01_introduction.htm
Do Not Stay At 6th/7th floor)
As transportation from the airport, between 12:00 and 18:30, there's a bus called Freego
which takes you right to our front door, just tell them it's TA SHUN HOTEL, though
sometimes need to change to free shuttle from Freego's Taipei Terminal in order to get to
TS. Before 12:00 and after 18:30, please take KuoKuang Bus to Taipei Main Station,
then taxi to TS, do advice the driver that we are near ChangSha St. You may buy Freego
return tickets with us, we'll call the bus for you to pick you up from our hotel the day you
depart.
The above information is provided by TS Hotel's staff.
http://www.gocityinn.com
http://www.taipeionestarhotel.com.tw
http://www.wonstar.com.tw
http://www.neijiang-hotel.com.tw
DeJa Vu hotel. This was only a short walk away from the Zhong Xiao Fu Xing train
station so very convenient
Hostels
i stayed at GUESTHOUSE TAIWANMEX twice :)
i just love the location of it, 1 min walk to ZhongSan Mrt station
however the room is soooooooo tiny...its cheap! stay there, you'll meet nice people in the
hostel
HAPPY HOSTEL FAMILY
well, actually if you are not picky den should be ok ba. (althou i also not very picky)
i regard it as bad experience cos of the following
1. the hostel quite old and rundown
2. the bed is not comfortable and bedsheet is dirty
3. the room is small and some rooms no aircon.
4. nite time wanna eat supper must go very far to buy food other than convenient stores
the bed is a big minus point as after a whole day tour den returned to hostel, see the place
only feel sian already den cant sleep well too. i moved out the following day and slept
soundly at rainbow that day~ :P
i cant comment on the bathroom etc as i'm a male and i dunno the condition for lady
hostel. for male bathroom quite ok lor. got bathtub too. the owner is a 40-50yrs old
single. quite ok
try other hostel ba
Airport to Taipei
You can buy from Guo Guang which will have bus that stops at Taipei Main Station.
. Otherwise, you can buy ticket from Freego, which will send u to Rainbow hotel
guo guang bus will stop in 3 places, taipei mrt station, taipei railway station and the guo
guang bus terminal. juz tell the driver where u wanna stop. its flexible~.
Upon arriving in Taipei airport, turn left after customs clearance. Walked till you see
booths selling "Guo Guang Ke Yun". Costs NT120 per pax. From CKS airport to Taipei
main station.
Buy ticket to take FREEGO bus (before 6.30pm)- after you exit T1 custom, turn left for
Freego or Jian Ming counter. http://www.freego.com.tw/ Tickets @ NT135, proceed
outside to Bus Stand No. 51 and wait for the airport bus.
For transport after 6.30pm, take kuo kwang bus to the taipei main station and taxi to hotel
and tell taxi uncle it is near ChangSha St.
Do take a copy of the "Tourist Pass Book" at the airport.. it's a book full of discount
coupons.. if u are buying ur airport transfer at the airport, u can use the discount ~ NT$20
in the book.. the transfer coz abt NT$135 – NT$20 = NT$115 per pax (from airport to
hotel).. the coaches come every 10-15 mins.. so it's pretty fast & convenient..
Turn left when you exit from customs. There is a counter named 'Freego'. Just tell them
your hotel name & book the coach. It costs NT140 per trip (1-way). They allows to buy
1-way first. Remember to hear the bus driver makes announcement when the coach
arrived the airport. You need to go out and queue for boarding.
**Remember to take their namecard when you book your coach from Airport to Hotel.
They will align you at the main road near the 24hr store (similar to 7-11). You just turn
into the small lane next to the store. You will find your hotel there.
Call them the day before departure. Tell them which airline you taking & the time. They
will inform you what time approx. they will be waiting for you. The pick-up will be the
same venue as they align you.
There are pluses and minuses with each. Assuming you're going to the Taipei Station or
Ximending area:
Kuokuang/Guoguang: Formerly state-owned, now privatized; reliable schedule,
departures frequent and regular; terminus is at Taipei Station, so you need to take a short
taxi ride to get to XMD
Freego: From what forumers have shared, tends to be less reliable; the wait/ride can take
longer, both from the airport to hotel and vice-versa. There have been instances when the
Freego pickup to the airport arrived late, causing people to miss or nearly miss their
flights. The plus is that they drop off and pick up in XMD.
The KuoKuang is faster and I would say better if one is not carrying a lot of luggage or if
you are staying near Taipei Main Station.
The bus fare for freego to XMD is NT140. Think the bus is newer than kuokuang. I have
no problem taking the bus from Airport to XMD.
If you plan to get freego from XMD to airport, I will suggest you ask the hotel to book
the bus for you 4 hours before your flight especially on raining days, as they tends to be
late and route to a few other hotels and might need to change to a bigger bus while on the
way to airport.
If you are taking the flight at Taoyuan T1 terminal, don't go to B1 or Level 1 to eat.. you
can go to one level above the departure hall.. you can shop and eat there.
I won't recommend the restaurant near the bookshop outside the customs too! Taste quite
bad to me.
Free-go bus do go to some Ximending hotels and drop you off right in front of them.
Turn left from the arrival hall and walk straight. You will see the sign Express Buses.
Their counter is on the right.
Fare is NT 140 and take about 1hr from the airport. You would need to transfer from a
big coach to a bus when the coach reach the city. No walking needed at all. Their
Ximending coach come every hourly.
Webbie: http://www.freego.com.tw/
Number: 0925-993720
Here's the list of hotels that they stop in front of- i copied from the list that they gave me:
天成
内江
城美
麒麟
四季
豪景
一樂園
王朝
萬事達
慶泰
明日
儷萊
金國際
華華
富園
金帥
成都
长虹
國聯
函舍
凱撒
大顺
金財神
華麗
新瞬
富粧
寶格利
東龍 - can take Freego to Airport from here (1st)
第一
國光
Jetstarasia will arrive Taipei in Terminal 1:
Forumer posted:
"We took jetstarasia(cheapest on a friday nite and tuesday nite return trip) from singapore
and reach CKS airport at 5.40pm. Took a freego bus(just turn left after the immigration
hall and go straight to express bus). Buy the tickets from the counter and they give us a
card to call them when we wish to depart Taipei to Singapore. Give direction to go to the
bus at flag pole 51. "
fyi after you clear custom, proceed left and walk to the freego counter to purchase the
bus tickets, just buy both the return and departure ticket together because it is more
cheaper if you buy in a bundle (240NT instead of 270NT)..for the timing, the bus
operates from early morning (5+) to midnight at a interval of 30mins (off peak period) to
15mins (peak period).. after that go out to the freego berth and tell the conductor that
you wanna go TS.. and there you go..
New Taiwan Notes
http://www.cbc.gov.tw/EngHome/eissue/notes.asp
Singtel ICC Access Codes
0809 096565
Access not available from payphones/public phones
00801 65 6565
Available only from phones with IDD facility.