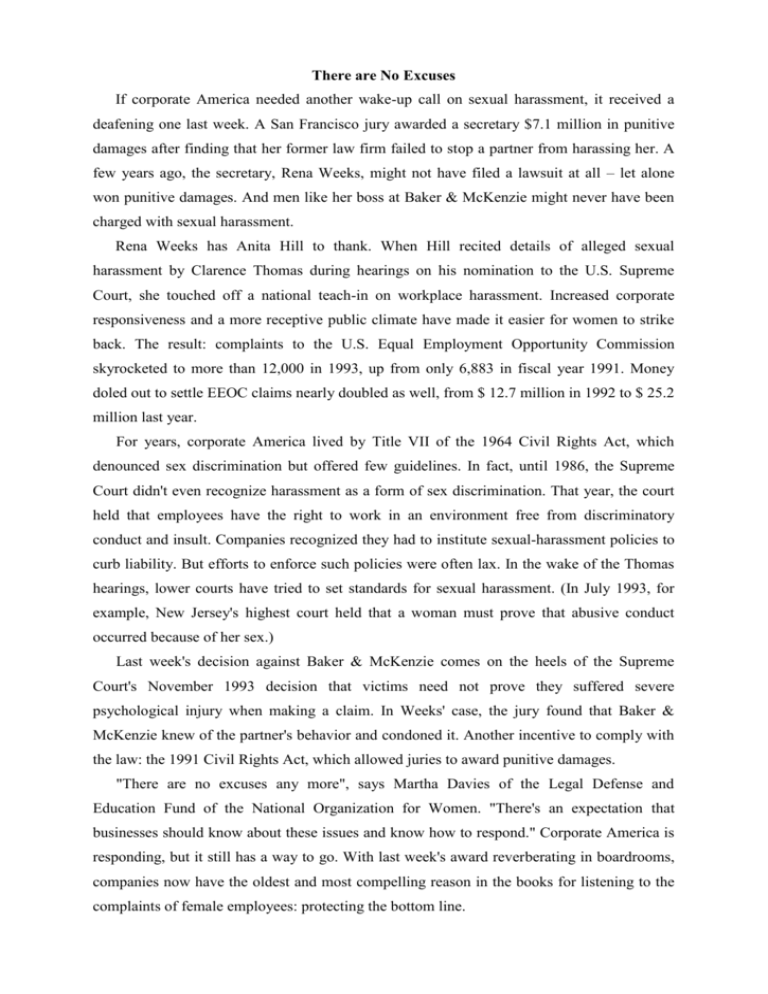 There are No Excuses
If corporate America needed another wake-up call on sexual harassment, it received a
deafening one last week. A San Francisco jury awarded a secretary $7.1 million in punitive
damages after finding that her former law firm failed to stop a partner from harassing her. A
few years ago, the secretary, Rena Weeks, might not have filed a lawsuit at all – let alone
won punitive damages. And men like her boss at Baker & McKenzie might never have been
charged with sexual harassment.
Rena Weeks has Anita Hill to thank. When Hill recited details of alleged sexual
harassment by Clarence Thomas during hearings on his nomination to the U.S. Supreme
Court, she touched off a national teach-in on workplace harassment. Increased corporate
responsiveness and a more receptive public climate have made it easier for women to strike
back. The result: complaints to the U.S. Equal Employment Opportunity Commission
skyrocketed to more than 12,000 in 1993, up from only 6,883 in fiscal year 1991. Money
doled out to settle EEOC claims nearly doubled as well, from $ 12.7 million in 1992 to $ 25.2
million last year.
For years, corporate America lived by Title VII of the 1964 Civil Rights Act, which
denounced sex discrimination but offered few guidelines. In fact, until 1986, the Supreme
Court didn't even recognize harassment as a form of sex discrimination. That year, the court
held that employees have the right to work in an environment free from discriminatory
conduct and insult. Companies recognized they had to institute sexual-harassment policies to
curb liability. But efforts to enforce such policies were often lax. In the wake of the Thomas
hearings, lower courts have tried to set standards for sexual harassment. (In July 1993, for
example, New Jersey's highest court held that a woman must prove that abusive conduct
occurred because of her sex.)
Last week's decision against Baker & McKenzie comes on the heels of the Supreme
Court's November 1993 decision that victims need not prove they suffered severe
psychological injury when making a claim. In Weeks' case, the jury found that Baker &
McKenzie knew of the partner's behavior and condoned it. Another incentive to comply with
the law: the 1991 Civil Rights Act, which allowed juries to award punitive damages.
"There are no excuses any more", says Martha Davies of the Legal Defense and
Education Fund of the National Organization for Women. "There's an expectation that
businesses should know about these issues and know how to respond." Corporate America is
responding, but it still has a way to go. With last week's award reverberating in boardrooms,
companies now have the oldest and most compelling reason in the books for listening to the
complaints of female employees: protecting the bottom line.