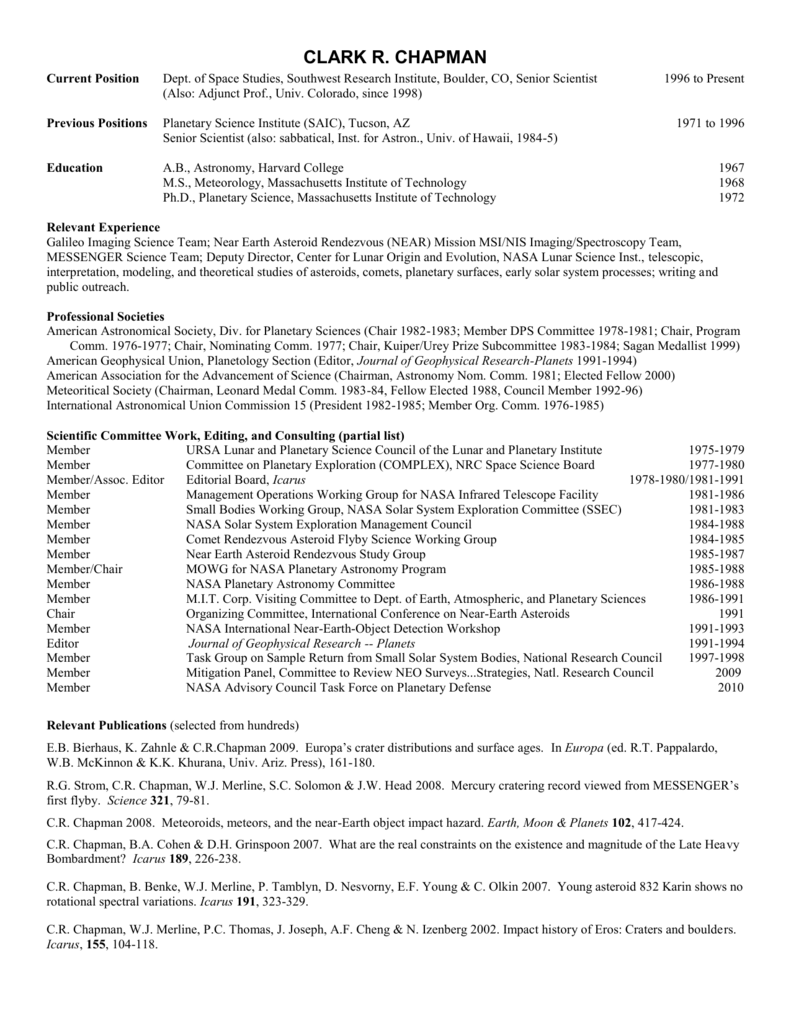 CLARK R. CHAPMAN
Current Position
Dept. of Space Studies, Southwest Research Institute, Boulder, CO, Senior Scientist
(Also: Adjunct Prof., Univ. Colorado, since 1998)
Previous Positions
Planetary Science Institute (SAIC), Tucson, AZ
Senior Scientist (also: sabbatical, Inst. for Astron., Univ. of Hawaii, 1984-5)
Education
A.B., Astronomy, Harvard College
M.S., Meteorology, Massachusetts Institute of Technology
Ph.D., Planetary Science, Massachusetts Institute of Technology
1996 to Present
1971 to 1996
1967
1968
1972
Relevant Experience
Galileo Imaging Science Team; Near Earth Asteroid Rendezvous (NEAR) Mission MSI/NIS Imaging/Spectroscopy Team,
MESSENGER Science Team; Deputy Director, Center for Lunar Origin and Evolution, NASA Lunar Science Inst., telescopic,
interpretation, modeling, and theoretical studies of asteroids, comets, planetary surfaces, early solar system processes; writing and
public outreach.
Professional Societies
American Astronomical Society, Div. for Planetary Sciences (Chair 1982-1983; Member DPS Committee 1978-1981; Chair, Program
Comm. 1976-1977; Chair, Nominating Comm. 1977; Chair, Kuiper/Urey Prize Subcommittee 1983-1984; Sagan Medallist 1999)
American Geophysical Union, Planetology Section (Editor, Journal of Geophysical Research-Planets 1991-1994)
American Association for the Advancement of Science (Chairman, Astronomy Nom. Comm. 1981; Elected Fellow 2000)
Meteoritical Society (Chairman, Leonard Medal Comm. 1983-84, Fellow Elected 1988, Council Member 1992-96)
International Astronomical Union Commission 15 (President 1982-1985; Member Org. Comm. 1976-1985)
Scientific Committee Work, Editing, and Consulting (partial list)
Member
URSA Lunar and Planetary Science Council of the Lunar and Planetary Institute
1975-1979
Member
Committee on Planetary Exploration (COMPLEX), NRC Space Science Board
1977-1980
Member/Assoc. Editor
Editorial Board, Icarus
1978-1980/1981-1991
Member
Management Operations Working Group for NASA Infrared Telescope Facility
1981-1986
Member
Small Bodies Working Group, NASA Solar System Exploration Committee (SSEC)
1981-1983
Member
NASA Solar System Exploration Management Council
1984-1988
Member
Comet Rendezvous Asteroid Flyby Science Working Group
1984-1985
Member
Near Earth Asteroid Rendezvous Study Group
1985-1987
Member/Chair
MOWG for NASA Planetary Astronomy Program
1985-1988
Member
NASA Planetary Astronomy Committee
1986-1988
Member
M.I.T. Corp. Visiting Committee to Dept. of Earth, Atmospheric, and Planetary Sciences
1986-1991
Chair
Organizing Committee, International Conference on Near-Earth Asteroids
1991
Member
NASA International Near-Earth-Object Detection Workshop
1991-1993
Editor
Journal of Geophysical Research -- Planets
1991-1994
Member
Task Group on Sample Return from Small Solar System Bodies, National Research Council
1997-1998
Member
Mitigation Panel, Committee to Review NEO Surveys...Strategies, Natl. Research Council
2009
Member
NASA Advisory Council Task Force on Planetary Defense
2010
Relevant Publications (selected from hundreds)
E.B. Bierhaus, K. Zahnle & C.R.Chapman 2009. Europa's crater distributions and surface ages. In Europa (ed. R.T. Pappalardo,
W.B. McKinnon & K.K. Khurana, Univ. Ariz. Press), 161-180.
R.G. Strom, C.R. Chapman, W.J. Merline, S.C. Solomon & J.W. Head 2008. Mercury cratering record viewed from MESSENGER's
first flyby. Science 321, 79-81.
C.R. Chapman 2008. Meteoroids, meteors, and the near-Earth object impact hazard. Earth, Moon & Planets 102, 417-424.
C.R. Chapman, B.A. Cohen & D.H. Grinspoon 2007. What are the real constraints on the existence and magnitude of the Late Heavy
Bombardment? Icarus 189, 226-238.
C.R. Chapman, B. Benke, W.J. Merline, P. Tamblyn, D. Nesvorny, E.F. Young & C. Olkin 2007. Young asteroid 832 Karin shows no
rotational spectral variations. Icarus 191, 323-329.
C.R. Chapman, W.J. Merline, P.C. Thomas, J. Joseph, A.F. Cheng & N. Izenberg 2002. Impact history of Eros: Craters and boulders.
Icarus, 155, 104-118.