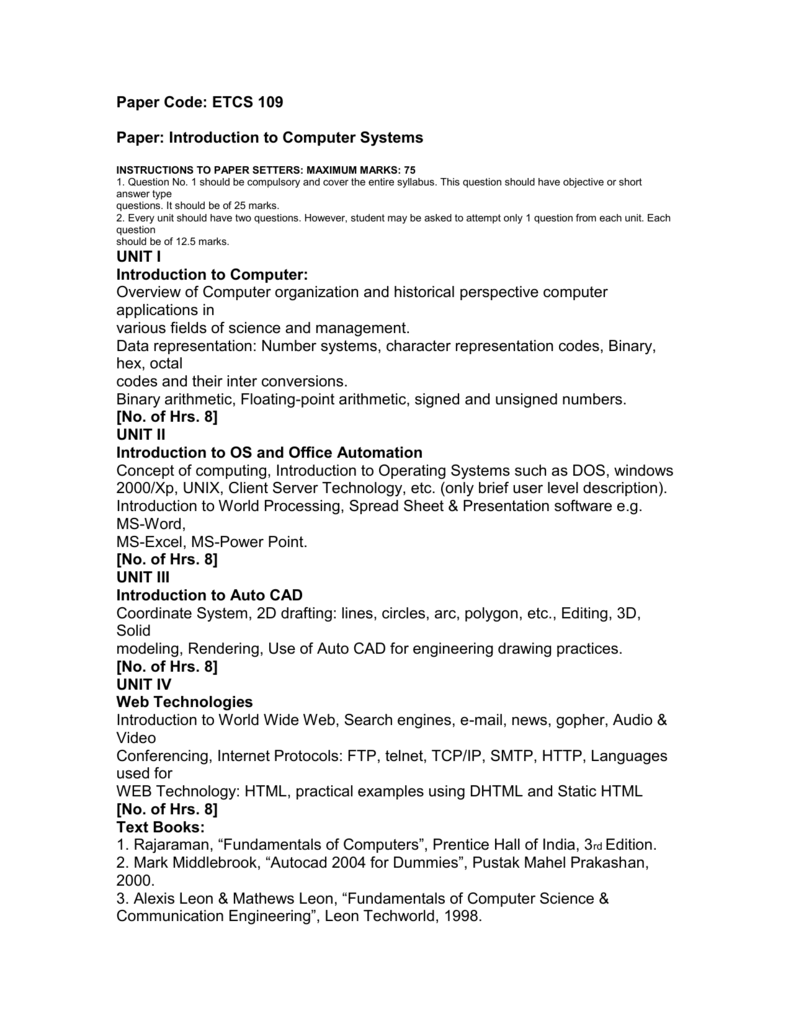 Paper Code: ETCS 109
Paper: Introduction to Computer Systems
INSTRUCTIONS TO PAPER SETTERS: MAXIMUM MARKS: 75
1. Question No. 1 should be compulsory and cover the entire syllabus. This question should have objective or short
answer type
questions. It should be of 25 marks.
2. Every unit should have two questions. However, student may be asked to attempt only 1 question from each unit. Each
question
should be of 12.5 marks.
UNIT I
Introduction to Computer:
Overview of Computer organization and historical perspective computer
applications in
various fields of science and management.
Data representation: Number systems, character representation codes, Binary,
hex, octal
codes and their inter conversions.
Binary arithmetic, Floating-point arithmetic, signed and unsigned numbers.
[No. of Hrs. 8]
UNIT II
Introduction to OS and Office Automation
Concept of computing, Introduction to Operating Systems such as DOS, windows
2000/Xp, UNIX, Client Server Technology, etc. (only brief user level description).
Introduction to World Processing, Spread Sheet & Presentation software e.g.
MS-Word,
MS-Excel, MS-Power Point.
[No. of Hrs. 8]
UNIT III
Introduction to Auto CAD
Coordinate System, 2D drafting: lines, circles, arc, polygon, etc., Editing, 3D,
Solid
modeling, Rendering, Use of Auto CAD for engineering drawing practices.
[No. of Hrs. 8]
UNIT IV
Web Technologies
Introduction to World Wide Web, Search engines, e-mail, news, gopher, Audio &
Video
Conferencing, Internet Protocols: FTP, telnet, TCP/IP, SMTP, HTTP, Languages
used for
WEB Technology: HTML, practical examples using DHTML and Static HTML
[No. of Hrs. 8]
Text Books:
1. Rajaraman, "Fundamentals of Computers", Prentice Hall of India, 3 rd Edition.
2. Mark Middlebrook, "Autocad 2004 for Dummies", Pustak Mahel Prakashan,
2000.
3. Alexis Leon & Mathews Leon, "Fundamentals of Computer Science &
Communication Engineering", Leon Techworld, 1998.
Reference Books:
1. Omura, "Mastering Autocad 2000 for Mechanical Eng ineers" BPB
Publications,
2nd Edition, 1998.
2. A.S. Tanenbaum, " Computer Networks", Pearson Education India Ltd., 3rd Edition,
2002.