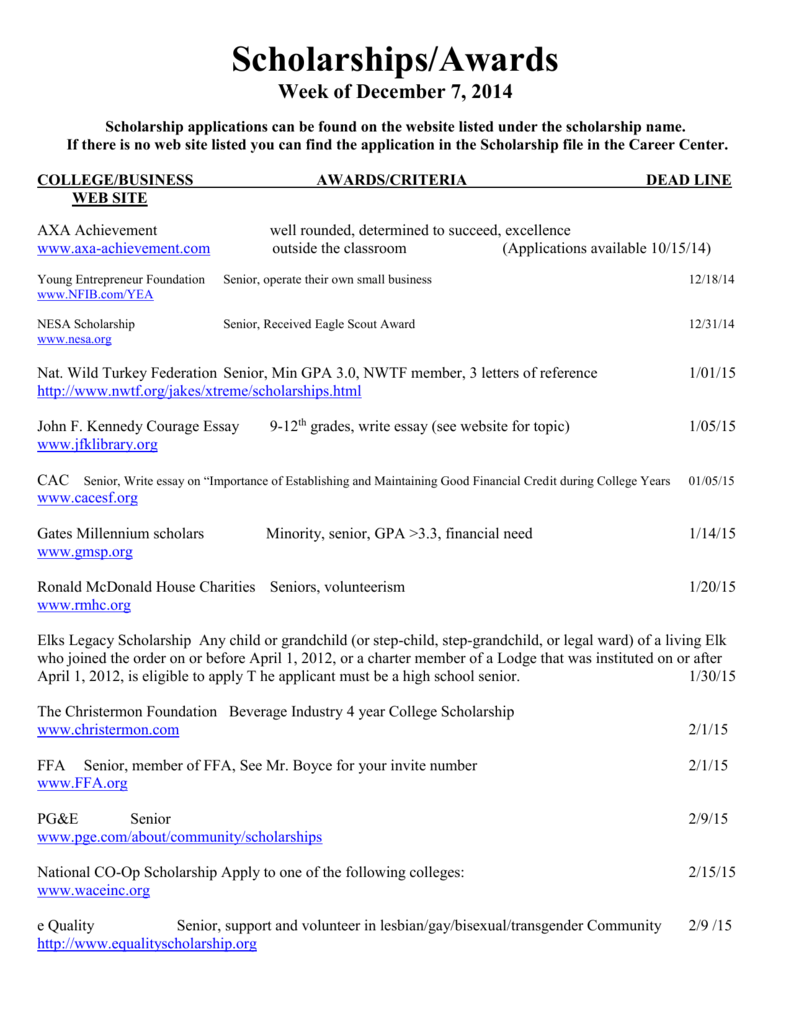 Scholarships/Awards
Week of December 7, 2014
Scholarship applications can be found on the website listed under the scholarship name.
If there is no web site listed you can find the application in the Scholarship file in the Career Center.
COLLEGE/BUSINESS
WEB SITE
AWARDS/CRITERIA
AXA Achievement
www.axa-achievement.com
DEAD LINE
well rounded, determined to succeed, excellence
outside the classroom
(Applications available 10/15/14)
Young Entrepreneur Foundation
www.NFIB.com/YEA
Senior, operate their own small business
12/18/14
NESA Scholarship
www.nesa.org
Senior, Received Eagle Scout Award
12/31/14
Nat. Wild Turkey Federation Senior, Min GPA 3.0, NWTF member, 3 letters of reference
http://www.nwtf.org/jakes/xtreme/scholarships.html
1/01/15
John F. Kennedy Courage Essay
www.jfklibrary.org
9-12th grades, write essay (see website for topic)
1/05/15
CAC Senior, Write essay on "Importance of Establishing and Maintaining Good Financial Credit during College Years
www.cacesf.org
01/05/15
Gates Millennium scholars
www.gmsp.org
1/14/15
Minority, senior, GPA >3.3, financial need
Ronald McDonald House Charities Seniors, volunteerism
www.rmhc.org
1/20/15
Elks Legacy Scholarship Any child or grandchild (or step-child, step-grandchild, or legal ward) of a living Elk
who joined the order on or before April 1, 2012, or a charter member of a Lodge that was instituted on or after
April 1, 2012, is eligible to apply T he applicant must be a high school senior.
1/30/15
The Christermon Foundation Beverage Industry 4 year College Scholarship
www.christermon.com
2/1/15
FFA Senior, member of FFA, See Mr. Boyce for your invite number
www.FFA.org
2/1/15
PG&E
Senior
www.pge.com/about/community/scholarships
2/9/15
National CO-Op Scholarship Apply to one of the following colleges:
www.waceinc.org
2/15/15
e Quality
Senior, support and volunteer in lesbian/gay/bisexual/transgender Community
http://www.equalityscholarship.org
2/9 /15
CFWC Young Musicians Competition, Two recorded performances, Classical and one of your choice
3/1/15
Sons of Italy
Senior, Italian descent
www.sonsofitalyca.org
3/1/15
Amer. Assoc. of Family & Consumer Science Senior, See list of Consumer science degrees
(In scholarship File cabinet under AAFCS)
3/1/15
Chico – Leland Stanford Lodge # 111 Senior, 2.5 GPA financial need,2 letters of recommendation
(Applications are in the scholarship file cabinet under Chico Leland Stanford Lodge )
3/10/15
Italian Catholic Foundation
www.icf.org
3/15/15
Caners
www.cangc.org
Senior, Catholic, Financial Need
Senior, College major-Horticulture, Agribusiness, Viticulture or Pomology
Cabrillo Civic Club
www.Cabrillocivicclubs.org
CA. Wine Grape Growers
www.cwggf.org
3/15/15
Senior, Portuguese descent, 3.5 GPA
3/13/15
Senior, Parent works for Wine Grape Grower
3/27/15
Philip M. Dowd Major in Political Amin. or Political Science or Government, 3.0 GPA, financial need 3/31/15
www.sacregcf.academicworks.com
The Amer. Iris Society Senior, pursue horticulture, landscaping, floriculture or related degree
(In Scholarship file cabinet under American Iris Society)
4/10/15
Sunkist
Senior, family member involved in Ag, financial need, GPA
(application in the scholarship file cabinet)
4/30/15
FIDM National
Senior, Portfolio
www.Fidm.edu/go/fidmscholarships.
4/30/15
Aspiring Fashion Professional Major in Fashion Design, Merchandising, Marketing, Management, Retailing
www.fashionschools.org
6/1/15
Animation Career Review
Aspiring Animation Professional
www.animationcareerreview.com
6/1/15
SCHOLARSHIP SEARCH ENGINES
www.scholarshipexperts.com, www.schoolsoup.com, www.scholarship.com, www.cappex.com,
www.fastweb.com, www.collegeboard.com, www.gocollege.com,www.Highfivescholarships.com,
www.latinocollegedollars.org
COLLEGE SPECIFIC SCHOLARSHIPS
SCHOLARSHIP NAME
Montana State University
COLLEGE & AWARDS/CRITERIA
DEADLINE
12/6/14
Presidential Scholarship (Non-Resident) Sliding scale based on SAT scores
The Eugene McDermott Scholars Program at Univ. of Texas at Dallas
www.utdallas.edu/mcdermott
1/7/15
Oregon State University
Non-resident, (Provost-3.75GPA), (Tuition Grant-3.0 GPA), (Diversity
Achievement-ethnic minority -3.25 GPA)
www.oregonstate.edu/admin/finaid/genScholarshiptuition.htm
2/01/15
BYU Scholarship
Senior, Strong Academic record, Need Based, Volunteerism
www.Saasta.byu.edu/auth/scholarship/
2/1/15
The Marist College Tech Full tuition Scholarship
www.maristr.edu/technologyscholarships
2/1/15
Major in Computer Science and or Mathematics
CSU Chico
Min 2.0 GPA, Letter of recommendation
www.csuchico.edu/fa/scholarships/csuChico.shtml
2/15/15
Pepperdine University for former foster youth who want to major in business. To be eligible, students must:
·
Be admitted to Pepperdine's Seaver College
·
Have been in formal foster care under court supervision during high school
·
Be a U.S. citizen,·
Declare a major in business administration, international business, or accounting
·
Have a B average or better in BOTH high school and community college (if attending community college)
UMass Lowell
Free College App, CA resident, 1150 SAT, 3.0 GPA
TEST DATES
01/24/15
03/14/15
05/02/15
06/06/15
SAT TEST DATES
REGISTRATION DATES
REG. 12/29/14 Cost $52.50
LATE 01/13/15 Cost $ 80.50
REG. 02/13/15 Cost $52.50
LATE 03/03/15 Cost $ 80.50
REG. 04/17/15 Cost $52.50
LATE 04/21/15 Cost $ 80.50
REG. 05/22/15 Cost $52.50
LATE 05/27/15 Cost $ 80.50
SAT SUBJECT TEST IS GIVEN ON THE DATES LISTED ABOVE EXCEPT THE MARCH TEST DATE
ACT TEST DATES
TEST DATES
REGISTRATION DATES
12/13/14
REG. 11/07/14
LATE 11/21/14 Cost an additional $21.00
02/07/15
REG. 01/09/15
LATE 01/16/15 Cost an additional $21.00
04/18/15
REG. 03/13/15
LATE 03/27/15 Cost an additional $21.00
06/13/15
REG. 05/08/15
LATE 05/22/15 Cost an additional $21.00
ACT TEST COST $38.00 (No Writing) and $54.50 (With Writing)
SAT TEST HELP
www.Kahnacademy.com
www.Majortests.com
www.Collegeboard.com
www.Princetonreview.com
www.4tests.com
www.Highfivescholarships.com
www.cavhs.org ,www.number2.com ,www.act.org
Practice is proven to increase your score.