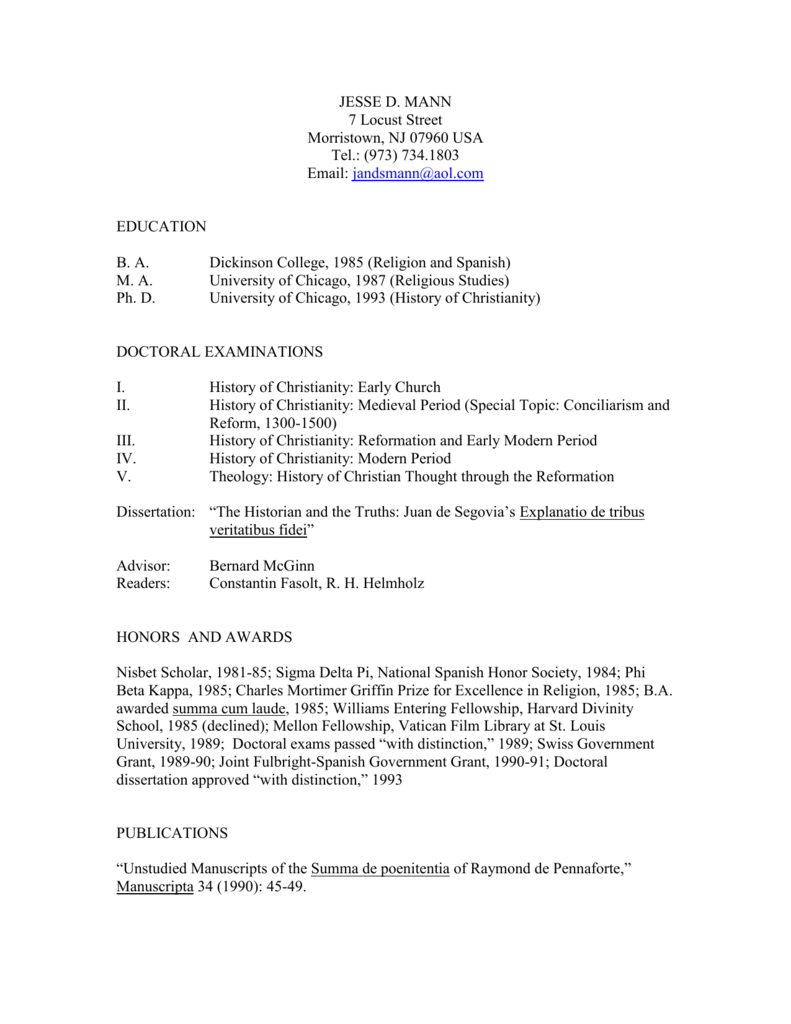 JESSE D. MANN
7 Locust Street
Morristown, NJ 07960 USA
Tel.: (973) 734.1803
Email: [email protected]
EDUCATION
B. A.
M. A.
Ph. D.
Dickinson College, 1985 (Religion and Spanish)
University of Chicago, 1987 (Religious Studies)
University of Chicago, 1993 (History of Christianity)
DOCTORAL EXAMINATIONS
I.
II.
III.
IV.
V.
History of Christianity: Early Church
History of Christianity: Medieval Period (Special Topic: Conciliarism and
Reform, 1300-1500)
History of Christianity: Reformation and Early Modern Period
History of Christianity: Modern Period
Theology: History of Christian Thought through the Reformation
Dissertation: "The Historian and the Truths: Juan de Segovia's Explanatio de tribus
veritatibus fidei"
Advisor:
Readers:
Bernard McGinn
Constantin Fasolt, R. H. Helmholz
HONORS AND AWARDS
Nisbet Scholar, 1981-85; Sigma Delta Pi, National Spanish Honor Society, 1984; Phi
Beta Kappa, 1985; Charles Mortimer Griffin Prize for Excellence in Religion, 1985; B.A.
awarded summa cum laude, 1985; Williams Entering Fellowship, Harvard Divinity
School, 1985 (declined); Mellon Fellowship, Vatican Film Library at St. Louis
University, 1989; Doctoral exams passed "with distinction," 1989; Swiss Government
Grant, 1989-90; Joint Fulbright-Spanish Government Grant, 1990-91; Doctoral
dissertation approved "with distinction," 1993
PUBLICATIONS
"Unstudied Manuscripts of the Summa de poenitentia of Raymond de Pennaforte,"
Manuscripta 34 (1990): 45-49.
Jesse D. Mann
Curriculum Vitae
Page 2
English translation of Derechos y deberes entre Indios y Españoles en el Nuevo Mundo
según Francisco de Vitoria. Texto reconstruido por Luciano Pereña. (Salamanca:
Universidad Pontificia de Salamanca, 1991).
"An Excerpt from Johannes de Milis's Repertorium iuris in the Library of Juan de
Segovia (Biblioteca Universitaria de Salamanca MS 2504)," Revista Española de
Derecho Canónico 49 (1992): 235-43.
"Juan de Segovia's Epistola ad Guillielmum de Orliaco: Who was Guillielmus de
Orliaco?" Archivum Fratrum Praedicatorum 62 (1992): 175-193.
"Ockham Redivivus or Ockham Confutator?: Juan de Segovia's Repetitio de
superioritate Reconsidered," Annuarium Historiae Conciliorum 24 (1992): 186-208.
"Duns Scotus, Juan de Segovia and Their Common Devil," Franciscan Studies 52 (1992):
135-154.
Review of Benigno Hernández Montes, Biblioteca de Juan de Segovia: Edición y
comentario de su escritura de donación, in: American Cusanus Society Newsletter 10/2
(December, 1993): 17.
"William of Ockham, Juan de Segovia and Heretical Pertinacity," Mediaeval Studies 56
(1994): 67-88.
"Juan de Segovia," (Cusa's contemporaries series), American Cusanus Society
Newsletter 12/1 (1995): 8-9.
"Juan de Segovia's Super materia de censibus annuis: Text and Context." in: Nicholas of
Cusa on Christ and the Church, eds. Thomas M. Izbicki and Gerald Christianson (Leiden:
Brill, 1996): 71-85.
"The Devilish Pope: Eugenius IV as Lucifer in the Later Works of Juan de Segovia,"
Church History 65 (1996): 184-196.
"A Little Known Incident of Plagiarism in the Career of Arthur Rackham," The Book
Collector 45 (1996): 214-217.
Review of Vivian Green, A New History of Christianity, in: The Journal of Religion 78
(1998): 266-67.
Jesse D. Mann
Curriculum Vitae
Page 3
"A Note on a Note in the Corpus Reformatorum Edition of Huldrych Zwingli's Von
göttlicher und menschlicher Gerechtigkeit," Zwingliana 26 (1999): 87-92.
Review of Antonio da Cannara, De potestate pape supra concilium generale contra
errores Basiliensium. Edited by Thomas Prügl, in: Speculum 74 (1999): 383-384.
Review of Die Rotamanualien des Basler Konzils: Verzeichnis der in den Handschriften
der Basler Universitätsbibliothek behandelten Rechtsfälle. Edited by Hans-Jörg Gilomen,
in: Journal of Ecclesiastical History 51 (2000): 620-621.
"Henry of Langenstein and Juan de Segovia on the Census," Cristianesimo nella storia 23
(2002): 429-441.
"Truth and Consequences: Juan de Segovia on Islam and Conciliarism," Medieval
Encounters 8 (2002): 79-90.
Review of Santiago Madrigal, El proyecto eclesiológico de Juan de Segovia, in: Medieval
Encounters 11 (2005): 109-112.
"Refuting the Pope: Comments on Juan de Segovia's Gloss on the Bull Etsi non
dubitemus," Annuarium Historiae Conciliorum 37 (2005): 323-340.
"A Note on Johannes Koelhoff's Edition of Juan de Segovia's Tractatus super materia
contractuum," Bibliothek und Wissenschaft 39 (2006): 165-169.
"Non in sola Virgine tunc remansit fides: A Conciliarist's Opposition to a Popular
Marian Devotion," in: Festschrift for Brian Tierney (forthcoming).
Review of Francis Oakley, The Conciliarist Tradition, in: The Jurist (forthcoming)
"Juan de Segovia and Hebdomadal Meditation on the Life of Christ," (forthcoming)
TEACHING EXPERIENCE
Teaching Assistant (Religion Department), Dickinson College, 1983-85
ESL Tutor, Triton College, River Grove, IL, Summer, 1989
Instructor in Continuing Education Program, University of Chicago, Summer, 1989
Adjunct Professor (Humanities), Montclair State University, Montclair, NJ, 1992-present
Instructor (Ecclesiastical Latin), Drew University, Madison, NJ, 2003 – present
Jesse D. Mann
Curriculum Vitae
Page 4
PROFESSIONAL EXPERIENCE
Numerous papers presented at scholarly conferences (including Kalamazoo International
Congress on Medieval Studies and AAR/SBL meetings), 1989-1995.
Participant in NEH Summer Institute on Spanish and Hispanic-American Archival
Sciences, Newberry Library, Chicago, IL, 1989.
EMPLOYMENT HISTORY
The Chatham Bookseller, Madison, NJ. 1991- Present. Manager, Rare Book Operations.
LANGUAGES
German, Spanish (fluent); French, Italian (proficient); Latin (advanced knowledge);
Biblical Hebrew, Greek (some reading knowledge).
REFERENCES
Bernard McGinn, The Divinity School, University of Chicago; Constantin Fasolt, Dept.
of History, University of Chicago; R. H. Helmholz, The Law School, University of
Chicago; Heather Elkins, Drew University.