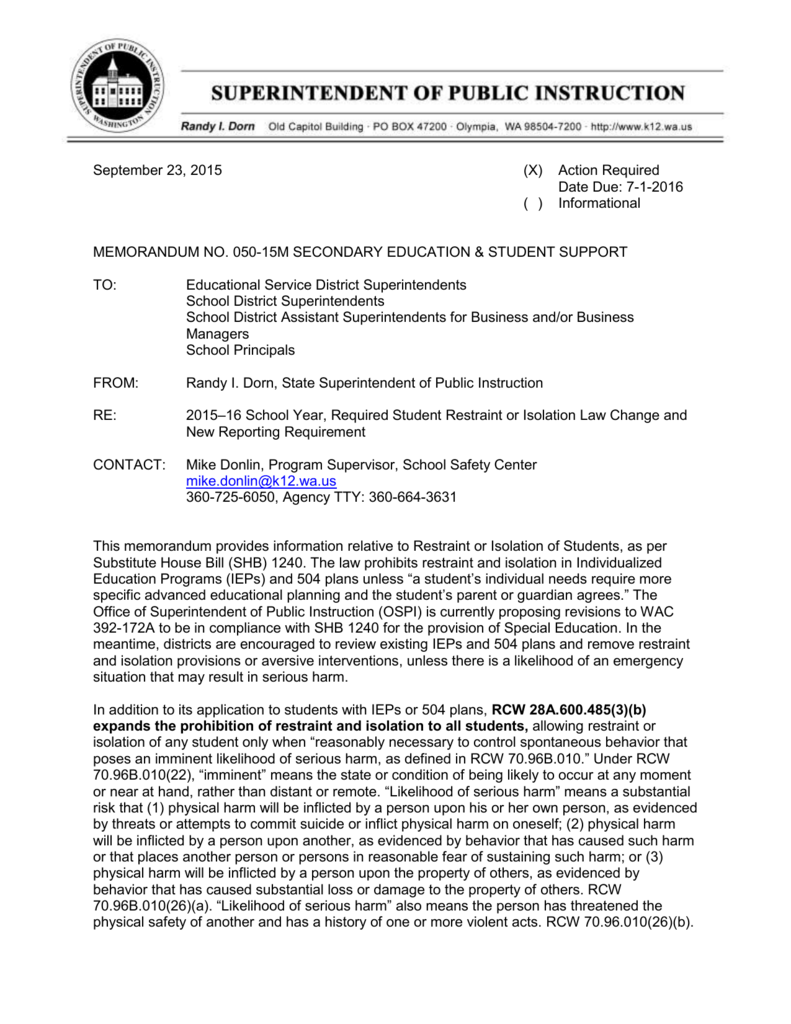 September 23, 2015
(X)
(X)
Action Required
Date Due: 7-1-2016
Informational
MEMORANDUM NO. 050-15M SECONDARY EDUCATION & STUDENT SUPPORT
TO:
Educational Service District Superintendents
School District Superintendents
School District Assistant Superintendents for Business and/or Business
Managers
School Principals
FROM:
Randy I. Dorn, State Superintendent of Public Instruction
RE:
2015–16 School Year, Required Student Restraint or Isolation Law Change and
New Reporting Requirement
CONTACT:
Mike Donlin, Program Supervisor, School Safety Center
[email protected]
360-725-6050, Agency TTY: 360-664-3631
This memorandum provides information relative to Restraint or Isolation of Students, as per
Substitute House Bill (SHB) 1240. The law prohibits restraint and isolation in Individualized
Education Programs (IEPs) and 504 plans unless "a student's individual needs require more
specific advanced educational planning and the student's parent or guardian agrees." The
Office of Superintendent of Public Instruction (OSPI) is currently proposing revisions to WAC
392-172A to be in compliance with SHB 1240 for the provision of Special Education. In the
meantime, districts are encouraged to review existing IEPs and 504 plans and remove restraint
and isolation provisions or aversive interventions, unless there is a likelihood of an emergency
situation that may result in serious harm.
In addition to its application to students with IEPs or 504 plans, RCW 28A.600.485(3)(b)
expands the prohibition of restraint and isolation to all students, allowing restraint or
isolation of any student only when "reasonably necessary to control spontaneous behavior that
poses an imminent likelihood of serious harm, as defined in RCW 70.96B.010." Under RCW
70.96B.010(22), "imminent" means the state or condition of being likely to occur at any moment
or near at hand, rather than distant or remote. "Likelihood of serious harm" means a substantial
risk that (1) physical harm will be inflicted by a person upon his or her own person, as evidenced
by threats or attempts to commit suicide or inflict physical harm on oneself; (2) physical harm
will be inflicted by a person upon another, as evidenced by behavior that has caused such harm
or that places another person or persons in reasonable fear of sustaining such harm; or (3)
physical harm will be inflicted by a person upon the property of others, as evidenced by
behavior that has caused substantial loss or damage to the property of others. RCW
70.96B.010(26)(a). "Likelihood of serious harm" also means the person has threatened the
physical safety of another and has a history of one or more violent acts. RCW 70.96.010(26)(b).
MEMORANDUM NO. 050-15M SE & SS
Page 2
September 23, 2015
The Washington State School Directors Association has issued a model policy and procedure
and OSPI will be developing and posting a questions and answers document as implementation
issues arise.
FOLLOW-UP PROCEDURES
The law includes a new follow up-procedure for districts.
Following the release of a student from the use of restraint or isolation, the school must
implement follow-up procedures. These procedures include: "(a) reviewing the incident with the
student and the parent or guardian to address the behavior that precipitated the restraint or
isolation and the appropriateness of the response, and (b) reviewing the incident with the staff
member who administered the restraint or isolation to discuss whether proper procedures were
followed and what training or support the staff member needs to help the student avoid similar
incidents." See RCW 28A.600.485(4).
DATA COLLECTION
The law also includes two new district reporting requirements:
School Incident Reporting
Any school employee, resource officer, or school security officer who uses isolation or restraint
on a student during school-sponsored instruction or activities must inform the building
administrator or building administrator's designee as soon as possible, and within two business
days submit a written report of the incident to the districts office. RCW 28A.600.485(5).
The written report must include, at minimum, the following information:






The date and time of the incident.
The name and job title of the individual who administered the restraint or isolation.
A description of the activity that led to the restraint or isolation.
The type of restraint or isolation used on the student, including the duration.
Whether the student or staff was physically injured during the restraint or isolation incident
and any medical care provided.
Any recommendation for changing the nature or amount of resource's available to the
student and staff members in order to avoid similar incidents.
The principal or principal's designee must make a reasonable effort to verbally inform the
student's parent or guardian within 24 hours of the incident, and must send written notification
as soon as practical, but postmarked no later than five business days after the restraint or
isolation occurred. If the school or school district provides the parent or guardian with schoolrelated information in a language other than English, the written report must be provided to the
parent or guardian in that language.
MEMORANDUM NO. 050-15M SE & SS
Page 3
September 23, 2015
District Incident Reporting
Beginning January 1, 2016, and each year thereafter, each school district shall summarize
written reports received as described above and submit a summary of data to OSPI using the
Educational Data System.
The school district shall include in each school summary the following components:




The number of individual incidents of restraint and isolation.
The number of students involved in the incidents.
The number of injuries to students and staff.
The types of restraint or isolation used.
OSPI Reporting
OSPI is required to post a summary of district reports on the website within 90 days. District
Reports may be found at http://www.k12.wa.us/safetycenter/Data.aspx.
For questions regarding the contents of this memorandum, please contact Mike Donlin,
Program Supervisor, at 360-725-6044 or email [email protected] The agency TTY
number is 360-664-3631.
K–12 EDUCATION
Gil Mendoza, Ed.D.
Deputy Superintendent
SECONDARY EDUCATION & STUDENT SUPPORT
Dan Newell
Assistant Superintendent
Dixie Grunenfelder
Director of Secondary Education
RD:dn:dg
OSPI provides equal access to all programs and services without discrimination based on sex, race, creed, religion, color, national
origin, age, honorably discharged veteran or military status, sexual orientation including gender expression or identity, the presence
of any sensory, mental, or physical disability, or the use of a trained dog guide or service animal by a person with a
disability. Questions and complaints of alleged discrimination should be directed to the Equity and Civil Rights Director at
360-725-6162 or P.O. Box 47200 Olympia, WA 98504-7200.