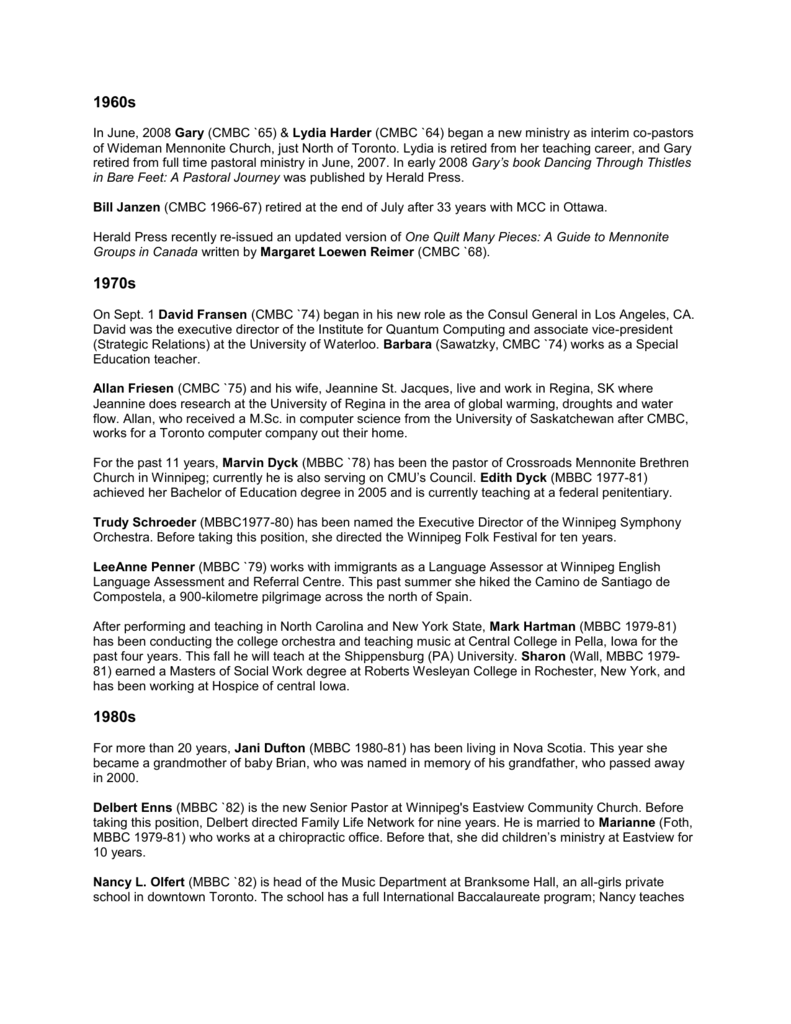 1960s
In June, 2008 Gary (CMBC `65) & Lydia Harder (CMBC `64) began a new ministry as interim co-pastors
of Wideman Mennonite Church, just North of Toronto. Lydia is retired from her teaching career, and Gary
retired from full time pastoral ministry in June, 2007. In early 2008 Gary's book Dancing Through Thistles
in Bare Feet: A Pastoral Journey was published by Herald Press.
Bill Janzen (CMBC 1966-67) retired at the end of July after 33 years with MCC in Ottawa.
Herald Press recently re-issued an updated version of One Quilt Many Pieces: A Guide to Mennonite
Groups in Canada written by Margaret Loewen Reimer (CMBC `68).
1970s
On Sept. 1 David Fransen (CMBC `74) began in his new role as the Consul General in Los Angeles, CA.
David was the executive director of the Institute for Quantum Computing and associate vice-president
(Strategic Relations) at the University of Waterloo. Barbara (Sawatzky, CMBC `74) works as a Special
Education teacher.
Allan Friesen (CMBC `75) and his wife, Jeannine St. Jacques, live and work in Regina, SK where
Jeannine does research at the University of Regina in the area of global warming, droughts and water
flow. Allan, who received a M.Sc. in computer science from the University of Saskatchewan after CMBC,
works for a Toronto computer company out their home.
For the past 11 years, Marvin Dyck (MBBC `78) has been the pastor of Crossroads Mennonite Brethren
Church in Winnipeg; currently he is also serving on CMU's Council. Edith Dyck (MBBC 1977-81)
achieved her Bachelor of Education degree in 2005 and is currently teaching at a federal penitentiary.
Trudy Schroeder (MBBC1977-80) has been named the Executive Director of the Winnipeg Symphony
Orchestra. Before taking this position, she directed the Winnipeg Folk Festival for ten years.
LeeAnne Penner (MBBC `79) works with immigrants as a Language Assessor at Winnipeg English
Language Assessment and Referral Centre. This past summer she hiked the Camino de Santiago de
Compostela, a 900-kilometre pilgrimage across the north of Spain.
After performing and teaching in North Carolina and New York State, Mark Hartman (MBBC 1979-81)
has been conducting the college orchestra and teaching music at Central College in Pella, Iowa for the
past four years. This fall he will teach at the Shippensburg (PA) University. Sharon (Wall, MBBC 197981) earned a Masters of Social Work degree at Roberts Wesleyan College in Rochester, New York, and
has been working at Hospice of central Iowa.
1980s
For more than 20 years, Jani Dufton (MBBC 1980-81) has been living in Nova Scotia. This year she
became a grandmother of baby Brian, who was named in memory of his grandfather, who passed away
in 2000.
Delbert Enns (MBBC `82) is the new Senior Pastor at Winnipeg's Eastview Community Church. Before
taking this position, Delbert directed Family Life Network for nine years. He is married to Marianne (Foth,
MBBC 1979-81) who works at a chiropractic office. Before that, she did children's ministry at Eastview for
10 years.
Nancy L. Olfert (MBBC `82) is head of the Music Department at Branksome Hall, an all-girls private
school in downtown Toronto. The school has a full International Baccalaureate program; Nancy teaches
students in grades 7 to 12 and conducts three school choirs. She also serves as the alto soloist at
Rosedale Presbyterian Church.
When Elisabeth Rüegger (CMBC `83) started her studies at CMBC more than 25 years ago, she didn't
know, that she already had Multiple Sclerosis. "What a good thing that I didn't know it, "she says. "I had
the courage to do the studies." For more than a decade she has served at the Evangelical Reformed
Church in Safenwil as a substitute minister. She is thankful that the MS is progressing slowly, as it allows
her to maintain her independence. She sends "greetings of love" to her former classmates & teachers.
Doris Goertz (MBBC `84) has been living in Canada for the past year; prior to that she spent 10 years
serving as a missionary in Japan. She plans to return to Japan this fall to work in a Mennonite Brethren
church there.
Sherry Sawatzky-Dyck (CMBC `88) moved from the Director of Spiritual Care at the Brandon Regional
Health Authority to a tenure track position as Counsellor and Advisor at Brandon University. Karlheinz
(CMBC `94) is still full time as the "Bubble Man," a children's entertainer.
Evan Bueckert (CMBC 1987-90) was awarded a Certificate of Achievement as part of the Prime
Minister's recognition of teaching excellence in 2008. Evan teaches choir, vocal jazz, music composition/
technology, jazz band and concert band in Grades 10 to 12 at Mount Baker Secondary School in
Cranbrook, B.C.
1990s
Chris (CMBC `86) & Lori (Enns, CMBC `95) Franz welcomed Nolan Elijah Edward, born May 29, 2008.
Nolan is a brother to Ethan (age 5) and Kaylee (age 3). Chris works as a School Psychologist and Lori is
at home with the children. Proud grandmother is Hilda Franz (CMBC 1959-60).
Rachelle Ogilvie (Reimer, CMBC 1993-95) and husband, Greg, welcomed their second child, Gavin
Paul, on July 23, 2008 in Edmonton, AB. Gavin is a little brother for Easton (2).
Jennifer Giesbrecht (OT 98-99, CMU `02) and Alex DeCunha were married in 2006. Jennifer is a
freelance writer/editor and consultant while Alex is a project manager for a general contracting and
consulting company. They attend Lendrum Mennonite Brethren Church in Edmonton.
Christine Ens (CMBC `96) and Matthew Miles were married May 17, 2008. Christine works in sales at
the Winnipeg Chamber of Commerce and Matt manages online courses at Red River College.
Marilyn Chau (Hamm, CC 1997-01) married Allan in September, 2005; they live in Calgary where Marilyn
works in the financial sector.
Leanne (Regehr, CMBC `98) and Garth Lee welcomed twins Nadia Anne and Matthew Callum, born
December 6, 2007. They lived for four years in England, where Leanne taught music and Garth attended
the Newark School of Violin Making and Repair. They now live in Winnipeg.
Kristen (Arlt, CMBC `98) and Noel Matyas were married in 2004. Kristen was a music teacher at a local
Winnipeg school before taking maternity leave.
In May, Becky Krahn (CC `98) graduated from the Animal Health Technology program at Red River
College.
Karin Kliewer (OT 98-99, CC 1999-01) married Daniel Leonard on August 5, 2008 in Winnipeg. Karin is
pursuing graduate studies in City Planning at the University of Manitoba and works at the Centre for
Sustainable Transportation. Dan works for Mennonite Central Committee in the International Programs
Department.
2000s
Russ (OT 98-99, CMU `04) and Julia (Henning) Klassen live in Delta, B.C. where he is a youth pastor at
the Sherbrooke Mennonite Church. They have a son, Isaac, born September 12, 2003 and are in the
process of adopting another child.
David & Caralee (Wall, CC `01) Voth welcomed Brielle Alexandra Voth, born July 3, 2008.
Catherine Pak (CMU, `02) is working as the Children's and Youth pastor at the Malvern Baptist Church in
Scarborough, Ontario.
Twilla Epp-Stutzman (CMU `02) and husband Karl welcomed their first child, Silas John Epp Stutzman,
on February 15, 2008.
Amy Koop (CMU `02) and Steve Funk were married on September 29, 2007. They live in Altona, MB,
where Amy works as a nurse and Steve is a press operator.
Heulwen Jones (CMU `03) and her husband, Larry Strachan, welcomed their first child, Jericho Isaiah
Patrick, on July 21, 2007. Heulwen is studying law at the University of Manitoba and continuing to sing; in
May she performed at the Theatre Passe Muraille in Toronto.
Judith Rudolph (CMU `03) is studying at the University of Leipzig, Germany to become an interpreter.
She speaks English, Spanish and German.
Bruce Guenther (CMU `03, MSC `05) is the Program Coordinator for the Food, Disaster and Material
Resources department at MCC. He recently graduated with an M.Phil. from the University of Sussex in
England.
Audra Booth (OT 03-04, South Africa) married Matthew Franz of Sturgis, MI on March 22, 2008.
Meredith Daley (CMU `05) received a Bachelor of Education degree from the University of Manitoba in
May, 2008 and is teaching grades 1-9 music and grade 8 social studies at New Bothwell School.
She has been singing with the Winnipeg Singers and Ecco, where she is also the Assistant Director.
Rebecca Aplin (OT 06-07) is studying early childhood education at Conestoga College in Kitchener, ON.
Of her time with Outtatown, she says: "I am still debriefing from the trip. It's amazing how many of my
stories and experiences are coming out through my essays and reports."
Rachelle M. Friesen (CMU `07) was featured in an article in the September/October issue of Sojourners
Magazine about student activism. Rachelle, who is doing a practicum assignment in Palestine, said that
people who want to change the world should "look beyond themselves to see human need, human pain,
and environmental pain and work for its resolution––not for themselves to feel better, but because as
Christians we are called to care for creation and care for our neighbours."
Jesse Hofer (CMU `08) and Jennifer Wollmann were married June 1, 2008. They currently reside at
Silverwinds Colony. This fall, Jesse began the B.Ed program at the University of Manitoba.
Passages
Evangeline Kornelson (Willms, MBBC 1948-51) died June 6, 2008.
Katy Penner (MBBC `52) died March 5, 2008.
Arnold Baerg (MBBC `60) died Jan. 14, 2008.
Roland Marsch (MBBC `65) died July 17, 2008 in Winnipeg, MB.