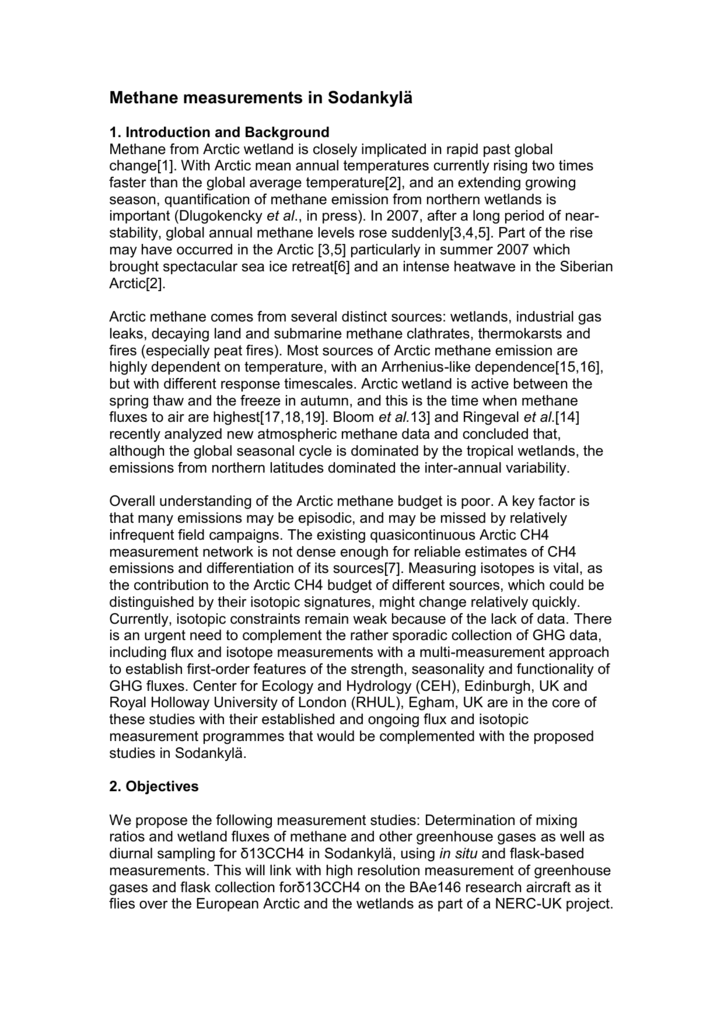 Methane measurements in Sodankylä
1. Introduction and Background
Methane from Arctic wetland is closely implicated in rapid past global
change[1]. With Arctic mean annual temperatures currently rising two times
faster than the global average temperature[2], and an extending growing
season, quantification of methane emission from northern wetlands is
important (Dlugokencky et al., in press). In 2007, after a long period of nearstability, global annual methane levels rose suddenly[3,4,5]. Part of the rise
may have occurred in the Arctic [3,5] particularly in summer 2007 which
brought spectacular sea ice retreat[6] and an intense heatwave in the Siberian
Arctic[2].
Arctic methane comes from several distinct sources: wetlands, industrial gas
leaks, decaying land and submarine methane clathrates, thermokarsts and
fires (especially peat fires). Most sources of Arctic methane emission are
highly dependent on temperature, with an Arrhenius-like dependence[15,16],
but with different response timescales. Arctic wetland is active between the
spring thaw and the freeze in autumn, and this is the time when methane
fluxes to air are highest[17,18,19]. Bloom et al.13] and Ringeval et al.[14]
recently analyzed new atmospheric methane data and concluded that,
although the global seasonal cycle is dominated by the tropical wetlands, the
emissions from northern latitudes dominated the inter-annual variability.
Overall understanding of the Arctic methane budget is poor. A key factor is
that many emissions may be episodic, and may be missed by relatively
infrequent field campaigns. The existing quasicontinuous Arctic CH4
measurement network is not dense enough for reliable estimates of CH4
emissions and differentiation of its sources[7]. Measuring isotopes is vital, as
the contribution to the Arctic CH4 budget of different sources, which could be
distinguished by their isotopic signatures, might change relatively quickly.
Currently, isotopic constraints remain weak because of the lack of data. There
is an urgent need to complement the rather sporadic collection of GHG data,
including flux and isotope measurements with a multi-measurement approach
to establish first-order features of the strength, seasonality and functionality of
GHG fluxes. Center for Ecology and Hydrology (CEH), Edinburgh, UK and
Royal Holloway University of London (RHUL), Egham, UK are in the core of
these studies with their established and ongoing flux and isotopic
measurement programmes that would be complemented with the proposed
studies in Sodankylä.
2. Objectives
We propose the following measurement studies: Determination of mixing
ratios and wetland fluxes of methane and other greenhouse gases as well as
diurnal sampling for δ13CCH4 in Sodankylä, using in situ and flask-based
measurements. This will link with high resolution measurement of greenhouse
gases and flask collection forδ13CCH4 on the BAe146 research aircraft as it
flies over the European Arctic and the wetlands as part of a NERC-UK project.
The measurement campaigns are in accordance with InGOS objectives and
the requested infrastructure is suitable for the work owing to its location above
the Arctic circle and facilities including a wetland eddy flux measurement site
and atmospheric surface and column (FTIR) concentration measurement sites.
2. Methods and Materials
2.1 Flux measurements Although the Arctic and subarctic regions are a large
source of greenhouse gases, with potential for rapid change, relatively few
measurements have been made and only in those parts of the Arctic that are
relatively easily accessible. Our knowledge is based on measurements using
small chambers, eddy covariance and atmospheric isotopic ratios. Chambers
are very useful in identifying spatial heterogeneity within an ecosystem and
understanding underlying processes, for example the relationship between
CH4 flux and substrate availability[29] or the importance of vegetation in
transport of CH4 from soil to the atmosphere[30]. The development of fast
response high resolution lasers have made it possible to measure CH4 fluxes
by eddy covariance[31] and provide integrated fluxes at the field scale. In the
Arctic the few eddy covariance CH4 measurements have identified seasonal
temperature changes and the presence of senescent vegetation as
importance drivers of the flux[32,33,34]. In spite of this understanding, not
enough data are available to extrapolate accurately to the landscape and
regional scales or to predict future trends.
Field scale measurements of CH4 and CO2 fluxes will be made by eddy
covariance using fast response, high resolution analysers (Los Gatos at
Sodankylä run by FMI) and sonic anemometers for vertical wind speed
measurements. The flux is calculated as the covariance between
concentration and wind speed[32,41]. CEH will use static chambers, placed
strategically to cover the heterogeneity of the Arctic study sites, to investigate
spatial variability and processes controlling CH4, N2O and soil respiration
fluxes. Samples will be collected into vials, and shipped to CEH for analysis of
CH4, CO2 and N2O by gas chromatography. Fluxes are calculated from the
increase in concentration inside the enclosed chamber with time[41]. In
addition CEH will record spatial and temporal changes in water table and
together with FMI carry out a vegetation survey in the footprint areas of the
new eddy covariance tower on this wetland.
2.2 Isotopic measurements Measurement of δ13C in CH4 in ambient air is
the most powerful technique available to identify and quantify bulk Arctic CH4
sources since there is strong isotopic contrast between sources, with
biological emissions being relatively rich in 12C, while geological and fire
sources are typically depleted in 12C (i.e. isotopically 'lighter'). High precision
measurements with small-sample isotopic techniques permit diurnal studies of
CH4 isotopic composition of wetlands with "Keeling-plot" experiments. In
contrast to chamber studies, such an approach allows estimation of the bulk
isotopic signature of undisturbed emissions. Studies in Finland showed a tight
δ13CCH4 range from -69 to -66 ‰[55]. Thermokarst methanogenesis from point
sources has variable isotopic composition (δ13CCH4 from -58 to -83‰ in
Walter et al.[16]). These sources can be distinguished from West Siberian
natural gas at -50 ‰[28]. Air samples measured at Royal Holloway, University
of London (RHUL) collected during Canadian boreal forest fires showed
δ13CCH4 of -29 to -27‰.
High precision, automated stable isotopic analysis of atmospheric methane
and carbon dioxide will be carried out using the method of Fisher et al.[42].
Samples (3L) will be collected on intensive diurnal timescale at the Sodankylä
wetland field site, in tedlar bags, for subsequent analysis at RHUL. Samples
are analysed in the RHUL lab by a high precision continuous flow isotope ratio
mass spectrometric technique, using 75 mL volumes of ambient air. The
average precision of ±0.04 ‰ is high enough to provide accurate isotopic
characteristics from source studies for input to isotope models. The method is
rapid, allowing high numbers of samples to be analysed.
The above mentioned flux and isotopic measurements are related to the
FAAM aircraft measurement programme. Airborne and ground based
measurement of GHG will be compared during the campaign in order to
understand and constrain the uncertainty of up scaling, and to calibrate the
aircraft concentrations against ground based flux and concentration
measurements. The FAAM BAE 146 research aircraft will fly over the
Sodankylä surface study area upwind, downwind and in vertical transects
during July and measure CH4, N2O, CO2 concentrations and fluxes whilst
ground measurements are made. Sample modules will allow automated flask
filling for subsequent isotopic analysis.
3. Implementation
Visiting scientists involved in July 2012 campaign:
Ute Skiba (CEH)
Julia Drewer (CEH)
Kerry Dinsmore (CEH)
Rebecca Fisher (RHUL)
James France (RHUL)
Dave Lowry (RHUL)
FMI scientists involved in July 2012 campaign:
Annalea Lohila (FMI)
Tuomas Laurila (FMI)
Tuula Aalto (FMI)
Petteri Ahonen (FMI)
Esko Kyrö (FMI)
Timetable, July 2012 campaign:
Participant
Present in
From
Sodankylä
CEH
July 9 – July 14
Number of
days
6
CEH
July 9 – July 25
17
CEH
July 19 – August 4
17
RHUL
RHUL
RHUL
July 16 - July 25
July 23 - July 27
July 21
10
5
1
description
Chamber
measurements
Chamber
measurements
Chamber
measurements
Isotope sampling
Isotope sampling
Isotope sampling
Sodankylä measurement station is a large facility, and during the campaign
there will always be FMI personnel present.
Budget as requested from InGos, July 2012 campaign:
TNA2
Number of
Unit cost
Total
access
calendar
access days
FMI
26 days
446,74 €/day
11 615,24 €
Sodankylä
site
Travel
CEH
RHUL
Subsistence
CEH
RHUL
Total
Number of
travellers
3
2
Number of
person working
days
40
16
Flat rate
Total
750 €/person
750 €/person
Flat rate
2250 €
1 500 €
50 €/person/day 2 000 €
50 €/person/day 800 €
6550€
Grand total TNA2 access + Travel & subsistence:
4. Expected results
18 165 €
Flux measurements will lead to new,improved understanding of the
dependence of surface fluxes on relevant parameters (temperature, radiation,
ground water, vegetation etc). Isotopic measurements will allow better
characterisation of the Arctic wetland source in models. These crucial
datasets, particularly in the Arctic, are currently few and sporadic. Data
collected in a series of aircraft survey flights will significantly expand the new
datasets, provide important complementary measurements for satellite
instruments and, along with modelling, will allow the ground-based data to be
put into regional and hemispheric context. We will determine if changes in the
Arctic are resulting in increased CH4 emissions by combining our data with
CH4 data from the small number of other Arctic stations. The results from
these studies will be published in peer reviewed journals and utilized in
university education. The data gathered will be made available for other
researchers and general public.
5. Key literature
1. Nisbet E.G. & Chappellaz, J., Shifting gear, quickly. Science 324, 477-478, 2009.
2. Forster, P., V. Ramaswamy, P. Artaxo, et al., Changes in Atmospheric Constituents and in
Radiative Forcing.,in Climate Change 2007: The Physical Science Basis. Contribution of
Working Group I to the Fourth
Assessment Report of the I PCC, edited by Solomon, S., et al., Cambridge University Press,
Cambridge, United
Kingdom and New York, NY, USA, 2007.
3. Rigby, M., R. G. Prinn, P. J. Fraser, et al., Geophysical Research Letters, 35 (22),
doi:10.1029/2008gl036037,
2008.
4. Dlugokencky, E. J., E. G. Nisbet, R. Fisher, et al., Philosophical Transactions of the Royal
Society A,
submitted, 2010.
5. Miller, J. B., L. V. Gatti, M. T. S. d'Amelio, et al., Geophysical Research Letters, 34 (10),
doi:10.1029/2006gl029213, 2007.
6. Bousquet, P., P. Ciais, J. B. Miller, et al., Nature, 443 (7110), 439-443,
doi:10.1038/nature05132, 2006.
7. Schiermeier, Q., Fears surface over methane leaks, Nature, 455 (2), 572-573,
doi:10.1038/455572a, 2008.
13. Bloom, A.A., et al, Science. 327. 322-325, 2010.
14. Ringeval, B., et al, Global Biogeochemical Cycles, 24, 2010.
15. Westbrook, G. K., K. E. Thatcher, E. J. Rohling, et al., Geophys. Res. Lett., 36,
doi:10.1029/2009gl039191,
2009.
16. Walter, K. M., M. E. Edwards, G. Grosse, et al., Science, 318 (5850), 633-636,
doi:10.1126/science.1142924, 2007.
17. Dlugokencky, E. J., S. Houweling, L. Bruhwiler, et al., Geophys. Res. Lett., 30 (19),
doi:10.1029/2003gl018126, 2003.
18. Serreze, M. C., J. E. Walsh, F. S. Chapin, et al., Climatic Change, 46 (1-2), 159-207, 2000.
19. Shakhova, N., I. Semiletov, A. Salyuk, et al., Science, 327 (5970), 1246-1250,
doi:10.1126/science.1182221,
2010.
28. Cramer, B., Poelchau, H.S., Gerling, P., et al., Marine and Petroleum Geology, 16, 225244, 1999.
29. Christensen, T.R., et al, Geophys. Res. Lett., 30, 1414, 2003.
30. Backstrand, K., et al, Biogeosciences, 7, 95-108, 2010.
31. Fowler, D., et al., Philosophical Transactions of the Royal Society of London, A, 351
(1696). 339-356, 1995.
32. Hargreaves, K. J., Fowler, D., Pitcairn, C. E. R. and Aurial, M.,.Theoretical and Applied
Climatology 70, 203
– 213, 2001.
33. Wille, C., Kutzbach, L., Sachs,T., Wagner, D., Pfeiffer, E-M., Global Change Biology, 14,
1395–1408, 2008.
34. Jackowicz-Korczyński, M., T. R. Christensen, et al.,, J. Geophys. Res., 115, in press,
2010.
41. Drewer, J., et al, European J. Soil Sci., in press, 2010.
42. Fisher, R., Lowry, D., Wilkin, O.,et al.., Rapid communications in Mass Spectrometry, 20,
200-208, 2006.
55. Sriskantharajah, S., Fisher, R.E., Lowry, D. et al.,Tellus Series B, Accepted 2012.