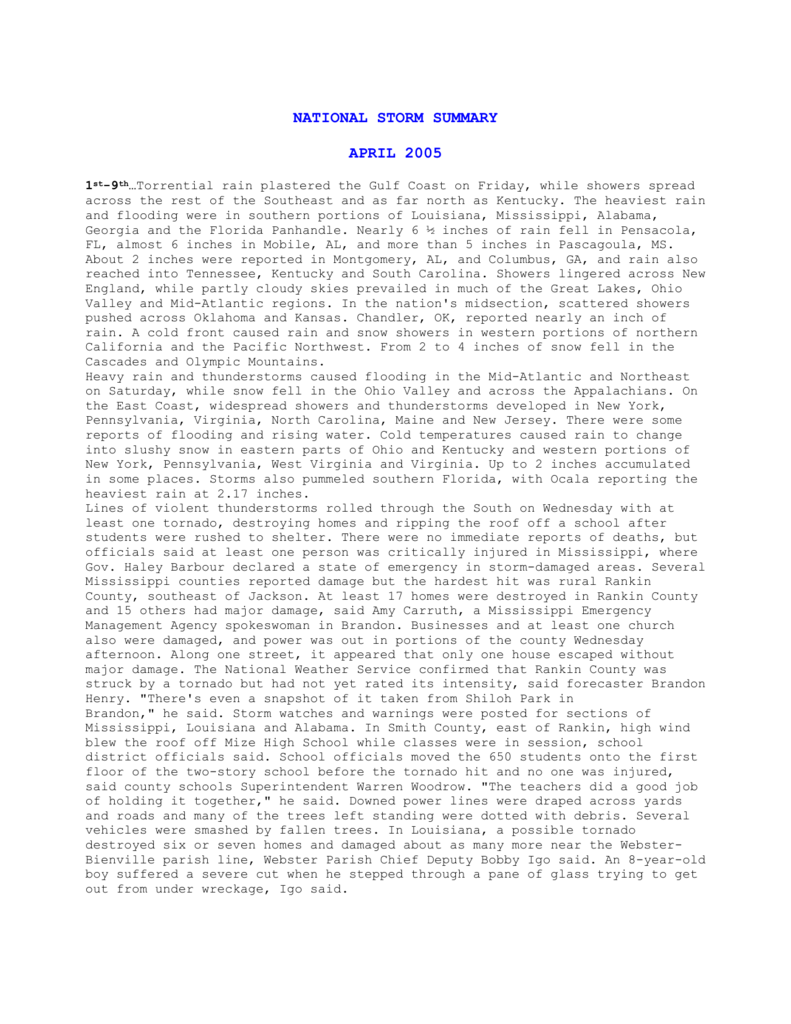 NATIONAL STORM SUMMARY
APRIL 2005
1st-9th…Torrential rain plastered the Gulf Coast on Friday, while showers spread
across the rest of the Southeast and as far north as Kentucky. The heaviest rain
and flooding were in southern portions of Louisiana, Mississippi, Alabama,
Georgia and the Florida Panhandle. Nearly 6 ½ inches of rain fell in Pensacola,
FL, almost 6 inches in Mobile, AL, and more than 5 inches in Pascagoula, MS.
About 2 inches were reported in Montgomery, AL, and Columbus, GA, and rain also
reached into Tennessee, Kentucky and South Carolina. Showers lingered across New
England, while partly cloudy skies prevailed in much of the Great Lakes, Ohio
Valley and Mid-Atlantic regions. In the nation's midsection, scattered showers
pushed across Oklahoma and Kansas. Chandler, OK, reported nearly an inch of
rain. A cold front caused rain and snow showers in western portions of northern
California and the Pacific Northwest. From 2 to 4 inches of snow fell in the
Cascades and Olympic Mountains.
Heavy rain and thunderstorms caused flooding in the Mid-Atlantic and Northeast
on Saturday, while snow fell in the Ohio Valley and across the Appalachians. On
the East Coast, widespread showers and thunderstorms developed in New York,
Pennsylvania, Virginia, North Carolina, Maine and New Jersey. There were some
reports of flooding and rising water. Cold temperatures caused rain to change
into slushy snow in eastern parts of Ohio and Kentucky and western portions of
New York, Pennsylvania, West Virginia and Virginia. Up to 2 inches accumulated
in some places. Storms also pummeled southern Florida, with Ocala reporting the
heaviest rain at 2.17 inches.
Lines of violent thunderstorms rolled through the South on Wednesday with at
least one tornado, destroying homes and ripping the roof off a school after
students were rushed to shelter. There were no immediate reports of deaths, but
officials said at least one person was critically injured in Mississippi, where
Gov. Haley Barbour declared a state of emergency in storm-damaged areas. Several
Mississippi counties reported damage but the hardest hit was rural Rankin
County, southeast of Jackson. At least 17 homes were destroyed in Rankin County
and 15 others had major damage, said Amy Carruth, a Mississippi Emergency
Management Agency spokeswoman in Brandon. Businesses and at least one church
also were damaged, and power was out in portions of the county Wednesday
afternoon. Along one street, it appeared that only one house escaped without
major damage. The National Weather Service confirmed that Rankin County was
struck by a tornado but had not yet rated its intensity, said forecaster Brandon
Henry. "There's even a snapshot of it taken from Shiloh Park in
Brandon," he said. Storm watches and warnings were posted for sections of
Mississippi, Louisiana and Alabama. In Smith County, east of Rankin, high wind
blew the roof off Mize High School while classes were in session, school
district officials said. School officials moved the 650 students onto the first
floor of the two-story school before the tornado hit and no one was injured,
said county schools Superintendent Warren Woodrow. "The teachers did a good job
of holding it together," he said. Downed power lines were draped across yards
and roads and many of the trees left standing were dotted with debris. Several
vehicles were smashed by fallen trees. In Louisiana, a possible tornado
destroyed six or seven homes and damaged about as many more near the WebsterBienville parish line, Webster Parish Chief Deputy Bobby Igo said. An 8-year-old
boy suffered a severe cut when he stepped through a pane of glass trying to get
out from under wreckage, Igo said.
10th-16th…Travelers spent the night sleeping in airport terminals and hunkered
down at truck stops and churches after a howling blizzard grounded airplanes,
shut down highways and snapped tree limbs. Almost a foot of snow fell in Denver
on Sunday and 2 feet fell in Greenland, about 20 miles north of Colorado
Springs, the National Weather Service said. Snow was tapering off Monday but
still fell across the eastern part of the state and adjoining areas of western
Kansas, the Nebraska Panhandle and parts of Wyoming and South Dakota. There were
no immediate reports of injuries or deaths, but blackouts affected thousands of
people. Schools for thousands of children were closed across the eastern half of
Colorado. Most airlines delayed or canceled flights Sunday, including United
Airlines, the biggest carrier at Denver International Airport, officials said.
Flights also were canceled out of Colorado Springs. About 2,000 travelers were
stranded overnight at Denver International, airport spokesman Steve Snyder said.
He said it could be Tuesday or later before airline schedules return to normal.
Interstate 70 remained closed Monday morning between suburban Aurora and Colby,
KS, a stretch of about 200 miles, according to police and highway officials in
both states. Goodlan reported only about 2 inches of snow, but Kansas Highway
Patrol Capt. Kelly McGuire said 13 tornadoes were reported Sunday in the western
part of the state. A couple of houses were seriously damaged, he said.
17th-23rd…Storms brought rain and high wind to the Midwest on Wednesday, while
several inches of snow fell in the West and fog dotted the Southeast. Wind
gusting to more than 60 mph swept through parts of Ohio, Michigan, Indiana and
Illinois. In the nation's midsection, rain dampened parts of Nebraska, Iowa,
South Dakota and Missouri. Some thunderstorms threatened quarter-sized hail. In
the West, a mix of snow and rain lingered over Montana, Wyoming, Utah, Nevada
and Idaho. Snow accumulations were heavier at higher elevations.
Storms lashed much of the Midwest and South with rain and hail Friday, while
lighter showers fell on southern California and Arizona. A line of thunderstorms
stretched over Ohio, Kentucky, Tennessee, the Carolinas, Virginia, Mississippi
and Alabama. Storms caused golf ball-sized hail to fall in Booneville, MS, while
strong winds tore down trees and ripped off shingles across the South. Lighter
rain fell over Iowa, Missouri, Wisconsin, Illinois and Indiana. Showers were
also reported in the Mid-Atlantic states.
24th-30th…An unusual spring storm dumped nearly 2 feet of wet snow on parts of
the Midwest and Appalachians, snapping power lines, taking a bite out of
baseball and rewriting the record books. The two-day weekend storm brought
temperatures as much as 25 degrees below the normal of around 60 as snow fell
across parts of Michigan, Indiana, Ohio and western Pennsylvania, and south
along the Appalachians as far as western North Carolina. Police in Indiana said
snow-covered pavement contributed to two traffic deaths. Northeastern Ohio was
hardest hit, with 21 inches of snow in North Royalton, 15 in Solon and Tina
Adams' 18 in Chardon. Dozens of schools were closed Monday because of slippery
roads. Cleveland reported 12.4 inches, boosting the city's total for the month
to an April record of 19 inches, nearly 5 inches over the old record. Compacting
and melting left just 8 inches on the ground by the morning rush hour. For the
season, Cleveland's total jumped to 117.9 inches, toppling the old record of
101.1 inches set in 1995-96. Up to 16 inches of wet snow fell on parts of
Michigan's Thumb peninsula and Detroit's northern suburbs, the National Weather
Service said. Wind gusting to 40 mph created drifts 3 and 4 feet high on the
Thumb. In the Appalachians, 8 inches fell at Terra Alta, WV, more than double
what was forecast. Parts of western Maryland also reported 8 inches. On
Grandfather Mountain in North Carolina, known for extreme weather, about 5
inches of snow fell, the temperature fell to 16 and wind gusted to 139 mph,
meteorologists said. The cold likely will harm some fruit trees, but perennials
should be OK, experts said. Farmers were wary of the cold wave's effect on seed
they planted early. Snapped branches and power lines left about 80,000 First
Energy customers in the Cleveland area without power Sunday. About 54,000
customers were still without power Monday, the utility said.
Up to two feet of snow buried parts of Wyoming and Montana on Thursday, while
rain developed over parts of the Northeast, Midwest and West. Some mountainous
areas received up to 8 inches and isolated parts of Wyoming and Montana received
up to 2 feet. Rain, some of it heavy, fell in the Northeast and Midwest.
Thunderstorms developed in Oklahoma, Kansas, Missouri, Arkansas and Tennessee.
Scattered thunderstorms brought showers to parts of the Tennessee Valley and
southern Plains Friday, while light rain and scattered snow showers lingered
across the central Rockies. The most severe storms were in northern Arkansas,
where 1.75 inches of hail fell in White and Lanoke counties and Russellville
recorded 1.2 inches of rain. Thunderstorms were also reported across the
Tennessee Valley and lower Mississippi Valley, while light rain fell in portions
of the Northeast, Ohio Valley and Mid-Atlantic. Rain totals generally remained
under .4 inches.