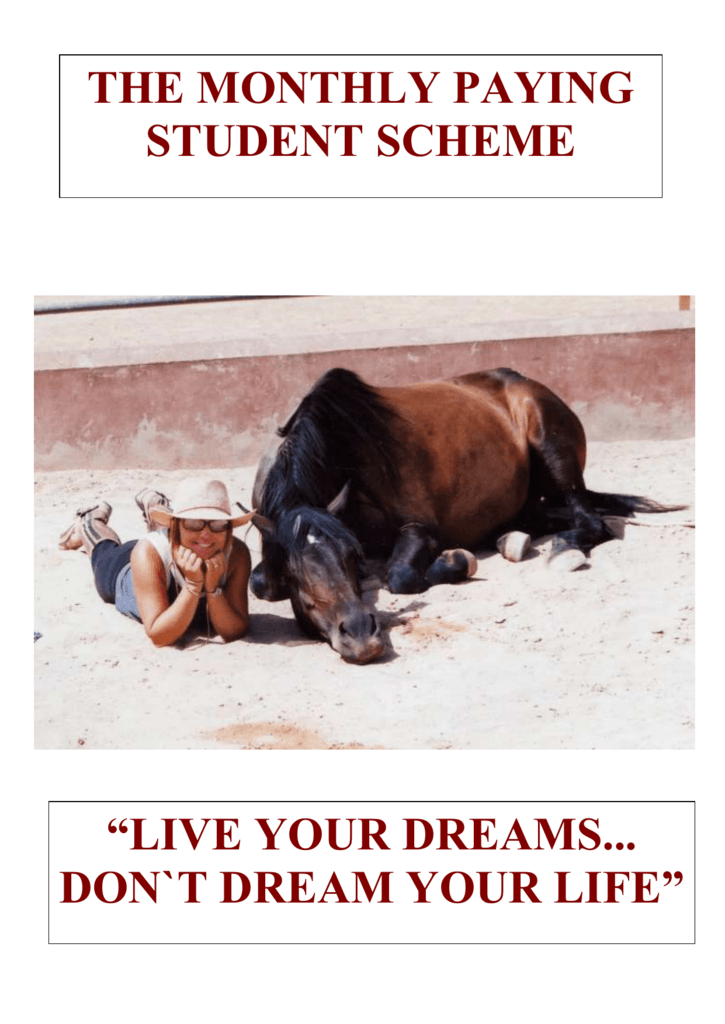 THE MONTHLY PAYING
STUDENT SCHEME
"LIVE YOUR DREAMS...
DON`T DREAM YOUR LIFE"
Location:
The Natural Horsemanship project is located in southern Spain near to the picturesque town of
Antequera. The area is rich in farmland, while fields of sunflowers turn it a vibrant yellow in the sunshine.
The nearest large town and airport is Malaga.
The Project
Have you ever wanted to learn more about the natural lives of our horses? Have you ever wanted to achieve a
deeper connection with your horse? Do you want to work towards a more meaningful partnership?
The Natural Horsemanship project offers every volunteer the chance to experience a more insightful and
sympathetic way of working with horses based upon Tracy's Programme "Making The Natural Connection".
"My Round Pen is a place where I introduce the idea that he and I are on the same team" - Monty Roberts –
This project provides a unique opportunity to learn all about natural horsemanship and to travel along this path of
understanding and learning that will deepen your knowledge about horses and help you achieve extraordinary
results with horses. You will be inspired to work with horses in a completely new and un-intrusive way, working
towards an equal partnership and truly happy relationship with one another. Discover a way of working with
horses that you never thought possible!!
"Tracy's unique coaching style offers you a way to work with horses through feel, helping you to
Develop a relationship based on trust, clear communication and respect"
~ Quote from a recent project participant ~
Not just about the riding, this project will allow you to learn all about life from the horses' point
of view. Learn how to create a trusting relationship with your horse and work together in
harmony. All aspects of horse's lives will be explored – from communication and body language
to their social lives and psychology. At this project you will truly learn to 'think horse'.
Not just about the riding
this project will allow you
to learn all about life from
the horse's point of view.
Learn how to create a
trusting relationship
with your horse and
work together in
harmony
. All aspects of
horse's lives will be
explored – from
communication and
body language to
their social lives and
psychology.
At this project you will truly
learn to "think horse".
The Natural Horse Centre Team
Accommodation
You will be invited to live "as family" on the Natural Horse Ranch which is set in 50 acres of
beautiful countryside with spectacular mountain views and a wonderful climate.
All students will stay in the guest accommodation at the ranch, which is clean, comfortable, and
a lovely place to relax after a day spent with the horses. There is a large lounge area, fully fitted
kitchen, Wi-Fi access and satellite television including DVD/VHS player and plenty of movies
to watch.
Food can be purchased locally very cheaply and there are good cooking facilities in the kitchen.
Students can "club together" to cook their meals, or you can choose to eat with the other guests.
Evenings are usually spent relaxing on the veranda with a cool glass of sangria or a beer. There
are also a number of Tapa Bars nearby in the local village a 10 minute walk from the ranch.
The ranch has a great feeling of space with lots of different places to rest and relax. The
courtyard has hanging grapes from vines with a good shaded area and relaxing verandas. There
are two garden areas with the guest area at the back with a large veranda, dining area, cold
plunge and a heated swimming pool. There are orange, lemon and almond trees with a scented
herb garden offering a shaded and sunbathing area.
Duration
Students can stay at the Natural Horsemanship project for four weeks ( If you would like to come
for a 2 week period please contact us for availability and price)
Some of the activities you will be involved in at the project include:
 Round pen sessions – learn how to read horses,
interpret their behaviour and influence footfalls.
 Dismounted workshops - Learn about the horses
and their natural instincts
 How to take learnt ground skills and apply them
under saddle
 See how your asymmetry affects the way horses
move
 Trail riding and hacking through picturesque olive
groves, depending on riding ability.
 Discovering true unity and softness with your
horse based on trust and communication
 How to take "natural" into the competition arena
 Video feedback to help you put into practice what
you have learnt and apply these concepts and
principles to your own horses at home
You will also be involved in and get the chance to learn about:
 Barefoot trimming
 Overcoming trailer/loading problems
 Stretches, toggling and massaging the horses
Cost?
The cost is 3,000.00 Euros. A deposit of 600.00 Euros is transferred to my bank account here in
Spain or you can pay the 600.00 Euros using Pay pal on the website. The remaining balance of
2,400.00 euro's must be paid by bank transfer 1 month prior to arrival. Transfers are easy to do
just speak to your bank. If you wish to come for only a 2 week period please contact for
availability and price. (This price may be reduced to 2,500.00 euros depending on the time of
year)
What is new?
We now offer the option of coming as a Working Monthly Paying Student with a view to
helping around the ranch whilst you are here which would include watering the plants, general
chores including poo picking etc. The cost per month is 2,000.00 Euros A deposit of 300.00
Euros is required transferred as above. ( this price may be reduced to 1,800.00 euros depending
on the time of year)
Included in the cost
Accommodation, all tuition and hacking.
Not included in the cost
Food, flights, insurance and pick-up from the airport.
(We will pick you up from the train station at Bobadilla)
Format of the course
The weekly Courses are very structured
although I am always flexible depending on
people's individual requirement and their
ability to learn. We are a lot more relaxed
with Monthly Students, you will be taught at
the same time as my Working Students, 5
days out of 7. You can be as much "hands on"
as you like with regard to ever day horse
management which is different here because
our horses live out as a natural herd and we
use holistic medication where possible and all
of our horses are "Barefoot"
Is there certification at the end of the month
A Certificate is given at the end of the duration of
your stay based on my Programme "Making The
Natural Connection" You will leave here with
enough tools in your kit to go home and make a big
difference to the horses you work with. This
Certification can go towards becoming a
Recommended Associate. (Check out the document
on the website for more details)
We have created a very relaxed atmosphere and enjoyable environment here which we find helps
People learn without the usual pressures of having to achieve things within a certain time frame,
that's why the training is not rigid nor set in stone. You can learn at your own pace.
Riding Ability
There is no requirement of riding ability for this project – you simply need a passion for horses
and a desire to learn better methods of communication with these wonderful animals.
The methods used at the Natural Horsemanship Project are quite different to those used at
traditional yards, and so even if you have a great deal of equestrian experience you will certainly
learn new methods of doing things and be able to see first-hand the benefits a natural lifestyle
has on the horses. If you want to hack out then you will need to be confident in walk, trot and
canter. But don't worry – if you are not quite there yet then we aim to get you there!
Additional Activities
During your free time you are free to relax at the ranch, read a book on the veranda or go for a
swim in the pool. There are also a number of activities in the local area that you can get involved
in on days off. These include:







Catch a train to Seville or Madrid for sightseeing and shopping
Visit nearby towns of Granada, Malaga, Cordoba or Ronda
Visit local market towns for culture, history and traditional markets
See churches, castles and monasteries in Antequera
Go on a cave tour
Sample the local delicacies – tapas and sangria!
Enjoy a tour around Wolf Park, a local nature reserve with several packs of wolves to see
 Play golf at the local 18-hole golf course
 Visit the famous Torcal mountains
The Chorro Lakes are a short drive away – here you can swim in clear, natural warm waters,
dive off rocks and soak up the sunshine.
There are bikes available for volunteers to use, and a great network of cycle tracks and mountain
trails to follow.
The courses always start on the first Monday of the month but we suggest you arrive anytime
over the weekend to settle in and this also gives you an opportunity to shop for the best flight
prices Return flight should be booked 4 weeks from the the date of arrival.
2014 dates:
1st January
3th February
3th March
1st April
5th May
3rd June
1st July
4th August
1st September
6th October
3th November
December closed
Here we have a Monthly Student enjoying her first conversation with a colt, born on the ranch
3 day earlier.
www.naturalhorseridinginspain.com
WE LOOK FORWARD TO SEEING YOU HERE!!!