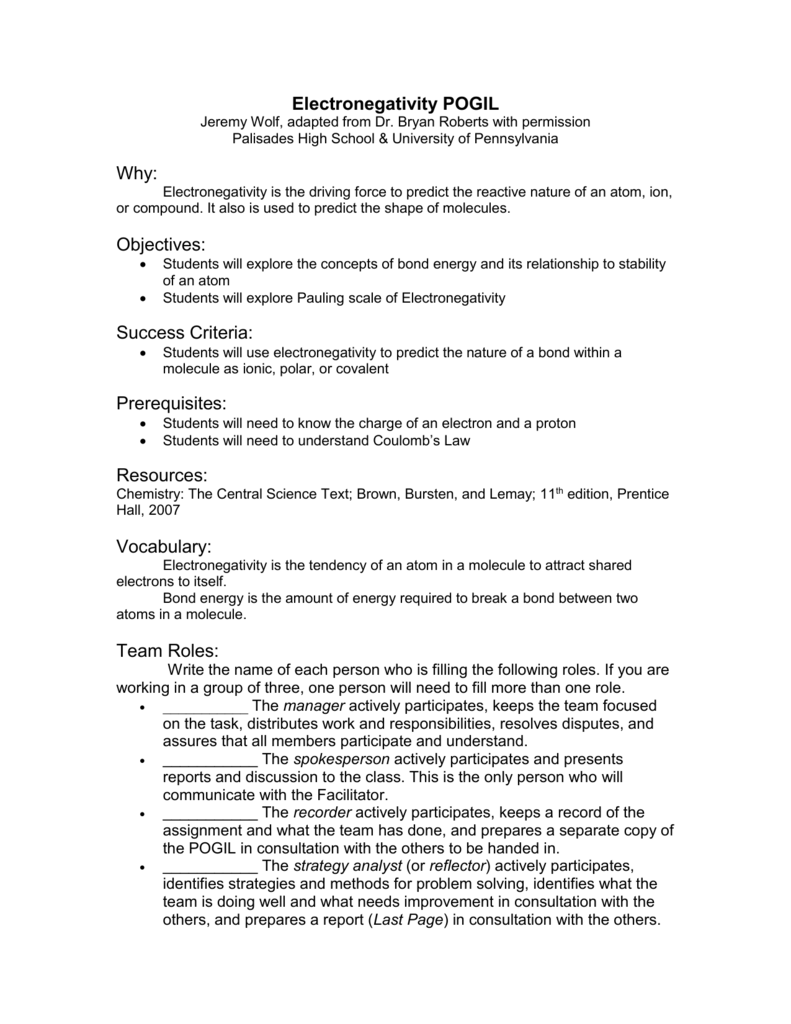 Electronegativity POGIL
Jeremy Wolf, adapted from Dr. Bryan Roberts with permission
Palisades High School & University of Pennsylvania
Why:
Electronegativity is the driving force to predict the reactive nature of an atom, ion,
or compound. It also is used to predict the shape of molecules.
Objectives:


Students will explore the concepts of bond energy and its relationship to stability
of an atom
Students will explore Pauling scale of Electronegativity
Success Criteria:

Students will use electronegativity to predict the nature of a bond within a
molecule as ionic, polar, or covalent
Prerequisites:


Students will need to know the charge of an electron and a proton
Students will need to understand Coulomb's Law
Resources:
Chemistry: The Central Science Text; Brown, Bursten, and Lemay; 11th edition, Prentice
Hall, 2007
Vocabulary:
Electronegativity is the tendency of an atom in a molecule to attract shared
electrons to itself.
Bond energy is the amount of energy required to break a bond between two
atoms in a molecule.
Team Roles:
Write the name of each person who is filling the following roles. If you are
working in a group of three, one person will need to fill more than one role.

___________ The manager actively participates, keeps the team focused
on the task, distributes work and responsibilities, resolves disputes, and
assures that all members participate and understand.

___________ The spokesperson actively participates and presents
reports and discussion to the class. This is the only person who will
communicate with the Facilitator.

___________ The recorder actively participates, keeps a record of the
assignment and what the team has done, and prepares a separate copy of
the POGIL in consultation with the others to be handed in.

___________ The strategy analyst (or reflector) actively participates,
identifies strategies and methods for problem solving, identifies what the
team is doing well and what needs improvement in consultation with the
others, and prepares a report (Last Page) in consultation with the others.
Model 1: A Table of Pauling Electronegativity Values
H
2.2
Li
1.0
Na
0.9
K
0.8
Rb
0.8
Be
1.6
Mg
1.3
Ca
1.0
Sr
1.0
B
2.0
Al
1.6
Ga
1.8
In
1.8
C
2.6
Si
1.9
Ge
2.0
Sn
2.0
N
3.0
P
2.2
As
2.2
Sb
2.1
O
3.4
S
2.6
Se
2.6
Te
2.1
F
4.0
Cl
3.2
Br
3.0
I
2.7
The dividing line between ionic and covalent bonding is not definite.
However, as a general guideline, if the electronegativity is smaller than about 1.5,
the bond can reasonably be taken to be covalent. If the difference is greater than
2, the bond is essentially ionic. Differences between 1.5 and 2 will correspond to
bonds which have significant ionic and covalent character.
Critical Analysis Questions:
1. Provide an example of a molecule that has polar covalent bonds that are
more polar than the bonds in NH3.
2. For each of the following, which has the most polar bonds?
a) CF4, NF3, OF2
b) OF2, SF2, SeF2
c) B2O3, Al2O3, CO2
d) P2O3, NO2, SO2
3. When an ionic bond is formed, what type of atom is likely to lose one or
more electrons? What type of atom is likely to gain one or more electrons?
Why?
Exercises
1. Classify the bond in each of the following as nonpolar, polar, or ionic:
a) O2
b) NaF
c) KCl
d) NO
e) ICl
f) CO2
2. Classify each of the following bonds as nonpolar, polar, or ionic
a) C-H in CH4
b) Si-Cl in SiCl4
c) Al-O in Al2O3
d) H-S in H2S
Strategy Analyst's Report: Electronegativity POGIL
How Strong Is Your Team?
For each item, score your team's performance as:
1 = not very good
2 = needs significant improvement
3 = needs some improvement
4 = adequate
5 = stellar
Item
Score
Justification
Plan
Everyone came
prepared.
Everyone participated
fully.
We encouraged and
helped each other.
Everyone asked
questions
when they didn't
understand.
Everyone gave clear
explanations to each
other.
Everyone contributed
ideas.
We listened to each
other.
Each person
contributed
to our success; no one
dominated.
Everyone understood
the
material.
We completed the
assigned work.
Total
Write a justification for your score and provide a plan for improving your team's performance.
What was the most useful thing you learned during this session?
What questions remain uppermost in your mind as we end this session?