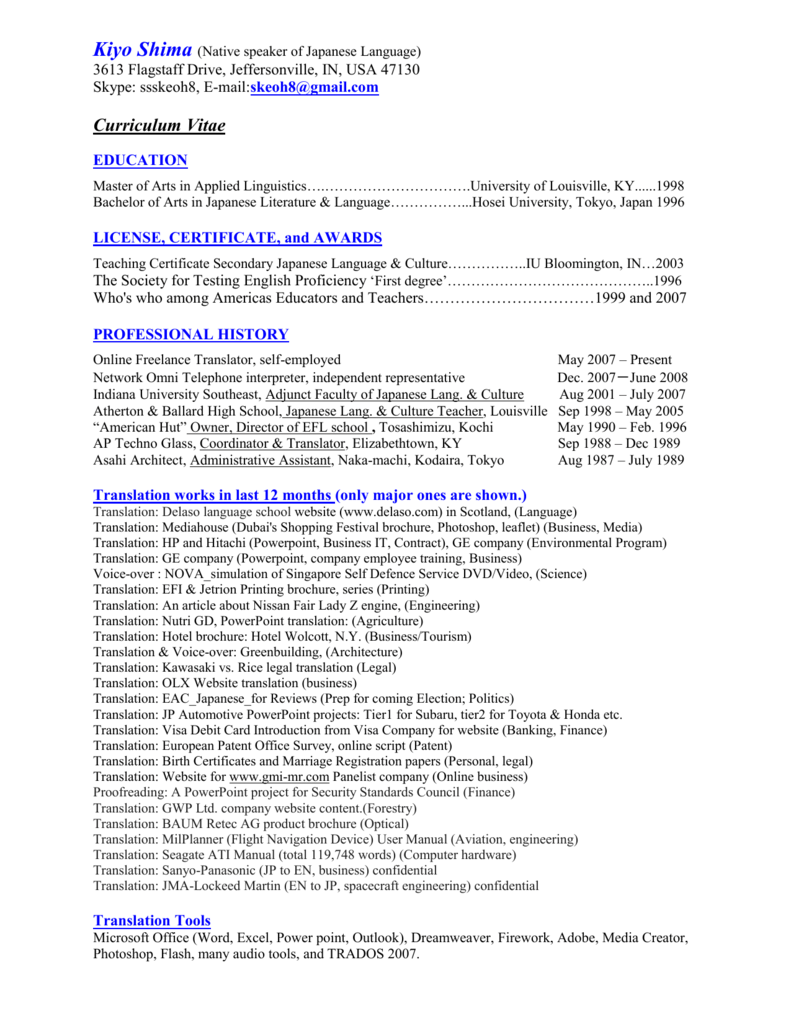 Kiyo Shima (Native speaker of Japanese Language)
3613 Flagstaff Drive, Jeffersonville, IN, USA 47130
Skype: ssskeoh8, E-mail:[email protected]
Curriculum Vitae
EDUCATION
Master of Arts in Applied Linguistics….………………………….University of Louisville, KY......1998
Bachelor of Arts in Japanese Literature & Language……………...Hosei University, Tokyo, Japan 1996
LICENSE, CERTIFICATE, and AWARDS
Teaching Certificate Secondary Japanese Language & Culture……………..IU Bloomington, IN…2003
The Society for Testing English Proficiency 'First degree'……………………………………..1996
Who's who among Americas Educators and Teachers……………………………1999 and 2007
PROFESSIONAL HISTORY
Online Freelance Translator, self-employed
Network Omni Telephone interpreter, independent representative
Indiana University Southeast, Adjunct Faculty of Japanese Lang. & Culture
Atherton & Ballard High School, Japanese Lang. & Culture Teacher, Louisville
"American Hut" Owner, Director of EFL school , Tosashimizu, Kochi
AP Techno Glass, Coordinator & Translator, Elizabethtown, KY
Asahi Architect, Administrative Assistant, Naka-machi, Kodaira, Tokyo
May 2007 – Present
Dec. 2007-June 2008
Aug 2001 – July 2007
Sep 1998 – May 2005
May 1990 – Feb. 1996
Sep 1988 – Dec 1989
Aug 1987 – July 1989
Translation works in last 12 months (only major ones are shown.)
Translation: Delaso language school website (www.delaso.com) in Scotland, (Language)
Translation: Mediahouse (Dubai's Shopping Festival brochure, Photoshop, leaflet) (Business, Media)
Translation: HP and Hitachi (Powerpoint, Business IT, Contract), GE company (Environmental Program)
Translation: GE company (Powerpoint, company employee training, Business)
Voice-over : NOVA_simulation of Singapore Self Defence Service DVD/Video, (Science)
Translation: EFI & Jetrion Printing brochure, series (Printing)
Translation: An article about Nissan Fair Lady Z engine, (Engineering)
Translation: Nutri GD, PowerPoint translation: (Agriculture)
Translation: Hotel brochure: Hotel Wolcott, N.Y. (Business/Tourism)
Translation & Voice-over: Greenbuilding, (Architecture)
Translation: Kawasaki vs. Rice legal translation (Legal)
Translation: OLX Website translation (business)
Translation: EAC_Japanese_for Reviews (Prep for coming Election; Politics)
Translation: JP Automotive PowerPoint projects: Tier1 for Subaru, tier2 for Toyota & Honda etc.
Translation: Visa Debit Card Introduction from Visa Company for website (Banking, Finance)
Translation: European Patent Office Survey, online script (Patent)
Translation: Birth Certificates and Marriage Registration papers (Personal, legal)
Translation: Website for www.gmi-mr.com Panelist company (Online business)
Proofreading: A PowerPoint project for Security Standards Council (Finance)
Translation: GWP Ltd. company website content.(Forestry)
Translation: BAUM Retec AG product brochure (Optical)
Translation: MilPlanner (Flight Navigation Device) User Manual (Aviation, engineering)
Translation: Seagate ATI Manual (total 119,748 words) (Computer hardware)
Translation: Sanyo-Panasonic (JP to EN, business) confidential
Translation: JMA-Lockeed Martin (EN to JP, spacecraft engineering) confidential
Translation Tools
Microsoft Office (Word, Excel, Power point, Outlook), Dreamweaver, Firework, Adobe, Media Creator,
Photoshop, Flash, many audio tools, and TRADOS 2007.