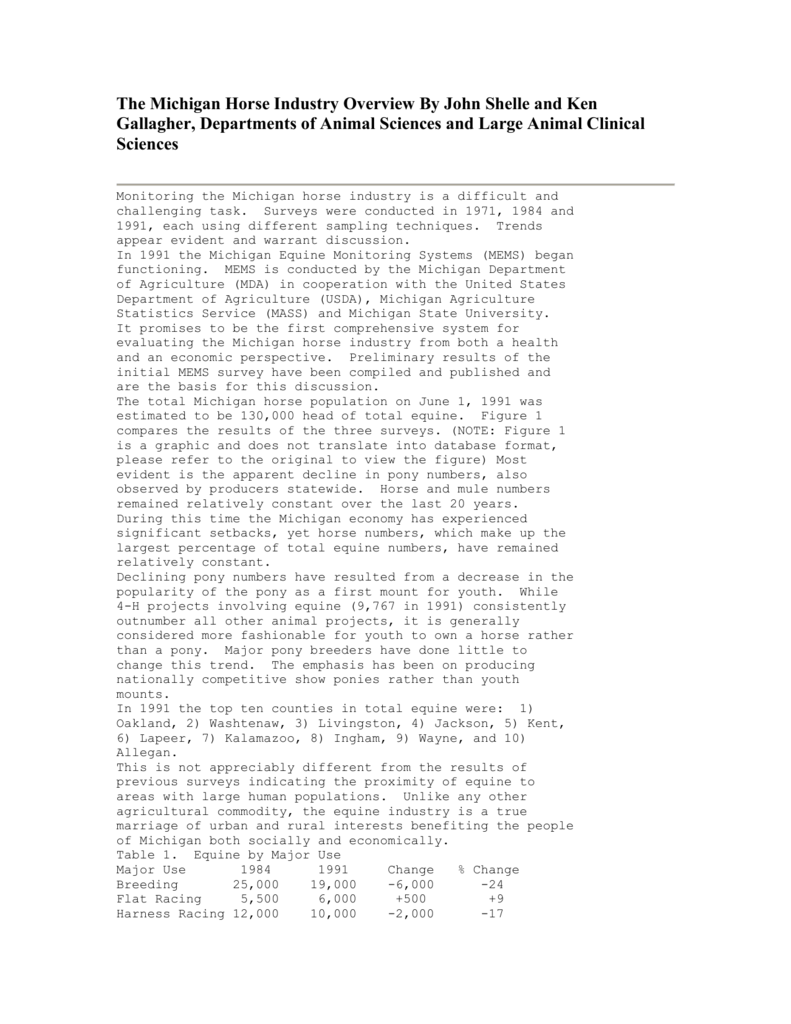 The Michigan Horse Industry Overview By John Shelle and Ken
Gallagher, Departments of Animal Sciences and Large Animal Clinical
Sciences
Monitoring the Michigan horse industry is a difficult and
challenging task. Surveys were conducted in 1971, 1984 and
1991, each using different sampling techniques. Trends
appear evident and warrant discussion.
In 1991 the Michigan Equine Monitoring Systems (MEMS) began
functioning. MEMS is conducted by the Michigan Department
of Agriculture (MDA) in cooperation with the United States
Department of Agriculture (USDA), Michigan Agriculture
Statistics Service (MASS) and Michigan State University.
It promises to be the first comprehensive system for
evaluating the Michigan horse industry from both a health
and an economic perspective. Preliminary results of the
initial MEMS survey have been compiled and published and
are the basis for this discussion.
The total Michigan horse population on June 1, 1991 was
estimated to be 130,000 head of total equine. Figure 1
compares the results of the three surveys. (NOTE: Figure 1
is a graphic and does not translate into database format,
please refer to the original to view the figure) Most
evident is the apparent decline in pony numbers, also
observed by producers statewide. Horse and mule numbers
remained relatively constant over the last 20 years.
During this time the Michigan economy has experienced
significant setbacks, yet horse numbers, which make up the
largest percentage of total equine numbers, have remained
relatively constant.
Declining pony numbers have resulted from a decrease in the
popularity of the pony as a first mount for youth. While
4-H projects involving equine (9,767 in 1991) consistently
outnumber all other animal projects, it is generally
considered more fashionable for youth to own a horse rather
than a pony. Major pony breeders have done little to
change this trend. The emphasis has been on producing
nationally competitive show ponies rather than youth
mounts.
In 1991 the top ten counties in total equine were: 1)
Oakland, 2) Washtenaw, 3) Livingston, 4) Jackson, 5) Kent,
6) Lapeer, 7) Kalamazoo, 8) Ingham, 9) Wayne, and 10)
Allegan.
This is not appreciably different from the results of
previous surveys indicating the proximity of equine to
areas with large human populations. Unlike any other
agricultural commodity, the equine industry is a true
marriage of urban and rural interests benefiting the people
of Michigan both socially and economically.
Table 1. Equine by Major Use
Major Use
1984
1991
Change
% Change
Breeding
25,000
19,000
-6,000
-24
Flat Racing
5,500
6,000
+500
+9
Harness Racing 12,000
10,000
-2,000
-17
Pleasure
83,500
*68,500
-15,000
-36
Showing
28,500
18,000
-10,500
-36
Work
5,500
8,500
+3,000
+54
TOTAL
160,000
130,000
-30,000
-19
*Combines pleasure, trail riding, and other use categories
of 1991 MEMS survey.
Table 1 shows survey results from 1984 and 1991 regarding
the use of Michigan equine. Substantial increases in
horses used for work and flat racing are comparable to a
decline in most of the major use categories. The number of
horses used for pleasure has suffered the largest
reduction. The relatively constant decline in pony numbers
since 1971, and the decline in pleasure horse numbers, seem
to be supported by observations by industry personnel.
The decline in pleasure horse numbers might best be
explained by the Michigan economy over this same time
period. As disposable income is reduced, people limit
their entertainment activities. Owning pleasure horses
does not differ appreciably from similar activities such as
snowmobiling, skiing or boating. These types of activities
are important for the psychological and economic well-being
of the people of Michigan.
Table 2. June 1991 Inventory and 1990 Income and Expenses
by Operation Type
Operation Type
June 1, 1991
1990
1990
Inventory
Income
Expenses
Boarding stables
12,000
$12,000,000
$17,000,000
Breeding farms
23,000
22,000,000
49,000,000
Other farms
30,000
7,000,000
23,000,000
Riding stables
3,000
4,000,000
4,000,000
Private residences 45,000
11,000,000
61,000,000
Training stables
11,000
26,000,000
39,000,000
Other equine
6,000
6,000,000
5,000,000
operations
Owners with all
N/A
34,000,000
58,000,000
equine boarded elsewhere
TOTAL
130,000
$122,000,000
$256,000,000
The 1990 income and expenses of various horse enterprises
are shown in Table 2. Total expenditures by equine owners
topped one-quarter billion dollars in 1990. This represents a substantial contribution to the Michigan economy.
These monies represent jobs and purchases which involve a
large number of persons not directly involved in the equine
industry. Horse owners travel great distances to
participate in horse events. This requires purchases of
food at restaurants, fuel for vehicles and lodging for
overnight travel. The maintenance of show grounds and
racetracks also requires a large amount of non-horserelated labor.
The size of horse operations in 1991 is graphically
depicted in Figure 2. Operations of less than 9 total head
account for 78,000 head of equine. This is indicative of
the part-time nature of the industry and the large number
of Michigan residents who own equine. The greatest number
maintain only a few horses to enjoy on weekends and
holidays. The enormous benefit to young people through 4-H
and breed association youth programs also requires minimal
horse investment. These types of activities account for
the relatively small size of most horse enterprises.
The Michigan equine industry has remained strong despite
the economic difficulties Michigan has experienced over the
last decade. However, it is time to stop looking at the
Michigan equine industry as an economic barometer and
instead turn to it as an economic stimulant. The
opportunities for growth in equine-related enterprises are
enormous and should be fostered by state agencies.
Michigan Racing Industry
Because of the unique nature of the race industry, a
separate and detailed discussion of its importance to the
Michigan economy is warranted.
Horse racing's payoff to Michigan is far greater than the
dollars wagered at racetracks. Horse racing means tax
dollars; horse racing means jobs; horse racing means
investments; and horse racing means stability and
increasing prosperity for our state's farms.
Parimutuel horse racing produced over $21 million in direct
revenue for the state of Michigan in 1990. This revenue
supported all racing regulatory programs and many other
programs within the Michigan Department of Agriculture.
Several million dollars supported the county fairs and
their programs across the state. The state appropriated
over $3.6 million to the local communities in which tracks
are located to defray the costs of police and fire
protection. Financial incentives were offered to the
breeders of the best Michigan-bred horses. Annually,
$800,000 has been provided to supplement the budget for the
Pontiac Silverdome. The remaining monies went to the State
General Fund to be used in human services, education,
transportation and other vital programs.
As an important part of the state economy, horse racing
interests pay property taxes on the tracks, breeding, and
training facilities to local communities. The tracks also
contribute to the economy of the surrounding communities by
purchasing goods and services. For example, the tracks
spent over $2.3 million on advertising in 1990. Successful
bettors, who pay state income taxes on their winnings, won
over $352.9 million in 1990. The tracks paid out more than
$32.8 million in purses to winning owners. In addition,
the racetracks paid more than $19.5 million in salaries and
wages, providing employment as well as income and payroll
taxes to the state.
Horse racing is the most labor-intensive activity found in
Michigan agriculture. It creates numerous jobs on and off
tracks for trainers, drivers, jockeys, blacksmiths, grooms,
veterinarians, racing officials, parimutuel clerks, guards,
admission clerks, concession workers, restaurant workers,
vendors, office workers, and numerous other personnel.
Indirectly, racing interest provides employment for
farmers, transportation workers, restaurant and hotel
personnel employed near the tracks, the media
representatives who report on racing, and the workers who
build and repair the training or track facilities, among
others. Their collective contribution to the Michigan
economy is substantial.
In many of the rural areas of our state, supplying the
needs of racehorses represents much of the local economy.
Farmers grow and sell the feed required by our racehorse
population. The elevator operations make sure that feed is
available year-round. Farmers open their barns and
training facilities to horse owners on a year-round basis,
supplying needed employment opportunities for Michigan
citizens.
1984 was the first year that an equine census was conducted
and gave a breakdown by breed and use. Racehorses
comprised 11 percent of the 160,000 horses in Michigan. In
1991, even though horse numbers decreased to 130,000, the
percentage of racehorses increased to 12.3 percent.
Despite increases in the number of days raced and the total
wagering, the state revenues decreased by 26 percent (Table
3). This is a negative trend because the state has fewer
dollars to distribute directly or indirectly back into the
racing industry. If more money is not invested in the
industry in the form of purses, sire states and breeders'
awards, there could be a significant decline in numbers of
racehorses in the future.
Table 3. Michigan Racing
Total
Total
Year
Days
Total
Parimutuel
State
Raced Attendance
Wagering
Revenue
1980
703
3,030,257
$396,396,317 $27,828,645
1990
906
2,660,443
$440,889,684 $20,712,184
Future of the Michigan Horse Industry
It appears that the Michigan horse population will remain
relatively constant in the future. Numbers will fluctuate
between 120,0900 and 180,000 head. Factors which will
affect horse numbers are the Michigan economy and human
population. Horse numbers will continue to be concentrated
in the urban and suburban Michigan counties. Rural
counties will continue to have relatively smaller horse
populations. In this manner the horse industry represents
the true interface between animal agriculture and urban
Michigan. It plays an important role relative to
environmental and animal welfare concerns of Michigan
citizens.
The opportunity for economic growth in the horse industry
does not necessarily dictate large increases in horse
numbers. State and association programs which increase the
use of horses to improve the quality of life for Michigan
citizens mean increased jobs and revenue for a variety of
Michigan businesses.
The construction of the statewide Agricultural and
Livestock Education Center at Michigan State University as
part of the Animal Initiative will provide many economic
and educational dividends for the Michigan horse industry.
The center will provide facilities for classroom
instruction of MSU students as well as educational programs
to better meet the needs of horse breeders. The center
will also provide jobs and revenues for Michigan residents
by competitively bidding for national horse events which
require educational facilities of this type.
The future of the Michigan race industry is linked to the
future of other forms of gambling presently being
introduced in Michigan. Off-track betting, casino gambling
and lotteries all could reduce the future potential of the
Michigan race industry. Legislative provisions which
require financial support for racing from all state
gambling revenues will help to insure the continued
prosperity of this important Michigan industry.
Technologies Implementation
Reducing the costs of production in the labor-intensive
horse industry requires the development and implementation
of new technologies. The processes of semen collection and
handling techniques which allow for shipment of viable
semen need to be further developed and implemented. This
will allow the availability of high-quality genetics to a
larger number of horse owners, thus reducing the cost of
production and improving the overall quality of Michigan
horses.
Expanded efforts in the areas of exercise physiology and
lameness detection and prevention will benefit both the
racehorse and other performance horse (jumping, reining,
cutting, etc.) industries. Research is needed to discover
the optimal training and conditioning regimens which both
maximize performance ability and insure animal safety and
well-being. Instructional programs which make these
technologies available must be expanded to better serve the
Michigan horse industry.
The Michigan horse industry can be further strengthened by
expanding the coalitions formed among horse organizations
to increase marketing opportunities and the promotion of
horse-related events. Assistance is needed in the
development of marketing strategies for horses and horse
products. Events which are based on sound business
practices will insure a continued demand for these
commodities.
The continued development of MEMS and the practical
implementation of its data to solve horse industry problems
is critical to the future of the Michigan horse industry.
Economic data will assist in reducing costs of production.
Health data will be used to insure optimal care and disease
prevention for Michigan horses. Population data will be
useful in predicting future trends in the Michigan horse
industry. MEMS is a pioneer program and will identify a
variety of horse industry concerns and benefits and assist
in the recognition of future research needs.
The interest in educational horse programs at MSU and adult
horse programs statewide continues to grow. Expanded horse
offerings for undergraduate students at MSU as well as
through the University Outreach programs are needed to
better serve the needs of Michigan citizens.
Emerging Issues or Concerns
The horse industry will continue to take a leadership role
in dealing with the concerns of average Michigan citizens
regarding animal agriculture. Because most horse
facilities are located near population centers, horse
owners are exposed to more potentially volatile situations
than are most food animal producers. The horse industry
has a history of taking the initiative when dealing with
"right to farm" and animal welfare issues. The horse
industry provides a positive impression of animal
agriculture in Michigan and is very supportive of
agricultural programs and legislation.
Horse manure management poses unique concerns and will
require a unique solution. With other production species,
pollution and contamination are of greatest concern in
manure management. In horse operations, the greatest
concern is dealing with the high fiber content and sheer
quantity of manure and bedding. Research is needed to
provide solutions which are both environmentally
responsible and economically sound.
The horse industry has been and will continue to be an
integral part of the Michigan economy. With continued and
expanded support, its growth will provide additional jobs
and revenue and improve the quality of life for the
citizens of Michigan into the 21st century and beyond.