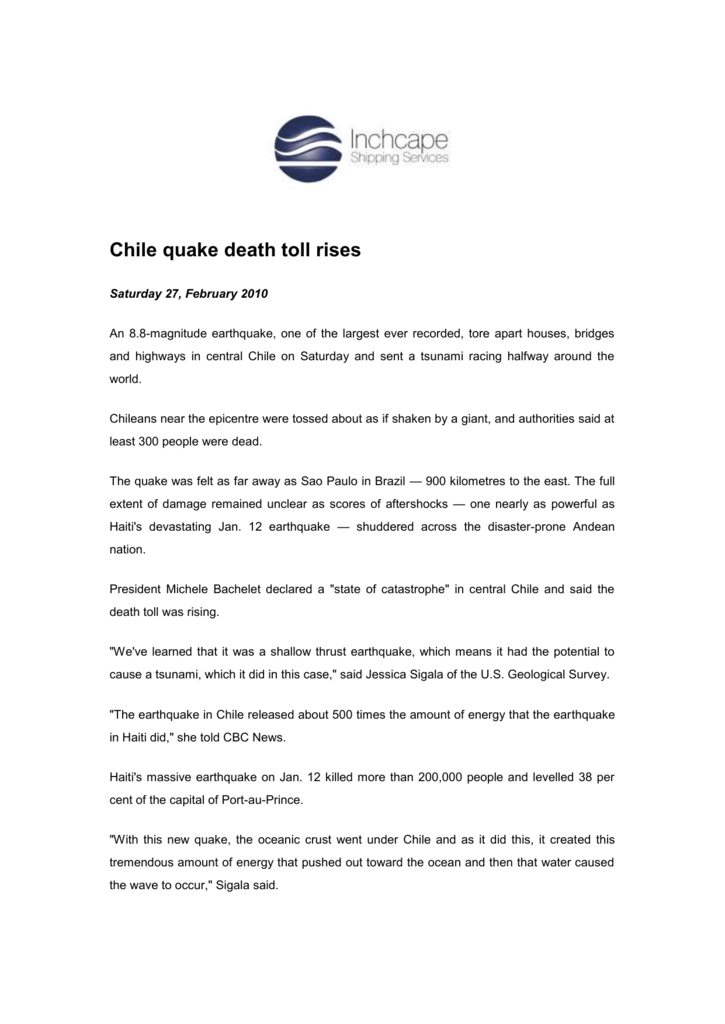 Chile quake death toll rises
Saturday 27, February 2010
An 8.8-magnitude earthquake, one of the largest ever recorded, tore apart houses, bridges
and highways in central Chile on Saturday and sent a tsunami racing halfway around the
world.
Chileans near the epicentre were tossed about as if shaken by a giant, and authorities said at
least 300 people were dead.
The quake was felt as far away as Sao Paulo in Brazil — 900 kilometres to the east. The full
extent of damage remained unclear as scores of aftershocks — one nearly as powerful as
Haiti's devastating Jan. 12 earthquake — shuddered across the disaster-prone Andean
nation.
President Michele Bachelet declared a "state of catastrophe" in central Chile and said the
death toll was rising.
"We've learned that it was a shallow thrust earthquake, which means it had the potential to
cause a tsunami, which it did in this case," said Jessica Sigala of the U.S. Geological Survey.
"The earthquake in Chile released about 500 times the amount of energy that the earthquake
in Haiti did," she told CBC News.
Haiti's massive earthquake on Jan. 12 killed more than 200,000 people and levelled 38 per
cent of the capital of Port-au-Prince.
"With this new quake, the oceanic crust went under Chile and as it did this, it created this
tremendous amount of energy that pushed out toward the ocean and then that water caused
the wave to occur," Sigala said.
Tsunami warnings were issued over a wide area, including South America, Hawaii, Japan,
Taiwan, Indonesia, the Philippines, Russia and many Pacific islands.
Tsunami waves reached Hawaii around noon local time, but there were no reports of damage.
The Pacific Tsunami Warning Center cancelled its tsunami warning for Hawaii a couple of
hours later.
A huge wave reached a populated area in the Robinson Crusoe Islands, 660 kilometres off
the Chilean coast, Bachelet said. There were no immediate reports of major damage there,
she added.
Centred southwest of Santiago
In Chile's capital, Santiago airport was shut down Saturday and will remain closed for at least
the next 24 hours, airport director Eduardo del Canto said. The passenger terminal has
suffered major damage, he told Chilean television in a telephone interview.
"Early indications are that hundreds of lives have been lost in Chile and damage is severe,"
U.S. President Barack Obama said. He offered to send resources to help in the rescue and
recovery efforts once the Chilean government asks for U.S. help.
Chilean television showed images of destroyed buildings and damaged cars, with rubblestrewn streets and toppled pedestrian walkways.
The quake struck at 3:34 a.m. local time (1:34 a.m. ET) and was centred 325 kilometres
southwest of the capital, Santiago, at a depth of 35 kilometres, the U.S. Geological Survey
reported.
In the hours after the 90-second tremor, the U.S. Geological Survey reported 11 aftershocks.
The strongest was a magnitude 6.9
Tall building, roads, bridges collapse
A 15-storey building collapsed in Concepcion, a city of 670,000 along the Bio Bio River,
located 115 kilometres from the epicentre.
Residents walk past debris after an 8.8-magnitude earthquake struck central Chile early
Saturday. (Aliosha Marquez/Associated Press)
In Santiago, modern buildings are built to withstand earthquakes, but many older ones were
heavily damaged, including the Nuestra Senora de la Providencia church, whose bell tower
collapsed. The national Fine Arts Museum was badly damaged.
A highway overpass in the capital collapsed, trapping at least eight cars. Several more lay
overturned near the rubble. An apartment building's two-level parking lot was flattened onto
the ground floor, smashing about 50 cars, whose alarms and horns rang incessantly.
Collapsed roads and bridges complicated north-south travel.
In the coastal city of Vina del Mar, the earthquake struck just as people were leaving a disco,
Julio Alvarez told Radio Cooperativa in Santiago. "It was very bad, people were screaming,
some people were running, others appeared paralyzed. I was one of them."
Bachelet said she was declaring a "state of catastrophe" in three central regions of the
country, and that while emergency responders were waiting for first light to get details, it was
evident that damage was extensive.
She encouraged people to stay home and not travel unless they had to.
Chilean officials assess damage after massive quake
– Chile
Sunday, 28 February 2010
Chilean officials were on Sunday still assessing damage from a massive 8.8-magnitude
earthquake that hit central and southern Chile and killed at least 700 people the previous day.
The quake, centered near the city of Concepción 500km south of Santiago, was one of the
largest ever recorded and took out highways and telecommunications networks across the
country.
Ports and airports saw significant damage, and the country was forced to suspend one-fifth of
its copper output, according to local and international press reports.
State mining company Codelco said that it expected to normalize production on Sunday, as
many mines in regions V and VI suspended operations.
Two of the largest copper mines in the country, Escondida and Chuquicamata, were not
affected, according to local reports. Anglo-American suspended operations at its Los Bronces
and El Soldado mines.
Chile's President Michelle Bachelet said on local television that the country was still seeing
significant problems with water and power supply.
While the country has sufficient generation capacity, energy minister Marcelo Tokman said
that transmission and distribution networks were still experiencing problems. Power to most
parts of Santiago had been restored within 24 hours of the quake.
Government officials, however, said during a Sunday press conference that power distribution
remained one of the main issues affecting the hardest hit parts of the country.
Santiago's main airport partially reopened to arriving international flights on Sunday, but the
passenger terminal, which saw substantial damage, remained closed.
Telecommunications remained severely disrupted between Santiago and southern parts of
the country, which officials largely attributed to a lack of power.
The full extent of damage in southern Chile, especially around the country's second largest
city of Concepción, was only beginning to emerge on Sunday because of the continued
telecommunications problems.
State oil company Enap suspended operations at its Bío Bío and Aconcagua refineries
because of power supply problems and structural damage, according to a statement released
by the company.
Enap assured consumers that it has a ten-day supply of fuels and is increasing imports. Long
lines, however, formed at fuel stations across the country.
Over 1.5mn residences saw significant damage, with 500,000 housing units seeing severe
damage. Hundreds of aftershocks had hit the region as of Sunday, at least fifty of which had a
magnitude over 5.0.
A "state of catastrophe" will be in effect for 80 days, and Bachelet said her government would
work until its final day on March 11, when president-elect Sebastián Piñera takes office.
Bachelet promised to keep Piñera and his new cabinet up to speed and provide them with all
the information her government currently has on the situation.
Chile's police forces and military were expected to take a greater role in some of the hardest
hit areas, as isolated looting began to break out. The country has not yet asked for
international assistance.
"We're seeing an emergency without precedence in Chile," Bachelet said.
Peru declares March 1 as National Mourning Day in
solidarity with Chile
Monday, 01 March 2010
Peru's President Alan Garcia has just passed a decree declaring March 1, 2010 as National
Mourning Day, as an act of solidarity with the Chilean people suffering the effects of the
destructive
8.8
Richter
earthquake
that
rattled
that
country
early
this
morning.
The document states that the deaths and damage registered in Chile are not only a tragedy
for that country but also for humanity.
Thus, the Peruvian flag will be hoisted half mast that day on all public buildings, military
installations, bases, ships, police stations, etc., and also in Peruvian diplomatic and consular
missions in foreign countries.
The decree also clarifies that this national mourning will be a working day.