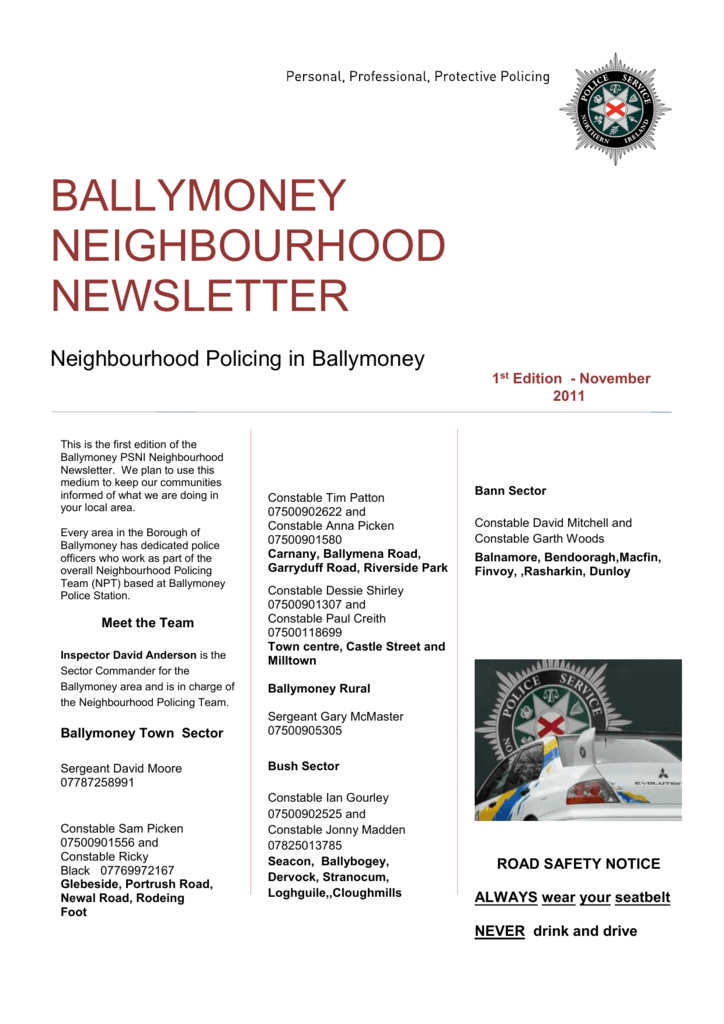 BALLYMONEY
NEIGHBOURHOOD
NEWSLETTER
Neighbourhood Policing in Ballymoney
This is the first edition of the
Ballymoney PSNI Neighbourhood
Newsletter. We plan to use this
medium to keep our communities
informed of what we are doing in
your local area.
Every area in the Borough of
Ballymoney has dedicated police
officers who work as part of the
overall Neighbourhood Policing
Team (NPT) based at Ballymoney
Police Station.
Meet the Team
Inspector David Anderson is the
Sector Commander for the
Ballymoney area and is in charge of
the Neighbourhood Policing Team.
Ballymoney Town Sector
Sergeant David Moore
07787258991
Constable Sam Picken
07500901556 and
Constable Ricky
Black 07769972167
Glebeside, Portrush Road,
Newal Road, Rodeing
Foot
Constable Tim Patton
07500902622 and
Constable Anna Picken
07500901580
Carnany, Ballymena Road,
Garryduff Road, Riverside Park
1st Edition - November
2011
Bann Sector
Constable David Mitchell and
Constable Garth Woods
Balnamore, Bendooragh,Macfin,
Finvoy, ,Rasharkin, Dunloy
Constable Dessie Shirley
07500901307 and
Constable Paul Creith
07500118699
Town centre, Castle Street and
Milltown
Ballymoney Rural
Sergeant Gary McMaster
07500905305
Bush Sector
Constable Ian Gourley
07500902525 and
Constable Jonny Madden
07825013785
Seacon, Ballybogey,
Dervock, Stranocum,
Loghguile,,Cloughmills
ROAD SAFETY NOTICE
ALWAYS wear your seatbelt
NEVER drink and drive
Ballymoney Partners and
Community Together
(PACT)
Rural News
Trailer Marking Scheme
This involves Police and other
agencies working along with the
community to identify priorities,
explore solutions and take positive
action.
Your local Neighbourhood officers
attend Community meetings and
host Police Surgeries. Ballymoney
Community Forum consists of
representatives of the various
Community Associations across the
Borough and meets to identify
concerns, share positive
experiences and build relationships.
Statutory and Voluntary Agencies
are also represented. Priorities are
identified which we then address
with our partners to improve quality
of life for the community in
Ballymoney.
This process needs your input –
support your local Community
Association, represent them at the
Community Forum, contact your
local Neighbourhood officer or
Ballymoney District Policing
Partnership – please see contact
details on this website.
Inspector David Anderson
[email protected]
k
STOP OIL THEFTS
With an increase in fuel prices
and the colder weather
approaching it is advisable to
take steps to prevent heating oil
thefts.




Check your heating oil
regularly and often.
There are many devices on
the market for measuring
how much oil is in your tank
- buy one and use it.
Invest in security features for
your tank such as lockable
fuel cap and sensor lighting
coverage.
Make it hard for an intruder
to gain access to the rear of
your home. Install locks to
the area of the tank.

Trailer marking is a PSNI
response to an increase in
the theft of trailers and
other farm equipment.
•
Previously due to the lack
of a marking system,
trailers were not easily
identified as stolen nor
could the rightful owner
always be identified should
they be recovered.
•
Trailer marking is a visible
deterrent whereby trailers
are marked with an unique
code which refers to one
owner.
•
Police can quickly establish
ownership of a trailer 'on
the move'
•
The scheme can extend to
other farm items - Quad
bikes, tractors, tankers
•
Policing with the community
– supported by the Ulster
Farmers Union and funded
by the Community Safety
Partnerships, Ballymoney
and Moyle - for the benefit
of the rural community.
]
Who is watching your
neighbourhood?
A Neighbourhood watch scheme
is a way of developing close
liaison between households in a
neighbourhood, local police and
other relevant agencies.
The aim is to help people protect
themselves and their property,
and to reduce the fear of crime
by:




Improved home security
Greater vigilance
Fostering community
spirit
Improving your
environment
There are already several
schemes running across the
Ballymoney area. We would be
keen to speak to anyone who
would be interested in setting up
a scheme in their area or getting
in contact with their local
coordinators
Trailer Marking Event
Skelton's Farm, 77 Kilraughts
Road, Ballymoney Saturday 3rd
December 2011 11am – 3pm
Bring your trailer along!
If you are interested in
Neighbourhood Watch or would
like further details then please
contact Sergeant Gary McMaster,
Ballymoney NPT on
07500905305 – further details on
the scheme can be found on our
website at www.psni.police.uk
If you notice anything untoward
in your neighbourhood, or see
unknown vehicles outside
premises or on neighbouring land
in rural areas, note down any
important details such as a
description or vehicle registration
and contact police immediately
on 999. Police will follow up on
your call and there is every
possibility your prompt
information could prevent a
crime.