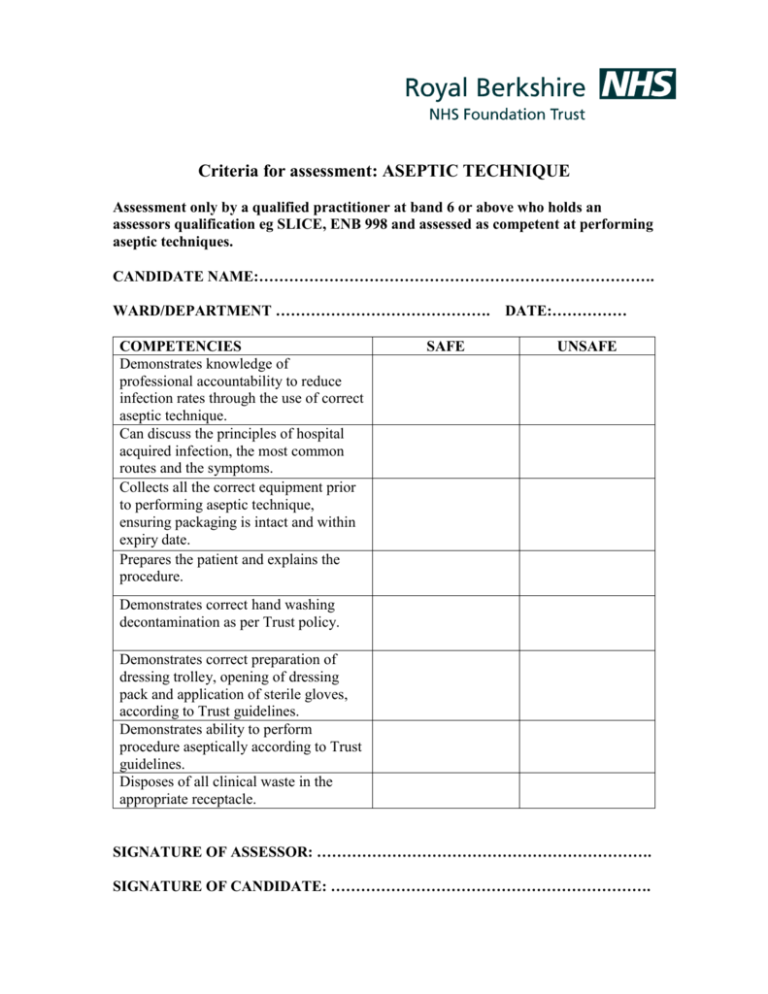 Criteria for assessment: ASEPTIC TECHNIQUE
Assessment only by a qualified practitioner at band 6 or above who holds an
assessors qualification eg SLICE, ENB 998 and assessed as competent at performing
aseptic techniques.
CANDIDATE NAME:…………………………………………………………………….
WARD/DEPARTMENT …………………………………….
COMPETENCIES
Demonstrates knowledge of
professional accountability to reduce
infection rates through the use of correct
aseptic technique.
Can discuss the principles of hospital
acquired infection, the most common
routes and the symptoms.
Collects all the correct equipment prior
to performing aseptic technique,
ensuring packaging is intact and within
expiry date.
Prepares the patient and explains the
procedure.
SAFE
DATE:……………
UNSAFE
Demonstrates correct hand washing
decontamination as per Trust policy.
Demonstrates correct preparation of
dressing trolley, opening of dressing
pack and application of sterile gloves,
according to Trust guidelines.
Demonstrates ability to perform
procedure aseptically according to Trust
guidelines.
Disposes of all clinical waste in the
appropriate receptacle.
SIGNATURE OF ASSESSOR: ………………………………………………………….
SIGNATURE OF CANDIDATE: ……………………………………………………….