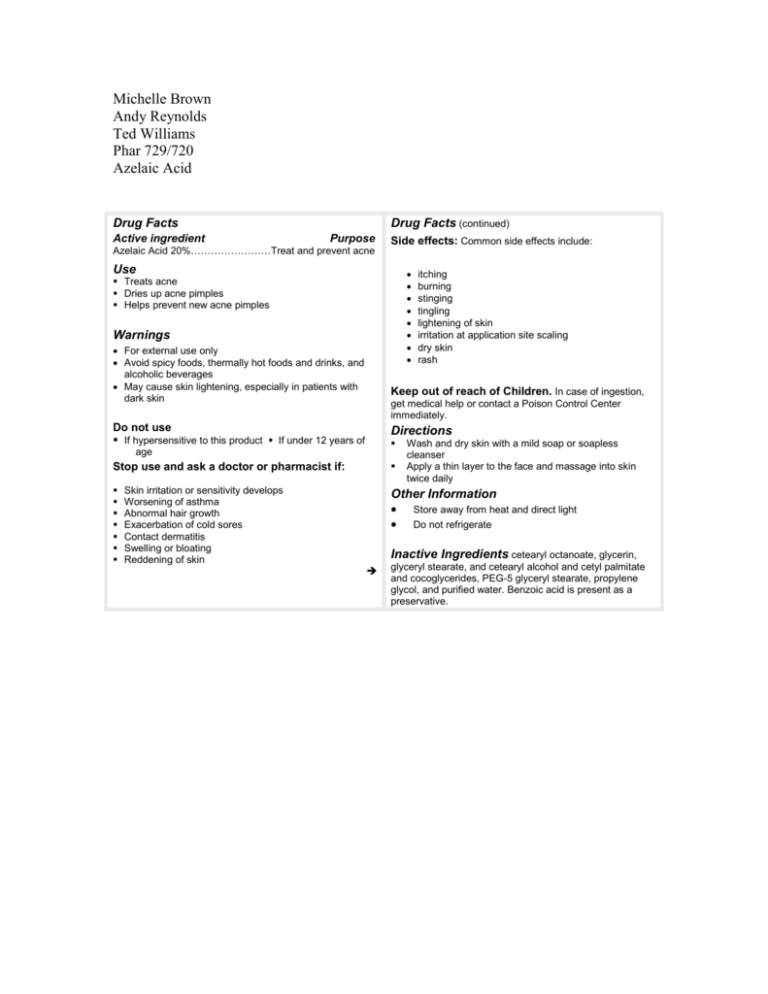 Michelle Brown
Andy Reynolds
Ted Williams
Phar 729/720
Azelaic Acid
Drug Facts
Active ingredient
Drug Facts (continued)
Purpose
Azelaic Acid 20%……………………Treat and prevent acne
Side effects: Common side effects include:
Use








 Treats acne
 Dries up acne pimples
 Helps prevent new acne pimples
Warnings
 For external use only
 Avoid spicy foods, thermally hot foods and drinks, and
alcoholic beverages
 May cause skin lightening, especially in patients with
dark skin
itching
burning
stinging
tingling
lightening of skin
irritation at application site scaling
dry skin
rash
Keep out of reach of Children. In case of ingestion,
get medical help or contact a Poison Control Center
immediately.
Do not use
 If hypersensitive to this product  If under 12 years of
Directions

age
Wash and dry skin with a mild soap or soapless
cleanser
Apply a thin layer to the face and massage into skin
twice daily
Stop use and ask a doctor or pharmacist if:








Other Information
 Store away from heat and direct light
 Do not refrigerate
Skin irritation or sensitivity develops
Worsening of asthma
Abnormal hair growth
Exacerbation of cold sores
Contact dermatitis
Swelling or bloating
Reddening of skin
Inactive Ingredients cetearyl octanoate, glycerin,

glyceryl stearate, and cetearyl alcohol and cetyl palmitate
and cocoglycerides, PEG-5 glyceryl stearate, propylene
glycol, and purified water. Benzoic acid is present as a
preservative.