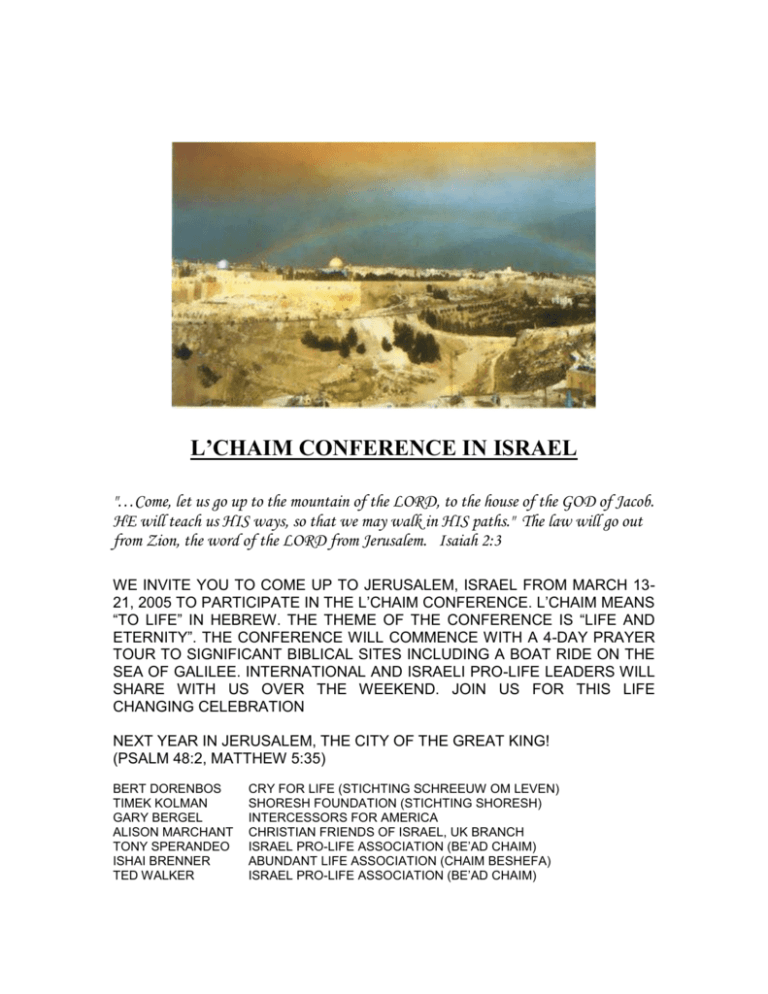 L'CHAIM CONFERENCE IN ISRAEL
"…Come, let us go up to the mountain of the LORD, to the house of the GOD of Jacob.
HE will teach us HIS ways, so that we may walk in HIS paths." The law will go out
from Zion, the word of the LORD from Jerusalem. Isaiah 2:3
WE INVITE YOU TO COME UP TO JERUSALEM, ISRAEL FROM MARCH 1321, 2005 TO PARTICIPATE IN THE L'CHAIM CONFERENCE. L'CHAIM MEANS
"TO LIFE" IN HEBREW. THE THEME OF THE CONFERENCE IS "LIFE AND
ETERNITY". THE CONFERENCE WILL COMMENCE WITH A 4-DAY PRAYER
TOUR TO SIGNIFICANT BIBLICAL SITES INCLUDING A BOAT RIDE ON THE
SEA OF GALILEE. INTERNATIONAL AND ISRAELI PRO-LIFE LEADERS WILL
SHARE WITH US OVER THE WEEKEND. JOIN US FOR THIS LIFE
CHANGING CELEBRATION
NEXT YEAR IN JERUSALEM, THE CITY OF THE GREAT KING!
(PSALM 48:2, MATTHEW 5:35)
BERT DORENBOS
TIMEK KOLMAN
GARY BERGEL
ALISON MARCHANT
TONY SPERANDEO
ISHAI BRENNER
TED WALKER
CRY FOR LIFE (STICHTING SCHREEUW OM LEVEN)
SHORESH FOUNDATION (STICHTING SHORESH)
INTERCESSORS FOR AMERICA
CHRISTIAN FRIENDS OF ISRAEL, UK BRANCH
ISRAEL PRO-LIFE ASSOCIATION (BE'AD CHAIM)
ABUNDANT LIFE ASSOCIATION (CHAIM BESHEFA)
ISRAEL PRO-LIFE ASSOCIATION (BE'AD CHAIM)
CONFERENCE INFORMATION:
DATES:
MARCH 13-21
PLACE:
YAD-HASHMONA GUEST HOUSE
PRICE:
PRAYER TOUR AND CONFERENCE - $500 (€ 400 / £ 270) INCLUDES,
GUEST HOUSE ACCOMODATIONS FOR EIGHT NIGHTS, BREAKFAST,
LUNCH AND DINNER, BUS TOURS, ENTRANCE FEES TO BIBLICAL SITES,
BOAT RIDE ON SEA OF GALILEE, AND TIPS.
OPTION:
CONFERENCE ONLY - $250 (€ 200 / £ 135) INCLUDES GUEST HOUSE
ACCOMODATIONS FOR FOUR NIGHTS, BREAKFAST, LUNCH AND DINNER,
FROM THURSDAY EVENING, MARCH 17, THROUGH MONDAY MORNING
BREAKFAST, MARCH 21.
FLIGHT COSTS:
ALL PARTICIPANTS RESPONSIBLE FOR THEIR OWN AIRFARE
AIRPORT:
L'CHAIM CONFERENCE STAFF WILL MEET PARTICPANTS AT THE TEL
AVIV AIRPORT AND ASSIST THEM TO SHARED TAXIS. YAD HASHMONA
GUEST HOUSE IS LOCATED APPROXIMTELY 30 MINUTES FROM THE
AIRPORT. THE TAXI FARE IS $12 (€ 10 / £ 7) PER PERSON.
REGISTRATION:
SEND THE COMPLETED REGISTRATION FORM AND FULL AMOUNT OF
CURRENCY BY CHECK OR BANK TRANSFER BY FEBRUARY 1, 2005
BE'AD CHAIM ASSOCIATION
C/o L'CHAIM CONFERENCE
PO BOX 7974
91078 JERUSALEM
ISRAEL
BE'AD CHAIM ASSOCIATION
ISRAEL DISCOUNT BANK
REHAVIA BRANCH #66
ACCOUNT # 233307
SWIFT CODE: LILITJLMIDB
LANGUAGE:
THE L'CHAIM CONFERENCE WILL BE CONDUCTED IN ENGLISH AND
HEBREW (WITH TRANSLATION).
EXTENDED STAY:
PARTICIPANTS WHO PLAN TO ARRIVE BEFORE OR STAY AFTER MARCH 13-21,
2005, ACCOMODATIONS WILL BE AVAILABLE AT YAD HASHMONA GUEST HOUSE
BY SPECIAL REQUEST FOR $50 (€ 40 / £ 27) PER PERSON PER DAY, INCLUDES
BREAKFAST, LUNCH AND DINNER. PARTICIPANTS ARE RESPONSIBLE FOR
TRANSPORTATION TO AND FROM CONFERENCE CENTER.
INSURANCE:
TRAVEL INSURANCE IS RECOMMENDED
WEATHER:
EXPECTED WEATHER IS 8C-16C (47F - 61F)
PASSPORT / VISA:
Every visitor to Israel must hold a valid passport Citizens of the following countries will be
issued visitors' visas Europe: Austria, Belgium, Cyprus, Denmark, Finland, Germany,
Gibraltar, Great Britain, Greece, Hungary, Iceland, Ireland, Italy, Liechtenstein,
Luxembourg, Malta, Monaco, Netherlands, Norway, Portugal, San Marino, Slovenia, Spain,
Sweden, Switzerland. Asia & Oceania: Australia, Fiji Islands, Japan, Hong Kong, New
Zealand, Philippines, South Korea Africa: Central African Republic, Lesotho, Malawi,
Mauritius, South Africa, Swaziland. The Americas: Argentina, Barbados, Bolivia, Brazil,
Canada, Chile, Colombia, Costa Rica, El Salvador, Ecuador, Guatemala, Haiti, Jamaica,
Mexico, Panama, Paraguay, St. Kitts, & Nevis, Surinam, Trinidad, & Tobago, The
Bahamas, The Dominican Republic, Uruguay, U.S.A. IF YOUR COUNTRY IS NOT ON
THE ABOVE LIST YOU NEED TO OBTAIN A VISITORS' VISA FROM YOUR LOCAL
ISRAELI EMBASSY BEFORE DEPARTURE.
PRAYER TOUR/CONFERENCE SCHEDULE *
SUNDAY, MARCH 13 – ARRIVAL - REGISTRATION – REFRESHMENTS FELLOWSHIP – EVENING WORSHIP AND SPEAKERS
MONDAY, MARCH 14 – TOUR OF JERUSALEM - GARDEN TOMB - PRAYER AT
HINNOM VALLEY - WAILING WALL - SECOND TEMPLE TUNNEL – EVENING
WORSHIP AND SPEAKERS
TUESDAY, MARCH 15 – TOUR DEAD SEA AREA - MASSADA – EN GEDI NATURE
RESERVE – FLOATING IN THE DEAD SEA – EVENING WORSHIP AND SPEAKERS
WEDNESDAY, MARCH 16 –– TOUR TO THE GALILEE - UNWED MOTHERS HOME
– BOAT RIDE – CAPERNAUM -TABGA - MOUNT OF BEATITUDES.
THURSDAY, MARCH 17 – TOUR OF JERUSALEM - MODEL OF 2ND TEMPLE GARDEN OF GETHSAMANE – KNESSET – YAD VASHEM (HOLOCAUST MUSEUM)
– EIN KEREM HOSPITAL. – EVENING WORSHIP AND SPEAKERS
FRIDAY, MARCH 18 – INTERNATIONAL PRO-LIFE LEADERS – WORKSHOPS EVENING WORSHIP AND SPEAKERS.
SATURDAY, MARCH 19 – ISRAEL PRO-LIFE STAFF - INTERNATIONAL PRO-LIFE
LEADERS – INTERCESSION - EVENING WORSHIP AND SPEAKERS
SUNDAY, MARCH 20 – INTERNATIONAL AND ISRAELI SPEAKERS – FREE
AFTERNOON - FAREWELL DINNER AND SHARING
MONDAY, MARCH 21 – DEPARTURE DAY

ITINERARY SUBJECT TO CHANGE
COORDINATORS: ALISON MARCHANT AND TED WALKER
walkerim@netvision.net.il
L'CHAIM CONFERENCE SECRETARY: SOPHIA RENTZING
prolife@netvision.net.il
Phone/Fax: 972 2 624-2516
L'CHAIM CONFERENCE TOUR: SAR-EL TOURS WILL PROVIDE AIR
CONDITIONED BUSES AND LICENSED GUIDES.