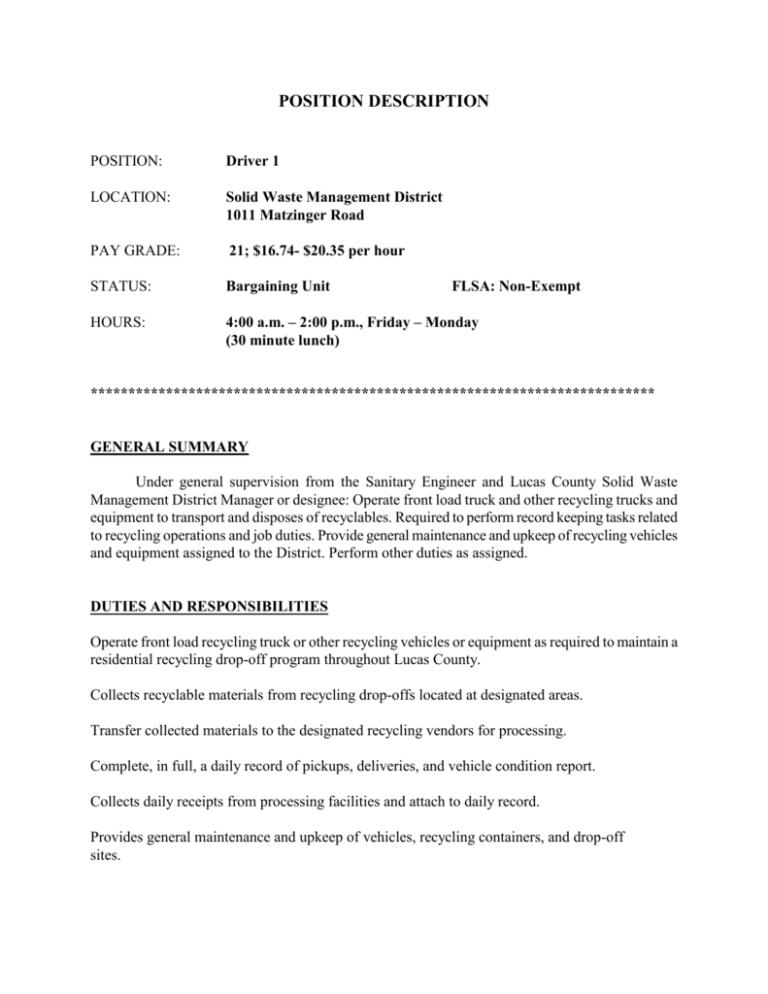 POSITION DESCRIPTION
POSITION:
Driver 1
LOCATION:
Solid Waste Management District
1011 Matzinger Road
PAY GRADE:
21; $16.74- $20.35 per hour
STATUS:
Bargaining Unit
HOURS:
4:00 a.m. – 2:00 p.m., Friday – Monday
(30 minute lunch)
FLSA: Non-Exempt
***************************************************************************
GENERAL SUMMARY
Under general supervision from the Sanitary Engineer and Lucas County Solid Waste
Management District Manager or designee: Operate front load truck and other recycling trucks and
equipment to transport and disposes of recyclables. Required to perform record keeping tasks related
to recycling operations and job duties. Provide general maintenance and upkeep of recycling vehicles
and equipment assigned to the District. Perform other duties as assigned.
DUTIES AND RESPONSIBILITIES
Operate front load recycling truck or other recycling vehicles or equipment as required to maintain a
residential recycling drop-off program throughout Lucas County.
Collects recyclable materials from recycling drop-offs located at designated areas.
Transfer collected materials to the designated recycling vendors for processing.
Complete, in full, a daily record of pickups, deliveries, and vehicle condition report.
Collects daily receipts from processing facilities and attach to daily record.
Provides general maintenance and upkeep of vehicles, recycling containers, and drop-off
sites.
Driver 1
Solid Waste Management District
Position Description
Page 2
As needed, take vehicle(s) for fluids and preventative maintenance.
Clean and remove litter and non-recyclable materials from recycling drop-offs.
Ensure the recycling drop-offs are being properly used by the citizens.
If required keeps an up-to-date log book.
Completes all paperwork for the operation of the recycling drop-offs, which includes time sheets and
any other paperwork as required by District Manager.
Assists with all other tasks as assigned or directed by the Board of Directors,
Lucas County Board of Commissioners of the District, Sanitary Engineer
and/or District Manager.
Additional duties as assigned.
MINIMUM REQUIREMENTS
High school diploma or equivalent.
Valid Class B Commercial Drivers' License (CDL), with good driving record.
Ability to calculate fractions, decimals and percentages and to read common vocabulary.
Be able to carry out written and oral instructions. Successfully handle inquiries from, and
contact with the general public. Create and establish a friendly atmosphere.
Must display the ability to use independent judgement when performing the job related
duties.
Must be organized and have the ability to establish and maintain daily records and
reporting duties as assigned.
Ability to perform essential duties with or without accommodation.
Knowledge of safety practices associated with the operation of heavy and other motorized
equipment.
Driver 1
Solid Waste Management District
Position Description
page 3
UNUSUAL WORKING CONDITIONS
Working outside in all types of weather.
May also assist in other programs as assigned by District Manager
Overtime may be required, as approved by District Manager.