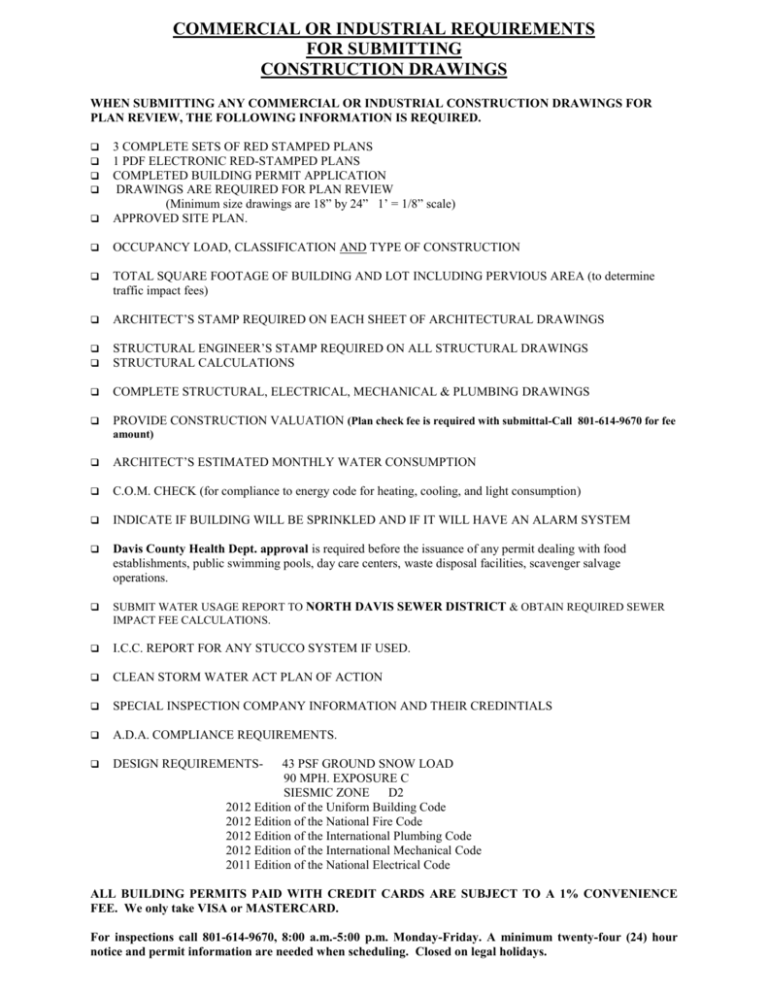 COMMERCIAL OR INDUSTRIAL REQUIREMENTS
FOR SUBMITTING
CONSTRUCTION DRAWINGS
WHEN SUBMITTING ANY COMMERCIAL OR INDUSTRIAL CONSTRUCTION DRAWINGS FOR
PLAN REVIEW, THE FOLLOWING INFORMATION IS REQUIRED.





3 COMPLETE SETS OF RED STAMPED PLANS
1 PDF ELECTRONIC RED-STAMPED PLANS
COMPLETED BUILDING PERMIT APPLICATION
DRAWINGS ARE REQUIRED FOR PLAN REVIEW
(Minimum size drawings are 18" by 24" 1' = 1/8" scale)
APPROVED SITE PLAN.

OCCUPANCY LOAD, CLASSIFICATION AND TYPE OF CONSTRUCTION

TOTAL SQUARE FOOTAGE OF BUILDING AND LOT INCLUDING PERVIOUS AREA (to determine
traffic impact fees)

ARCHITECT'S STAMP REQUIRED ON EACH SHEET OF ARCHITECTURAL DRAWINGS


STRUCTURAL ENGINEER'S STAMP REQUIRED ON ALL STRUCTURAL DRAWINGS
STRUCTURAL CALCULATIONS

COMPLETE STRUCTURAL, ELECTRICAL, MECHANICAL & PLUMBING DRAWINGS

PROVIDE CONSTRUCTION VALUATION (Plan check fee is required with submittal-Call 801-614-9670 for fee
amount)

ARCHITECT'S ESTIMATED MONTHLY WATER CONSUMPTION

C.O.M. CHECK (for compliance to energy code for heating, cooling, and light consumption)

INDICATE IF BUILDING WILL BE SPRINKLED AND IF IT WILL HAVE AN ALARM SYSTEM

Davis County Health Dept. approval is required before the issuance of any permit dealing with food
establishments, public swimming pools, day care centers, waste disposal facilities, scavenger salvage
operations.

SUBMIT WATER USAGE REPORT TO NORTH DAVIS SEWER DISTRICT & OBTAIN REQUIRED SEWER
IMPACT FEE CALCULATIONS.

I.C.C. REPORT FOR ANY STUCCO SYSTEM IF USED.

CLEAN STORM WATER ACT PLAN OF ACTION

SPECIAL INSPECTION COMPANY INFORMATION AND THEIR CREDINTIALS

A.D.A. COMPLIANCE REQUIREMENTS.

DESIGN REQUIREMENTS-
43 PSF GROUND SNOW LOAD
90 MPH. EXPOSURE C
SIESMIC ZONE
D2
2012 Edition of the Uniform Building Code
2012 Edition of the National Fire Code
2012 Edition of the International Plumbing Code
2012 Edition of the International Mechanical Code
2011 Edition of the National Electrical Code
ALL BUILDING PERMITS PAID WITH CREDIT CARDS ARE SUBJECT TO A 1% CONVENIENCE
FEE. We only take VISA or MASTERCARD.
For inspections call 801-614-9670, 8:00 a.m.-5:00 p.m. Monday-Friday. A minimum twenty-four (24) hour
notice and permit information are needed when scheduling. Closed on legal holidays.