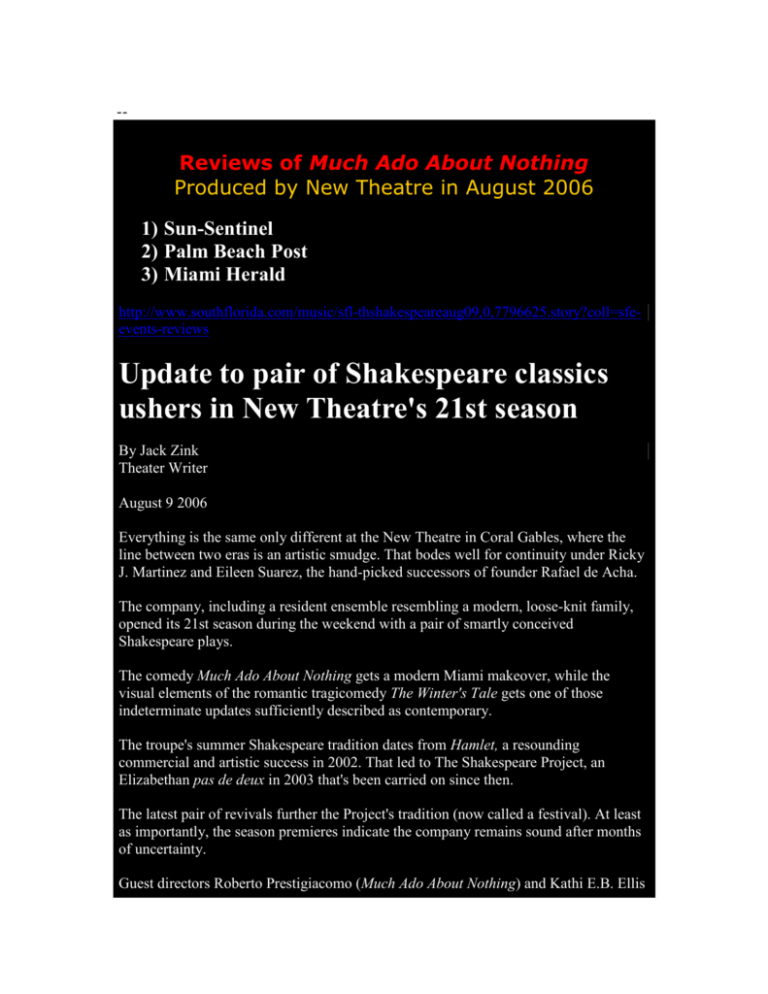 --
Reviews of Much Ado About Nothing
Produced by New Theatre in August 2006
1) Sun-Sentinel
2) Palm Beach Post
3) Miami Herald
http://www.southflorida.com/music/sfl-thshakespeareaug09,0,7796625.story?coll=sfeevents-reviews
Update to pair of Shakespeare classics
ushers in New Theatre's 21st season
By Jack Zink
Theater Writer
August 9 2006
Everything is the same only different at the New Theatre in Coral Gables, where the
line between two eras is an artistic smudge. That bodes well for continuity under Ricky
J. Martinez and Eileen Suarez, the hand-picked successors of founder Rafael de Acha.
The company, including a resident ensemble resembling a modern, loose-knit family,
opened its 21st season during the weekend with a pair of smartly conceived
Shakespeare plays.
The comedy Much Ado About Nothing gets a modern Miami makeover, while the
visual elements of the romantic tragicomedy The Winter's Tale gets one of those
indeterminate updates sufficiently described as contemporary.
The troupe's summer Shakespeare tradition dates from Hamlet, a resounding
commercial and artistic success in 2002. That led to The Shakespeare Project, an
Elizabethan pas de deux in 2003 that's been carried on since then.
The latest pair of revivals further the Project's tradition (now called a festival). At least
as importantly, the season premieres indicate the company remains sound after months
of uncertainty.
Guest directors Roberto Prestigiacomo (Much Ado About Nothing) and Kathi E.B. Ellis
(The Winter's Tale) bring fresh eyes to the tradition that Martinez has rescued.
The latter features the festival's best performances, chiefly Robert Strain as the Othellolike Leontes, King of Sicilia, Peter Tedeschi as rival King Polixenes and Bridget
Connors as Paulina, Leontes' advisor. Jealousy and murder flare early, but the drama is
extinguished with a fantasy-like happy ending possibly arranged by Paulina.
The Winter's Tale practically amounts to a Miami premiere, with no professional
staging on record in a generation. Ellis' downsized adaptation involves some text cuts
that seem more ax-like than surgical, and not all performances suture the wounds. Yet
in the long run, this weightier play is the more interesting of the two.
Much Ado is more of a comedy and one proven resilient to the tamperings of directorial
interpretation. Director Prestigiacomo's sharp eye discerns the comedy's often
underrated drama, highlighting its moments of fury and hurt without dissipating the
humor.
Prestigiacomo celebrates the whimsy in a gentle spoof of Miami itself. He amplifies it
with the addition of Pink Panther themed olios between scenes featuring Annemaria
Rajala as a blooper detective on a stakeout, wearing fishnet stockings and a Cheshirecat grin.
The ensemble also includes Steve Gladstone in a pair of fine performances as Leonato
in Much Ado and Camilo in Tale, Rajala as the falsely accused queen Hermione in Tale,
James Randolph as rogues in both plays, Cecilia Isis Torres and Euriamis Losada as
young lovers being torn apart, plus Chris Vicchiollo and Nicholas Alexander in minor
roles.
One might say Martinez, and his guest directors who joined the plot, chose the plays to
showcase their common theme of irresponsible male chauvinism and unwarranted
jealousy. The plots are interesting companion pieces for those with the luck to see them
both.
Jack Zink can be reached at jzink@sun-entinel.com or 954-356-4706.
Review: New Theatre's Shakespeare Festival
By Hap Erstein
Palm Beach Post Theater Writer
Friday, August 11, 2006
In his first productions as the new artistic director of tiny, resourceful New Theatre,
Ricky J. Martinez carries on the company's tradition of summertime Shakespeare. But
while the troupe usually features one comedy and one tragedy, the choice of Much Ado
About Nothing and The Winter's Tale in repertory emphasizes the distinctly divergent
light and dark qualities in each play.
Many of the cast members are veterans of New Theatre's past takes on the classics, but
this year they seem revitalized by the importing of two directors for this mini-festival.
Roberto Prestigiacomo of Trinity University adapts Much Ado, setting this battle of
wits between Benedick and Beatrice, two cerebral, but emotionally wary would-be
lovers, in Miami, 2006. The updating allows the inclusion of photo phones, answering
machines, surveillance equipment and a seduction by lap dance, not all of which The
Bard seems likely to have approved were he around today.
Although much of Prestigiacomo's production is playful in tone, he does not shy away
from the story's darker side, as Beatrice's cousin Hero becomes accused of infidelity by
her gullible suitor, Claudio.
Kathi E.B. Ellis of Lincoln Center's Directors' Lab stages and adapts The Winter's Tale
more conventionally, though it is hardly a conventional play. Written late in life as
Shakespeare was in an experimental mood, the text divides in two, half tragedy and half
comedy. Sixteen years pass between the acts, with numerous characters only appearing
in one of the halves.
After leveling us with the apparent deaths of the two children of the King of Sicilia,
Shakespeare seems to want to soften the blow with a more upbeat, conciliatory second
act.
Still, there is little doubt that the dramatic first act is simply more interesting than the
coda-like follow-up. Nevertheless, Ellis does what she can to give equal weight to the
diverse acts, short of self-conscious gimmickry.
Both directors make significant deletions to the text. To save on actors, Prestigiacomo
gets rid of language-mangling Constable Dogberry and his low-comedy posse, as
guaranteed a laugh-getting as exists in Shakespeare.
In their place, Annemaria Rajala skulks about as a Rocky & Bullwinkle Russian spy,
accompanied by Pink Panther-ish music. An odd pop culture stew to say the least.
Ellis' deletion is more understandable, though still disappointing. The Winter's Tale has
the most daunting stage direction in all of Shakespeare, in which a minor character exits
"pursued by a bear," and is then presumably eaten. Directors have met this staging
challenge is various creative ways over the years, but Ellis simply ignores it.
Still, both plays feature some first-rate performances, notably Bridget Connors as Much
Ado's romantically frustrated, sneezy, sniffly Beatrice and then as assertive royal
servant Paulina in sensible shoes in Winter's Tale. Peter Tedeschi is a bit too bland as
her Benedick, but he manages the role of wrongfully accused Bohemian King Polixenes
deftly. Euriamis Losada and Cecilia Isis Torres are well matched as the young lovers in
both plays and wiry Steve Gladstone declaims forcefully as Hero's father (Much Ado)
and the king's faithful emissary (Winter's Tale).
If you only had one production to see, Much Ado would have a slight edge, both as a
play and for what New Theatre does with it.
But like all good works in repertory, seeing both shows only adds to your enjoyment
and appreciation of the performers.
© 2006 MiamiHerald.com and wire service sources. All Rights
Reserved.
http://www.miami.com
THEATER REVIEWS
Lovers, villains, clowns: a talented bunch, all
New Theatre tackles two slimmed-down Shakespeare plays featuring suspicious men and the
women they do wrong.
BY CHRISTINE DOLEN
cdolen@MiamiHerald.com
As a place where contemporary theater can flourish, South Florida is good and getting better. But when
it comes to the classics, professional companies here seem almost phobic. You can almost hear the
artistic directors thinking: ``But what if no one comes?''
New Theatre founder Rafael de Acha thought differently, and since 2002 when it began a march through
William Shakespeare's canon with its production of Hamlet, the Coral Gables company has done two or
even three of the Bard's works each summer.
De Acha decided in April that 20 years of running a small theater was enough and he retired. But New
Theatre, its Shakespeare Festival and the two plays he chose -- Much Ado About Nothing and The
Winter's Tale -- go on.
The pairing of Much Ado, one of Shakespeare's very popular comedies, and Winter's Tale, a later
''problem'' play, makes sense. Both feature men quick to believe the worst about the women they
purportedly love; both involve those women fainting, then apparently dying; both have Shakespeare's
usual complement of lovers, villains and clowns.
Those connections resonate more strongly at New Theatre because the same nine actors appear in both
plays (a 10th, Nicholas Alexander, plays the boy prince Mamillius in The Winter's Tale). It's a rigorous
challenge for the company, particularly on Sundays when the actors step onto slightly different versions
of Jesse Dreikosen's handsome set to perform both plays in this rotating repertory.
It helps, in terms of hours spent at the theater, that they're performing slimmed-down adaptations of
the plays. On the other hand, both director Roberto Prestigiacomo's playful version of Much Ado and
director Kathi E.B. Ellis' compressed Winter's Tale eliminate not just ''minor'' characters but certain
helpful plot points.
The bear in Winter's Tale, who famously devours the one man who could disclose the whereabouts of an
infant princess left for dead on the orders of her crazy-jealous father, is itself vaporized. Which leads to
a lot of time spent figuring out who's who and what the heck happened after the abandoned baby has
blossomed into the lovely young Perdita (Cecilia Isis Torres).
Prestigiacomo has moved Much Ado to today's Miami, which gives costume designer Estela Vrancovich
license to dress Annemaria Rajala's vixenish Margaret in an array of sexy outfits, lets new artistic
director Ricky J. Martinez (here doubling as choreographer) spice up the action with Latin dance bits and
embraces contemporary gadgetry (Euriamis Losada's Claudio proudly displays a cellphone photo of his
beloved). Other notions -- Rajala doubling as a cartoonish Russian spy (a sub for the Dogberry
character), a gal apparently modeled on Natasha from the old Rocky & Bullwinkle cartoons -- should
have been tossed out with the rest of the missing text.
Despite an overabundance of giggly women (is that how Miami's chicas really sound?), Much Ado has a
solidly entertaining couple in Bridget Connors' Beatrice and Peter Tedeschi's Benedick (though whoever
picked Tedeschi's scalloped fake goatee has a weird sense of humor). Their delivery of dialogue that is
first withering, then increasingly open-hearted, is crackling and artfully shaded. And as the villainous
Don John, a thundering James S. Randolph is one scary dude.
A powerful Robert Strain, who makes Shakespearean dialogue sound as natural as contemporary
speech, takes the lead in The Winter's Tale.
His King Leontes seems to be a cousin to Othello, and not just because Strain is a black actor and
Rajala, as his wronged Queen Hermione, is white. The two rulers share an unfounded, homicidal
jealousy, a poisonous conviction that grows ever stronger despite their wives' loyalty and innocence.
Leontes' growing fear that Mamillius isn't really his biological son, the subject of pointed conversation in
the play, takes on an unintended resonance given that Alexander is, like Rajala, white.
But in every other respect, Strain's journey from delusional tyranny to repentance to reclaimed joy is
effectively played.
Connors is, once again, a standout in The Winter's Tale as Paulina, friend to the accused queen and the
fiery conscience of the king. Her blistering condemnation of his familial cruelties is the most fiercely
dramatic moment in either play.
Christine Dolen is The Miami Herald's theater critic.