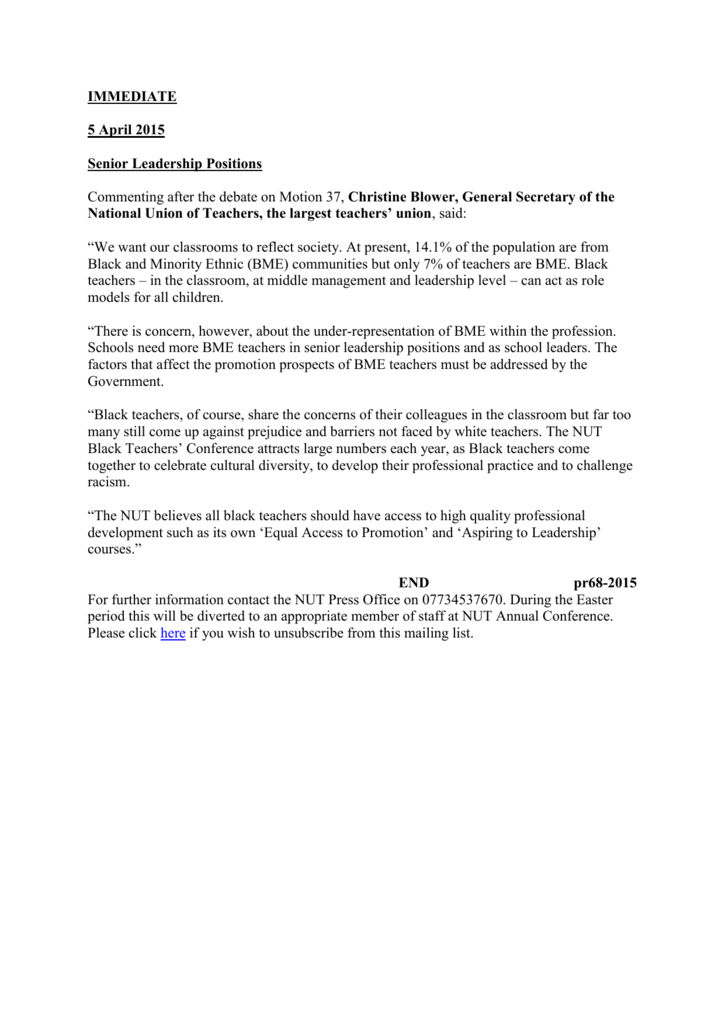 IMMEDIATE
5 April 2015
Senior Leadership Positions
Commenting after the debate on Motion 37, Christine Blower, General Secretary of the
National Union of Teachers, the largest teachers' union, said:
"We want our classrooms to reflect society. At present, 14.1% of the population are from
Black and Minority Ethnic (BME) communities but only 7% of teachers are BME. Black
teachers – in the classroom, at middle management and leadership level – can act as role
models for all children.
"There is concern, however, about the under-representation of BME within the profession.
Schools need more BME teachers in senior leadership positions and as school leaders. The
factors that affect the promotion prospects of BME teachers must be addressed by the
Government.
"Black teachers, of course, share the concerns of their colleagues in the classroom but far too
many still come up against prejudice and barriers not faced by white teachers. The NUT
Black Teachers' Conference attracts large numbers each year, as Black teachers come
together to celebrate cultural diversity, to develop their professional practice and to challenge
racism.
"The NUT believes all black teachers should have access to high quality professional
development such as its own 'Equal Access to Promotion' and 'Aspiring to Leadership'
courses."
END
pr68-2015
For further information contact the NUT Press Office on 07734537670. During the Easter
period this will be diverted to an appropriate member of staff at NUT Annual Conference.
Please click here if you wish to unsubscribe from this mailing list.