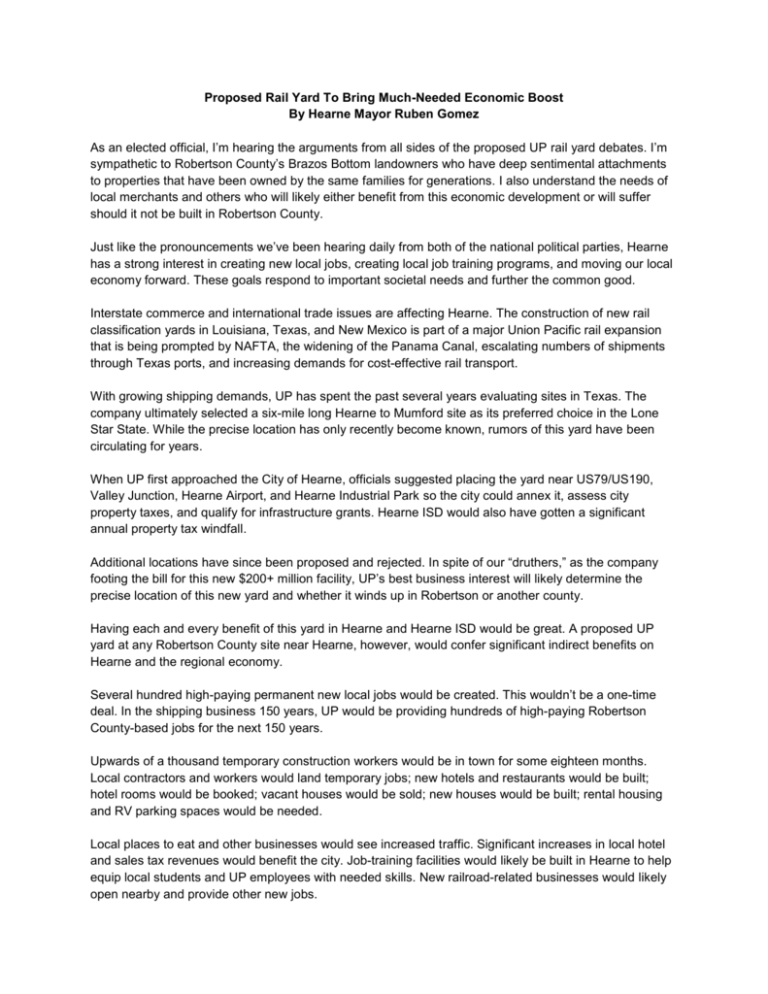 Proposed Rail Yard To Bring Much-Needed Economic Boost
By Hearne Mayor Ruben Gomez
As an elected official, I'm hearing the arguments from all sides of the proposed UP rail yard debates. I'm
sympathetic to Robertson County's Brazos Bottom landowners who have deep sentimental attachments
to properties that have been owned by the same families for generations. I also understand the needs of
local merchants and others who will likely either benefit from this economic development or will suffer
should it not be built in Robertson County.
Just like the pronouncements we've been hearing daily from both of the national political parties, Hearne
has a strong interest in creating new local jobs, creating local job training programs, and moving our local
economy forward. These goals respond to important societal needs and further the common good.
Interstate commerce and international trade issues are affecting Hearne. The construction of new rail
classification yards in Louisiana, Texas, and New Mexico is part of a major Union Pacific rail expansion
that is being prompted by NAFTA, the widening of the Panama Canal, escalating numbers of shipments
through Texas ports, and increasing demands for cost-effective rail transport.
With growing shipping demands, UP has spent the past several years evaluating sites in Texas. The
company ultimately selected a six-mile long Hearne to Mumford site as its preferred choice in the Lone
Star State. While the precise location has only recently become known, rumors of this yard have been
circulating for years.
When UP first approached the City of Hearne, officials suggested placing the yard near US79/US190,
Valley Junction, Hearne Airport, and Hearne Industrial Park so the city could annex it, assess city
property taxes, and qualify for infrastructure grants. Hearne ISD would also have gotten a significant
annual property tax windfall.
Additional locations have since been proposed and rejected. In spite of our "druthers," as the company
footing the bill for this new $200+ million facility, UP's best business interest will likely determine the
precise location of this new yard and whether it winds up in Robertson or another county.
Having each and every benefit of this yard in Hearne and Hearne ISD would be great. A proposed UP
yard at any Robertson County site near Hearne, however, would confer significant indirect benefits on
Hearne and the regional economy.
Several hundred high-paying permanent new local jobs would be created. This wouldn't be a one-time
deal. In the shipping business 150 years, UP would be providing hundreds of high-paying Robertson
County-based jobs for the next 150 years.
Upwards of a thousand temporary construction workers would be in town for some eighteen months.
Local contractors and workers would land temporary jobs; new hotels and restaurants would be built;
hotel rooms would be booked; vacant houses would be sold; new houses would be built; rental housing
and RV parking spaces would be needed.
Local places to eat and other businesses would see increased traffic. Significant increases in local hotel
and sales tax revenues would benefit the city. Job-training facilities would likely be built in Hearne to help
equip local students and UP employees with needed skills. New railroad-related businesses would likely
open nearby and provide other new jobs.
In Texas, governments and some private entities have the power of eminent domain. In Robertson
County, eminent domain has been used for historic railroad and highway construction, the pipelines and
power lines that traverse the county, the Twins Oaks and Oak Grove power plants, recent highway
improvements from the Falls County line to Hearne, and Mumford ISD's new athletic complex.
Eminent domain will likely be used again should TxDOT ever build a by-pass around Hearne, should a
Japanese company build a bullet train through the county, or should a Canadian company build the
Keystone Pipeline to our east.
In recent years, conveniently located Hearne has been working hard to become a progressive, businessfriendly city. Anyone who has driven through town recently has seen the positive changes taking place.
Increasing numbers of people, however, are starting to worry that today's UP discussions might turn into
another Campbell's Soup fiasco (where UP decides to take its new yard and its new jobs to another
county).
After seriously considering placing a new plant in Hearne back in the late 1950s, Campbell's decided
against Hearne and opted to put its plant (which is still operating) in Paris, TX. How many Robertson
County residents now work for Campbell's or grow vegetables for its soups? None. Fifty plus years worth
of good jobs and tax revenues have been lost to the local economy.
While Hearne used to be full of railroad families, these numbers have been dwindling in recent years. By
creating a major classification yard just outside of town, UP plans to bring similar families back to the
area. Should UP go elsewhere, this important catalyst for local growth and any potential local economic
or tax benefits would be lost to all governments, schools, businesses, and residents of Robertson County.
I just hope that the affected Robertson County landowners and UP will be able to work things out so UP
doesn't take this yard to another county. Our local economy would benefit significantly from this sizeable
capital investment by a major national corporation. Local folks deserve convenient access to good-paying
jobs that are here in Robertson County.