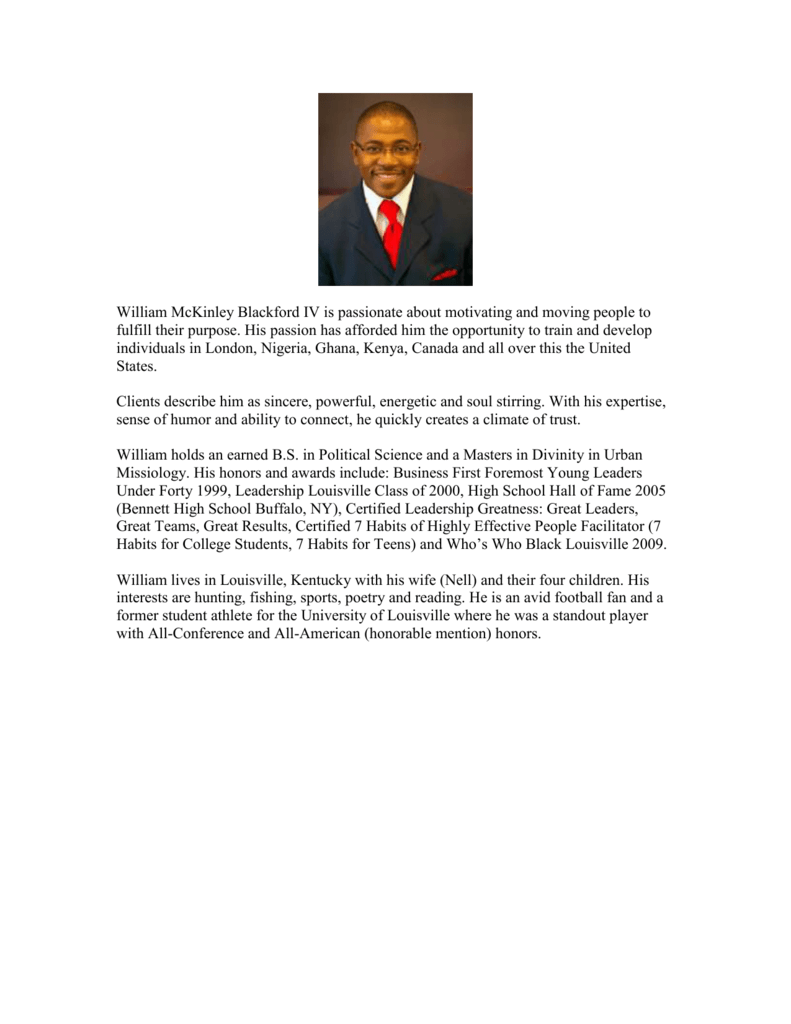 William McKinley Blackford IV is passionate about motivating and moving people to
fulfill their purpose. His passion has afforded him the opportunity to train and develop
individuals in London, Nigeria, Ghana, Kenya, Canada and all over this the United
States.
Clients describe him as sincere, powerful, energetic and soul stirring. With his expertise,
sense of humor and ability to connect, he quickly creates a climate of trust.
William holds an earned B.S. in Political Science and a Masters in Divinity in Urban
Missiology. His honors and awards include: Business First Foremost Young Leaders
Under Forty 1999, Leadership Louisville Class of 2000, High School Hall of Fame 2005
(Bennett High School Buffalo, NY), Certified Leadership Greatness: Great Leaders,
Great Teams, Great Results, Certified 7 Habits of Highly Effective People Facilitator (7
Habits for College Students, 7 Habits for Teens) and Who's Who Black Louisville 2009.
William lives in Louisville, Kentucky with his wife (Nell) and their four children. His
interests are hunting, fishing, sports, poetry and reading. He is an avid football fan and a
former student athlete for the University of Louisville where he was a standout player
with All-Conference and All-American (honorable mention) honors.