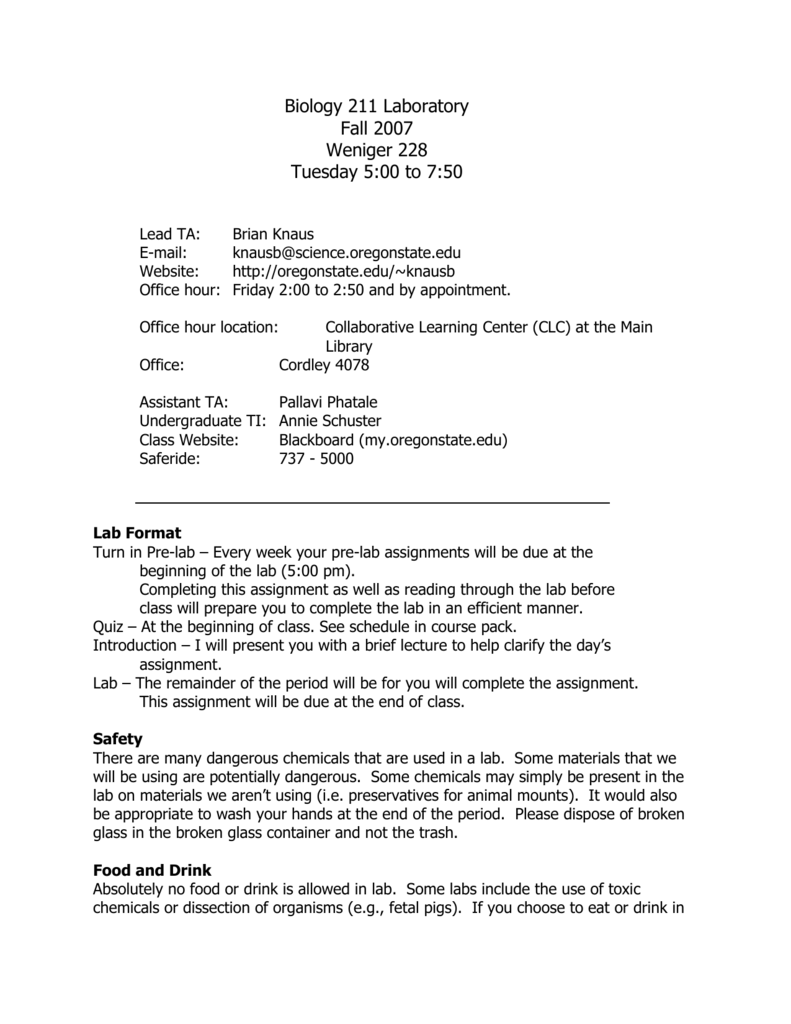 Biology 211 Laboratory
Fall 2007
Weniger 228
Tuesday 5:00 to 7:50
Lead TA:
E-mail:
Website:
Office hour:
Brian Knaus
[email protected]
http://oregonstate.edu/~knausb
Friday 2:00 to 2:50 and by appointment.
Office hour location:
Office:
Collaborative Learning Center (CLC) at the Main
Library
Cordley 4078
Assistant TA:
Pallavi Phatale
Undergraduate TI: Annie Schuster
Class Website:
Blackboard (my.oregonstate.edu)
Saferide:
737 - 5000
Lab Format
Turn in Pre-lab – Every week your pre-lab assignments will be due at the
beginning of the lab (5:00 pm).
Completing this assignment as well as reading through the lab before
class will prepare you to complete the lab in an efficient manner.
Quiz – At the beginning of class. See schedule in course pack.
Introduction – I will present you with a brief lecture to help clarify the day's
assignment.
Lab – The remainder of the period will be for you will complete the assignment.
This assignment will be due at the end of class.
Safety
There are many dangerous chemicals that are used in a lab. Some materials that we
will be using are potentially dangerous. Some chemicals may simply be present in the
lab on materials we aren't using (i.e. preservatives for animal mounts). It would also
be appropriate to wash your hands at the end of the period. Please dispose of broken
glass in the broken glass container and not the trash.
Food and Drink
Absolutely no food or drink is allowed in lab. Some labs include the use of toxic
chemicals or dissection of organisms (e.g., fetal pigs). If you choose to eat or drink in
lab you need to ask how well your colleagues from previous sections or previous years
have cleaned up after themselves.
Missed Labs
If you absolutely must miss a lab, make arrangements before you miss it. Contact
Trudy Powell ([email protected]) to arrange sitting in on another
lab. TAs can not make this arrangement for you. Labs can only be made up during the
week that it is offered.
Academic Honesty
From the OSU student misconduct and mediation website at:
http://oregonstate.edu/admin/stucon/
(1) Academic dishonesty:
(a) Academic dishonesty is defined as an intentional act of deception in which a student
seeks to claim credit for the work or effort of another person or uses unauthorized
materials or fabricated information in any academic work;
(b) It includes "cheating" (intentional use or attempted use of unauthorized materials,
information, or study aid), "fabrication" (intentional falsification or invention of any
information), "assisting in dishonesty" (intentionally or knowingly helping or attempting
to help another commit an act of dishonesty), "tampering" (altering or interfering with
evaluation instruments and documents), and "plagiarism" (intentionally or knowingly
representing the words or ideas of another person as one's own);
(c) Academic dishonesty cases are handled initially by the academic units, but will also
be referred to the Student Conduct Coordinator for action under these rules.
I will be proctoring midterms and will be preparing two different versions of each quiz,
so any dishonesty will personally involve me. Dishonesty is also noticed by other
students, disrupting their focus on the class. Academic dishonesty will violate the
"having fun" part of this class!
Free Software:
OSUware is available for free from the Valley Library. This includes a number of
packages that are either free or licensed to OSU including Norton Anti-virus.
ONID's Umbrella service: http://scf.oregonstate.edu/services/vcl.php
Free Office Suite: the open source office suite OpenOffice is available at
OpenOffice.org.
Have a safe, respectful and fun term!
The learning process should be an enjoyable process of discovery. Please feel free to
contact me or the other TAs for help with class assignments or broader interests in the
general field of biology. If there is something I can do to make this a more enjoyable
class please let me know!