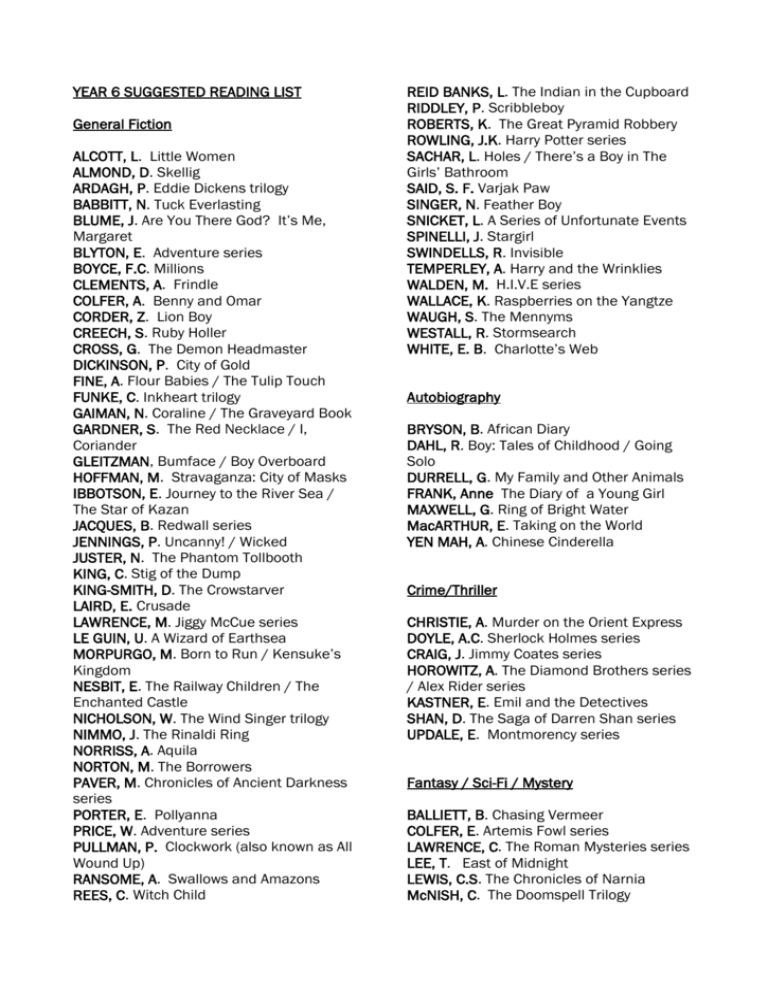 YEAR 6 SUGGESTED READING LIST
General Fiction
ALCOTT, L. Little Women
ALMOND, D. Skellig
ARDAGH, P. Eddie Dickens trilogy
BABBITT, N. Tuck Everlasting
BLUME, J. Are You There God? It's Me,
Margaret
BLYTON, E. Adventure series
BOYCE, F.C. Millions
CLEMENTS, A. Frindle
COLFER, A. Benny and Omar
CORDER, Z. Lion Boy
CREECH, S. Ruby Holler
CROSS, G. The Demon Headmaster
DICKINSON, P. City of Gold
FINE, A. Flour Babies / The Tulip Touch
FUNKE, C. Inkheart trilogy
GAIMAN, N. Coraline / The Graveyard Book
GARDNER, S. The Red Necklace / I,
Coriander
GLEITZMAN, Bumface / Boy Overboard
HOFFMAN, M. Stravaganza: City of Masks
IBBOTSON, E. Journey to the River Sea /
The Star of Kazan
JACQUES, B. Redwall series
JENNINGS, P. Uncanny! / Wicked
JUSTER, N. The Phantom Tollbooth
KING, C. Stig of the Dump
KING-SMITH, D. The Crowstarver
LAIRD, E. Crusade
LAWRENCE, M. Jiggy McCue series
LE GUIN, U. A Wizard of Earthsea
MORPURGO, M. Born to Run / Kensuke's
Kingdom
NESBIT, E. The Railway Children / The
Enchanted Castle
NICHOLSON, W. The Wind Singer trilogy
NIMMO, J. The Rinaldi Ring
NORRISS, A. Aquila
NORTON, M. The Borrowers
PAVER, M. Chronicles of Ancient Darkness
series
PORTER, E. Pollyanna
PRICE, W. Adventure series
PULLMAN, P. Clockwork (also known as All
Wound Up)
RANSOME, A. Swallows and Amazons
REES, C. Witch Child
REID BANKS, L. The Indian in the Cupboard
RIDDLEY, P. Scribbleboy
ROBERTS, K. The Great Pyramid Robbery
ROWLING, J.K. Harry Potter series
SACHAR, L. Holes / There's a Boy in The
Girls' Bathroom
SAID, S. F. Varjak Paw
SINGER, N. Feather Boy
SNICKET, L. A Series of Unfortunate Events
SPINELLI, J. Stargirl
SWINDELLS, R. Invisible
TEMPERLEY, A. Harry and the Wrinklies
WALDEN, M. H.I.V.E series
WALLACE, K. Raspberries on the Yangtze
WAUGH, S. The Mennyms
WESTALL, R. Stormsearch
WHITE, E. B. Charlotte's Web
Autobiography
BRYSON, B. African Diary
DAHL, R. Boy: Tales of Childhood / Going
Solo
DURRELL, G. My Family and Other Animals
FRANK, Anne The Diary of a Young Girl
MAXWELL, G. Ring of Bright Water
MacARTHUR, E. Taking on the World
YEN MAH, A. Chinese Cinderella
Crime/Thriller
CHRISTIE, A. Murder on the Orient Express
DOYLE, A.C. Sherlock Holmes series
CRAIG, J. Jimmy Coates series
HOROWITZ, A. The Diamond Brothers series
/ Alex Rider series
KASTNER, E. Emil and the Detectives
SHAN, D. The Saga of Darren Shan series
UPDALE, E. Montmorency series
Fantasy / Sci-Fi / Mystery
BALLIETT, B. Chasing Vermeer
COLFER, E. Artemis Fowl series
LAWRENCE, C. The Roman Mysteries series
LEE, T. East of Midnight
LEWIS, C.S. The Chronicles of Narnia
McNISH, C. The Doomspell Trilogy
PAOLINI, C. Inheritance series
REEVE, P. Mortal Engines series
STEWART, P & RIDDELL, C. The Edge
Chronicles
WYNNE-JONES, D. Howl's Moving Castle /
The Worlds of Chrestomanci
Non-Fiction
Horrible Histories series
Horrible Geography series
Horrible Science series
Historical Fiction
CROSSLEY-HOLLAND, K. The Seeing Stone
DOHERTY, B. Street Child
ELDRIDGE, J. The Trenches
FRASER, A. King Arthur and the Knights of
the Round Table
GARFIELD, L. Smith
GLEITZMAN, M. Once
HOOPER, M. At the Sign of the Sugared
Plum
MAGORIAN, M. Goodnight, Mr Tom
MORPURGO, M. Mr Nobody's Eyes / Private
Peaceful
PATON WALSH, J. The Dolphin Crossing
SERRAILLIER, I. The Silver Sword
SUTCLIFF, R. The Eagle of the Ninth
SWINDELLS, Blitzed
TREASE, G. Cue for Treason
GOSCINNY, R. & UDERZO, A. Asterix series
Note: This is not a comprehensive list of
suitable titles for this age group but it is a
great start. Most other books by the above
named authors would also be appropriate.
There is a magnificent resource entitled The
Ultimate Book Guide – over 600 great
books for 8-12s, edited by Daniel Hahn and
Leonie Flynn, which we also highly
recommend. It has been compiled by many
celebrated authors listing their favourite
novels for this age group and making
excellent suggestions for what to read next
after having enjoyed a particular story. It
also contains some very interesting lists on
topics like Best Animal Stories, Top 10
Fantasy Books, Pirate Stories, Best Scary
Books, Top 10 Funny Stories, Books Which
Should Be Made Into Films and Favourite
Books About War.