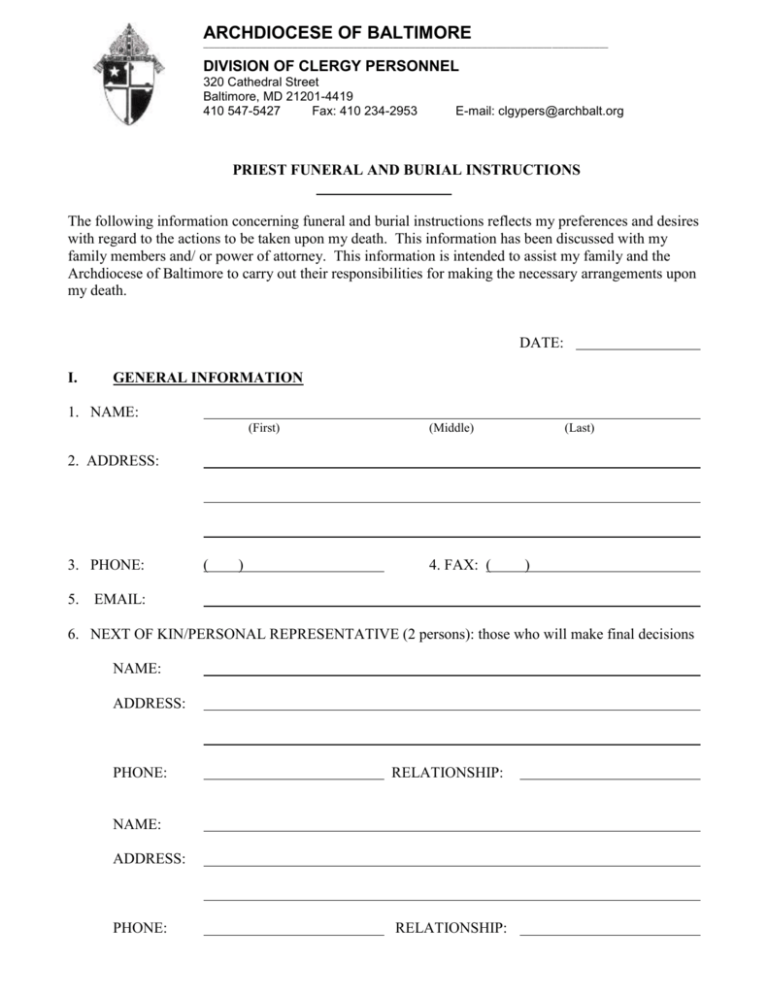 ARCHDIOCESE OF BALTIMORE
_____________________________________________________________________________________________________________________________ ____________________
DIVISION OF CLERGY PERSONNEL
320 Cathedral Street
Baltimore, MD 21201-4419
410 547-5427
Fax: 410 234-2953
E-mail: clgypers@archbalt.org
PRIEST FUNERAL AND BURIAL INSTRUCTIONS
The following information concerning funeral and burial instructions reflects my preferences and desires
with regard to the actions to be taken upon my death. This information has been discussed with my
family members and/ or power of attorney. This information is intended to assist my family and the
Archdiocese of Baltimore to carry out their responsibilities for making the necessary arrangements upon
my death.
DATE:
I.
GENERAL INFORMATION
1. NAME:
(First)
(Middle)
(Last)
2. ADDRESS:
3. PHONE:
5.
(
)
4. FAX: (
)
EMAIL:
6. NEXT OF KIN/PERSONAL REPRESENTATIVE (2 persons): those who will make final decisions
NAME:
ADDRESS:
PHONE:
RELATIONSHIP:
NAME:
ADDRESS:
PHONE:
RELATIONSHIP:
7. DISPOSITION OF THE BODY:
Burial
Cremation
8. CASKET: For Viewing
Open
Closed
9. CHURCH OF FUNERAL RITES:
Wherever assigned at time
Pastor Emeritus
Home Parish
Other
10. PALL BEARERS:
11. OBITUARY INSTRUCTIONS:
in lieu of flowers
charitable donation
II.
LITURGICAL ARRANGEMENT PREFERENCES
1. Vigil Service:
Presider:
1st Choice
2nd Choice
Homilist:
1st Choice
2nd Choice
Scripture Readings:
Other Notes:
2. Mass of Christian Burial:
Presider:
1st Choice
2nd Choice
Homilist:
1st Choice
2nd Choice
Major Concelebrants:
Rev.
Rev.
Rev.
Assisting Deacons:
Deacon:
Deacon:
Readers:
1st Reading:
2nd Reading:
Intercessions:
Gift Bearers:
Presider – Final Commendation:
Scripture Readings:
1st Reading:
(Scripture Passage)
(Lectionary No.)
(Scripture Passage)
(Lectionary No.)
(Scripture Passage)
(Lectionary No.)
2nd Reading:
Gospel:
Liturgical Music:
Prelude
Opening
Responsorial Psalm
Gospel Acclamation
Preparation of Gifts
Eucharistic Acclamations
Holy, Holy
Memorial
Great Amen
Lamb of God
Communion
Song of Farewell
Closing
Postlude
Other Requests:
3. GRAVESIDE:
Presider:
Reader:
* Note: Are those whom would exercise a particular role or function aware of your desires?
III
FUNERAL ARRANGEMENTS
1. FUNERAL DIRECTOR:
Name:
Address:
Phone:
(
)
Have you made pre-arrangements?
If pre-paid, where is the documentation?
2. CEMETERY
Name:
Address:
Phone:
Grave Site:
Copy of Deed Enclosed:
IV.
GENERAL COMMENTS
PLEASE NOTE:
Copies of this information should be shared with your family members, personal
representative, funeral director, and others. It will be helpful if a family member
or personal representative contact the Chancery Office at 410 547-5446 and/or
the Office of Clergy Personnel as soon as possible at the time of death so that
assistance with arrangements and communication of information can be taken
care of promptly.
An updated copy of your will, signed and dated, should be furnished to the
Chancery Office in a sealed envelope. The Office of Clergy Personnel
can assist in drafting a will.