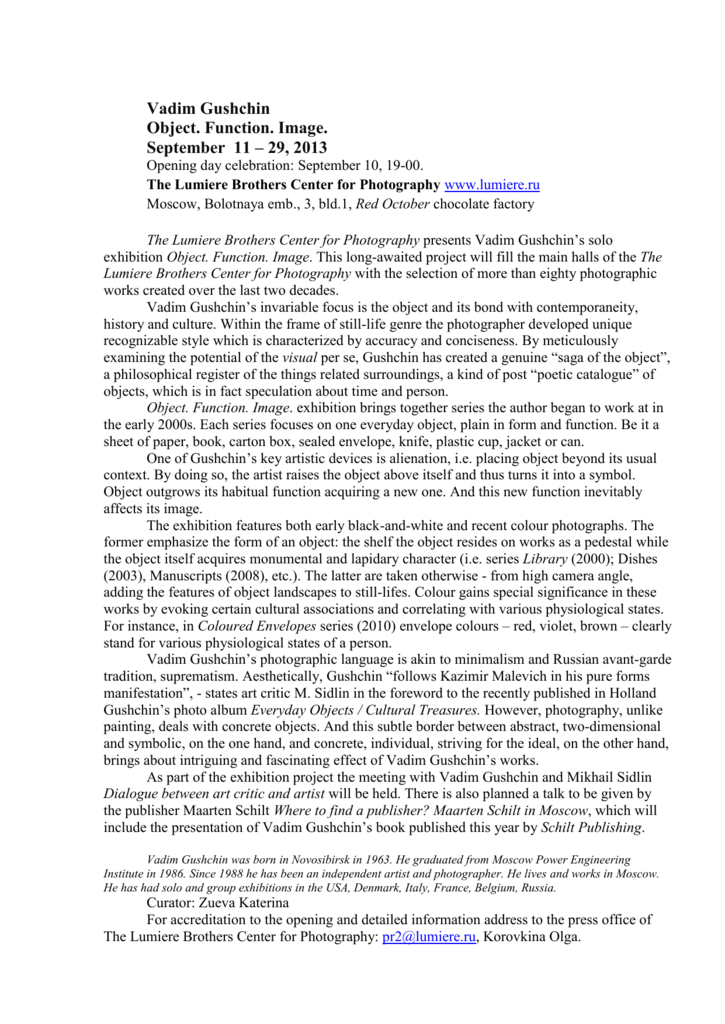 Vadim Gushchin
Object. Function. Image.
September 11 – 29, 2013
Opening day celebration: September 10, 19-00.
The Lumiere Brothers Center for Photography www.lumiere.ru
Moscow, Bolotnaya emb., 3, bld.1, Red October chocolate factory
The Lumiere Brothers Center for Photography presents Vadim Gushchin's solo
exhibition Object. Function. Image. This long-awaited project will fill the main halls of the The
Lumiere Brothers Center for Photography with the selection of more than eighty photographic
works created over the last two decades.
Vadim Gushchin's invariable focus is the object and its bond with contemporaneity,
history and culture. Within the frame of still-life genre the photographer developed unique
recognizable style which is characterized by accuracy and conciseness. By meticulously
examining the potential of the visual per se, Gushchin has created a genuine "saga of the object",
a philosophical register of the things related surroundings, a kind of post "poetic catalogue" of
objects, which is in fact speculation about time and person.
Object. Function. Image. exhibition brings together series the author began to work at in
the early 2000s. Each series focuses on one everyday object, plain in form and function. Be it a
sheet of paper, book, carton box, sealed envelope, knife, plastic cup, jacket or can.
One of Gushchin's key artistic devices is alienation, i.e. placing object beyond its usual
context. By doing so, the artist raises the object above itself and thus turns it into a symbol.
Object outgrows its habitual function acquiring a new one. And this new function inevitably
affects its image.
The exhibition features both early black-and-white and recent colour photographs. The
former emphasize the form of an object: the shelf the object resides on works as a pedestal while
the object itself acquires monumental and lapidary character (i.e. series Library (2000); Dishes
(2003), Manuscripts (2008), etc.). The latter are taken otherwise - from high camera angle,
adding the features of object landscapes to still-lifes. Colour gains special significance in these
works by evoking certain cultural associations and correlating with various physiological states.
For instance, in Coloured Envelopes series (2010) envelope colours – red, violet, brown – clearly
stand for various physiological states of a person.
Vadim Gushchin's photographic language is akin to minimalism and Russian avant-garde
tradition, suprematism. Aesthetically, Gushchin "follows Kazimir Malevich in his pure forms
manifestation", - states art critic M. Sidlin in the foreword to the recently published in Holland
Gushchin's photo album Everyday Objects / Cultural Treasures. However, photography, unlike
painting, deals with concrete objects. And this subtle border between abstract, two-dimensional
and symbolic, on the one hand, and concrete, individual, striving for the ideal, on the other hand,
brings about intriguing and fascinating effect of Vadim Gushchin's works.
As part of the exhibition project the meeting with Vadim Gushchin and Mikhail Sidlin
Dialogue between art critic and artist will be held. There is also planned a talk to be given by
the publisher Maarten Schilt Where to find a publisher? Maarten Schilt in Moscow, which will
include the presentation of Vadim Gushchin's book published this year by Schilt Publishing.
Vadim Gushchin was born in Novosibirsk in 1963. He graduated from Moscow Power Engineering
Institute in 1986. Since 1988 he has been an independent artist and photographer. He lives and works in Moscow.
He has had solo and group exhibitions in the USA, Denmark, Italy, France, Belgium, Russia.
Curator: Zueva Katerina
For accreditation to the opening and detailed information address to the press office of
The Lumiere Brothers Center for Photography: [email protected], Korovkina Olga.