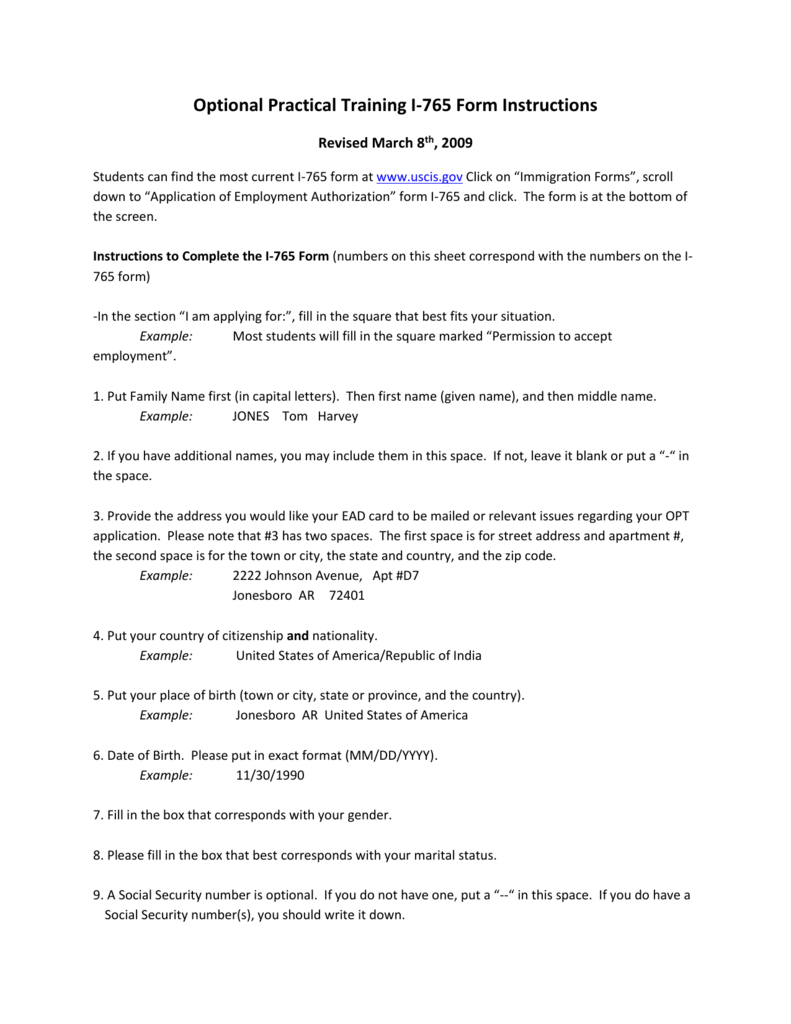 Optional Practical Training I-765 Form Instructions
Revised March 8th, 2009
Students can find the most current I-765 form at www.uscis.gov Click on "Immigration Forms", scroll
down to "Application of Employment Authorization" form I-765 and click. The form is at the bottom of
the screen.
Instructions to Complete the I-765 Form (numbers on this sheet correspond with the numbers on the I765 form)
-In the section "I am applying for:", fill in the square that best fits your situation.
Example:
Most students will fill in the square marked "Permission to accept
employment".
1. Put Family Name first (in capital letters). Then first name (given name), and then middle name.
Example:
JONES Tom Harvey
2. If you have additional names, you may include them in this space. If not, leave it blank or put a "-" in
the space.
3. Provide the address you would like your EAD card to be mailed or relevant issues regarding your OPT
application. Please note that #3 has two spaces. The first space is for street address and apartment #,
the second space is for the town or city, the state and country, and the zip code.
Example:
2222 Johnson Avenue, Apt #D7
Jonesboro AR 72401
4. Put your country of citizenship and nationality.
Example:
United States of America/Republic of India
5. Put your place of birth (town or city, state or province, and the country).
Example:
Jonesboro AR United States of America
6. Date of Birth. Please put in exact format (MM/DD/YYYY).
Example:
11/30/1990
7. Fill in the box that corresponds with your gender.
8. Please fill in the box that best corresponds with your marital status.
9. A Social Security number is optional. If you do not have one, put a "--" in this space. If you do have a
Social Security number(s), you should write it down.
Example:
999-99-9999
10. Please include your Alien Registration Number if you have one (most will not), otherwise use the
number found on the top of your I-94 card. All F-1 students should have one. You will provide a
copy of this card along with your application.
Example:
555555555 11 (this is an example of an I-94 number on the top of the card)
11. Please fill in the box that best corresponds with your situation. If you applied for previous
authorized employment through a service center on a previous I-20, or different school, please mark
"yes" and fill out the remainder of the spaces for #11. If you did not have any previous
employment, please put a "--" in each space.
-If you filed for employment (economic hardship, OPT, etc.) through ASU in the past, the
corresponding service center is "Texas Service Center"
-Please list the specific dates (Example: 12/30/2005-04/30/2006). If you have more than one
period of employment authorization, please include it all (Example: 05/30/2001-08/30/2001
and 08/30/2001-12/30/2001).
-Please include all documentation of previous employment authorization (for example, previous
OPT I-20, copy of the EAD card, etc.). The Service Center reviewing your application is trying
to verify if you are currently eligible for OPT based on your previous employment history, and
it is crucial that you provide accurate and complete information.
12. Your date of last entry will be found on the stamp on your I-94 card that you are submitting with this
application.
Example:
08/ 15/2008
13. The place of entry will be on the stamp on your I-94 card that you are submitting with this
application. It is usually a code.
Example:
DEN (this means Denver), or NYC (for New York City), or MEM (for Memphis)
14. "Manor of last entry" is the status in which you entered the United States, as stated on your I-94.
15. Your current status should be "Student" when applying for Optional Practical Training.
16. If you are applying for:
- Pre-Completion OPT your code is ( C ) ( 3 ) ( A )
-Post-Completion OPT your code is ( C ) ( 3 ) ( B )
-For STEM Extension your code is ( C ) ( 3 ) ( C )
17. Please fill out this information if you are applying for STEM Extension (codes ( C ) ( 3 ) ( C ))
-Please make sure you sign your name, put your valid telephone number, and date in the space
designated for "Your Certification". Please do not sign the very bottom part with your name, address,
signature, and date. This is only for a person who is filling the application on behalf of the applicant.