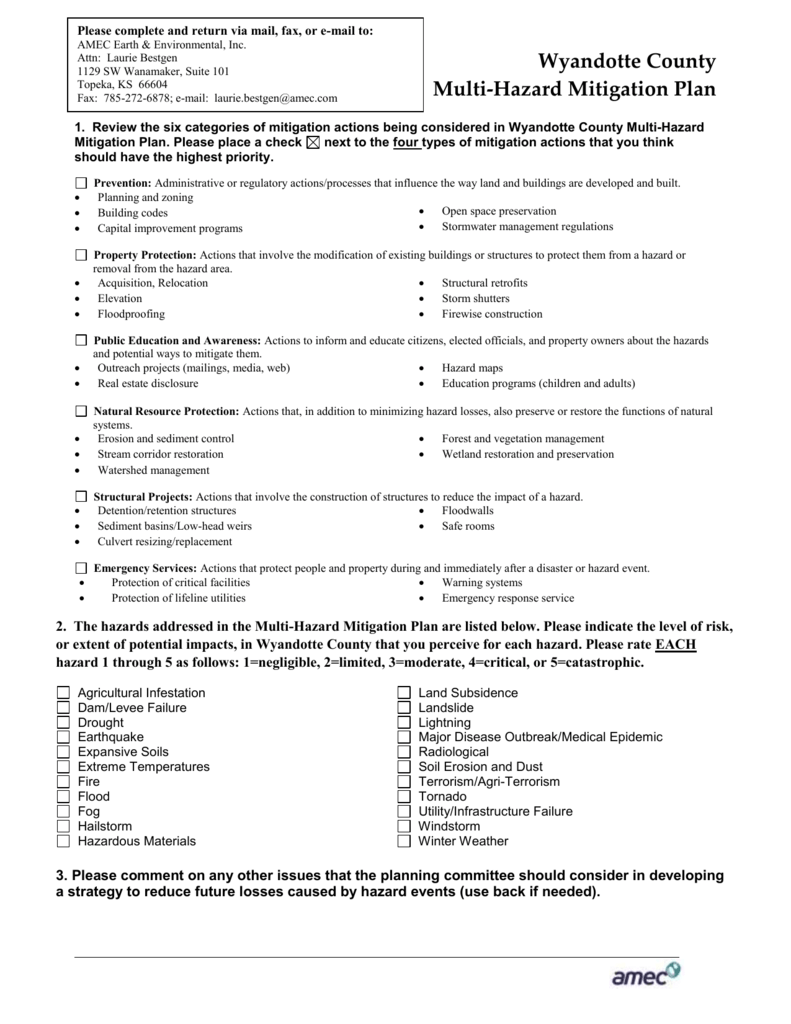 Please complete and return via mail, fax, or e-mail to:
AMEC Earth & Environmental, Inc.
Attn: Laurie Bestgen
1129 SW Wanamaker, Suite 101
Topeka, KS 66604
Fax: 785-272-6878; e-mail: [email protected]
Wyandotte County
Multi-Hazard Mitigation Plan
1. Review the six categories of mitigation actions being considered in Wyandotte County Multi-Hazard
Mitigation Plan. Please place a check
next to the four types of mitigation actions that you think
should have the highest priority.



Prevention: Administrative or regulatory actions/processes that influence the way land and buildings are developed and built.
Planning and zoning

Open space preservation
Building codes

Stormwater management regulations
Capital improvement programs



Property Protection: Actions that involve the modification of existing buildings or structures to protect them from a hazard or
removal from the hazard area.
Acquisition, Relocation

Structural retrofits
Elevation

Storm shutters
Floodproofing

Firewise construction


Public Education and Awareness: Actions to inform and educate citizens, elected officials, and property owners about the hazards
and potential ways to mitigate them.
Outreach projects (mailings, media, web)

Hazard maps
Real estate disclosure

Education programs (children and adults)



Natural Resource Protection: Actions that, in addition to minimizing hazard losses, also preserve or restore the functions of natural
systems.
Erosion and sediment control

Forest and vegetation management
Stream corridor restoration

Wetland restoration and preservation
Watershed management



Structural Projects: Actions that involve the construction of structures to reduce the impact of a hazard.
Detention/retention structures

Floodwalls
Sediment basins/Low-head weirs

Safe rooms
Culvert resizing/replacement


Emergency Services: Actions that protect people and property during and immediately after a disaster or hazard event.
Protection of critical facilities

Warning systems
Protection of lifeline utilities

Emergency response service
2. The hazards addressed in the Multi-Hazard Mitigation Plan are listed below. Please indicate the level of risk,
or extent of potential impacts, in Wyandotte County that you perceive for each hazard. Please rate EACH
hazard 1 through 5 as follows: 1=negligible, 2=limited, 3=moderate, 4=critical, or 5=catastrophic.
Agricultural Infestation
Dam/Levee Failure
Drought
Earthquake
Expansive Soils
Extreme Temperatures
Fire
Flood
Fog
Hailstorm
Hazardous Materials
Land Subsidence
Landslide
Lightning
Major Disease Outbreak/Medical Epidemic
Radiological
Soil Erosion and Dust
Terrorism/Agri-Terrorism
Tornado
Utility/Infrastructure Failure
Windstorm
Winter Weather
3. Please comment on any other issues that the planning committee should consider in developing
a strategy to reduce future losses caused by hazard events (use back if needed).