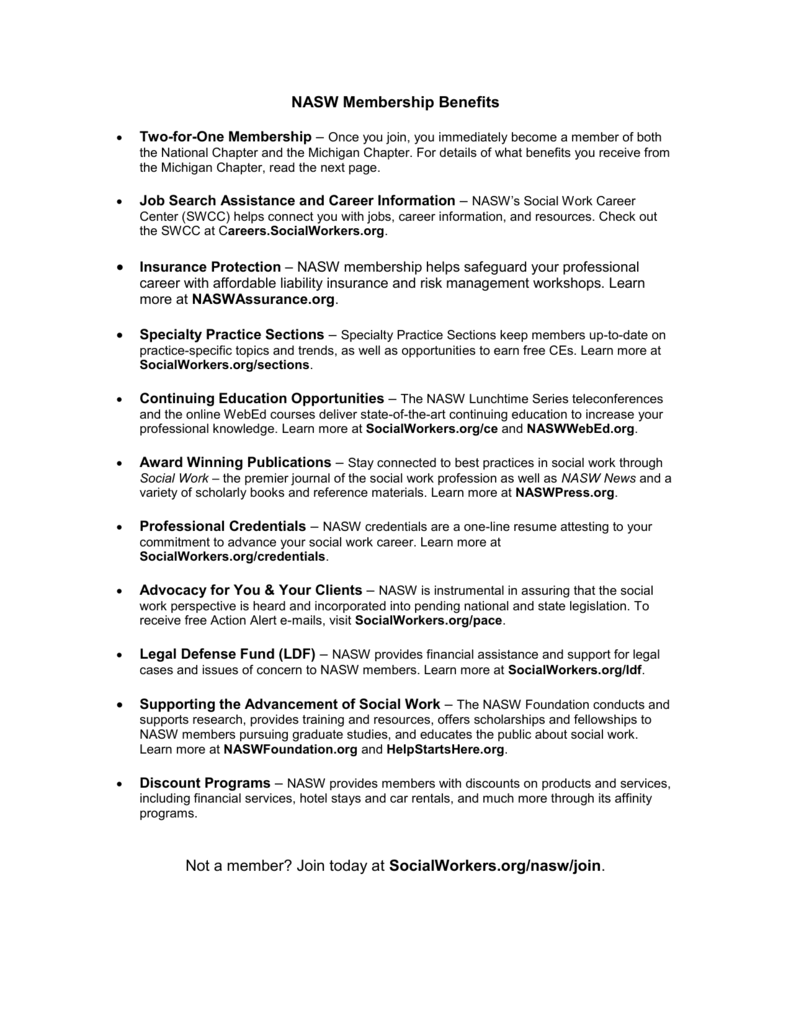 NASW Membership Benefits

Two-for-One Membership – Once you join, you immediately become a member of both
the National Chapter and the Michigan Chapter. For details of what benefits you receive from
the Michigan Chapter, read the next page.

Job Search Assistance and Career Information – NASW's Social Work Career
Center (SWCC) helps connect you with jobs, career information, and resources. Check out
the SWCC at Careers.SocialWorkers.org.

Insurance Protection – NASW membership helps safeguard your professional
career with affordable liability insurance and risk management workshops. Learn
more at NASWAssurance.org.

Specialty Practice Sections – Specialty Practice Sections keep members up-to-date on
practice-specific topics and trends, as well as opportunities to earn free CEs. Learn more at
SocialWorkers.org/sections.

Continuing Education Opportunities – The NASW Lunchtime Series teleconferences
and the online WebEd courses deliver state-of-the-art continuing education to increase your
professional knowledge. Learn more at SocialWorkers.org/ce and NASWWebEd.org.

Award Winning Publications – Stay connected to best practices in social work through
Social Work – the premier journal of the social work profession as well as NASW News and a
variety of scholarly books and reference materials. Learn more at NASWPress.org.

Professional Credentials – NASW credentials are a one-line resume attesting to your
commitment to advance your social work career. Learn more at
SocialWorkers.org/credentials.

Advocacy for You & Your Clients – NASW is instrumental in assuring that the social
work perspective is heard and incorporated into pending national and state legislation. To
receive free Action Alert e-mails, visit SocialWorkers.org/pace.

Legal Defense Fund (LDF) – NASW provides financial assistance and support for legal
cases and issues of concern to NASW members. Learn more at SocialWorkers.org/ldf.

Supporting the Advancement of Social Work – The NASW Foundation conducts and
supports research, provides training and resources, offers scholarships and fellowships to
NASW members pursuing graduate studies, and educates the public about social work.
Learn more at NASWFoundation.org and HelpStartsHere.org.

Discount Programs – NASW provides members with discounts on products and services,
including financial services, hotel stays and car rentals, and much more through its affinity
programs.
Not a member? Join today at SocialWorkers.org/nasw/join.