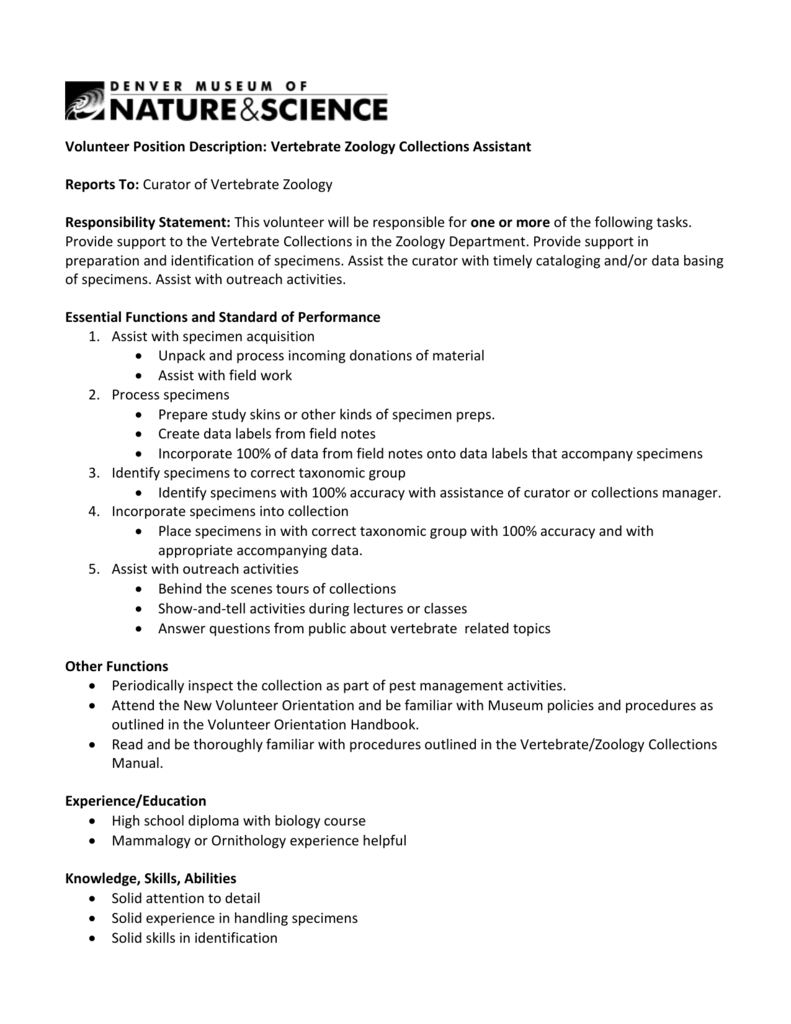 Volunteer Position Description: Vertebrate Zoology Collections Assistant
Reports To: Curator of Vertebrate Zoology
Responsibility Statement: This volunteer will be responsible for one or more of the following tasks.
Provide support to the Vertebrate Collections in the Zoology Department. Provide support in
preparation and identification of specimens. Assist the curator with timely cataloging and/or data basing
of specimens. Assist with outreach activities.
Essential Functions and Standard of Performance
1. Assist with specimen acquisition
 Unpack and process incoming donations of material
 Assist with field work
2. Process specimens
 Prepare study skins or other kinds of specimen preps.
 Create data labels from field notes
 Incorporate 100% of data from field notes onto data labels that accompany specimens
3. Identify specimens to correct taxonomic group
 Identify specimens with 100% accuracy with assistance of curator or collections manager.
4. Incorporate specimens into collection
 Place specimens in with correct taxonomic group with 100% accuracy and with
appropriate accompanying data.
5. Assist with outreach activities
 Behind the scenes tours of collections
 Show-and-tell activities during lectures or classes
 Answer questions from public about vertebrate related topics
Other Functions
 Periodically inspect the collection as part of pest management activities.
 Attend the New Volunteer Orientation and be familiar with Museum policies and procedures as
outlined in the Volunteer Orientation Handbook.
 Read and be thoroughly familiar with procedures outlined in the Vertebrate/Zoology Collections
Manual.
Experience/Education
 High school diploma with biology course
 Mammalogy or Ornithology experience helpful
Knowledge, Skills, Abilities
 Solid attention to detail
 Solid experience in handling specimens
 Solid skills in identification



Solid ability to read and understand taxonomic literature and publications
Basic familiarity of field collection methods
Solid knowledge and understanding of a natural history museum's mission and practices.
Supervisory
 Required to mentor and educate new volunteers
Financial
N/A
Equipment
 Office equipment
 Specimen preparation materials and tools
Physical Working Conditions
 On-site volunteers must be able to sit or stand for long periods of time
 Databasing volunteers must be knowledgeable about and comfortable with computers
Physical Effort Required
 Physical activity required by handling objects up to 20 lbs occasionally and/or 10 lbs frequently
Training
 Some on-the-job training will be provided by the curator, collections manager, and experienced
volunteers.