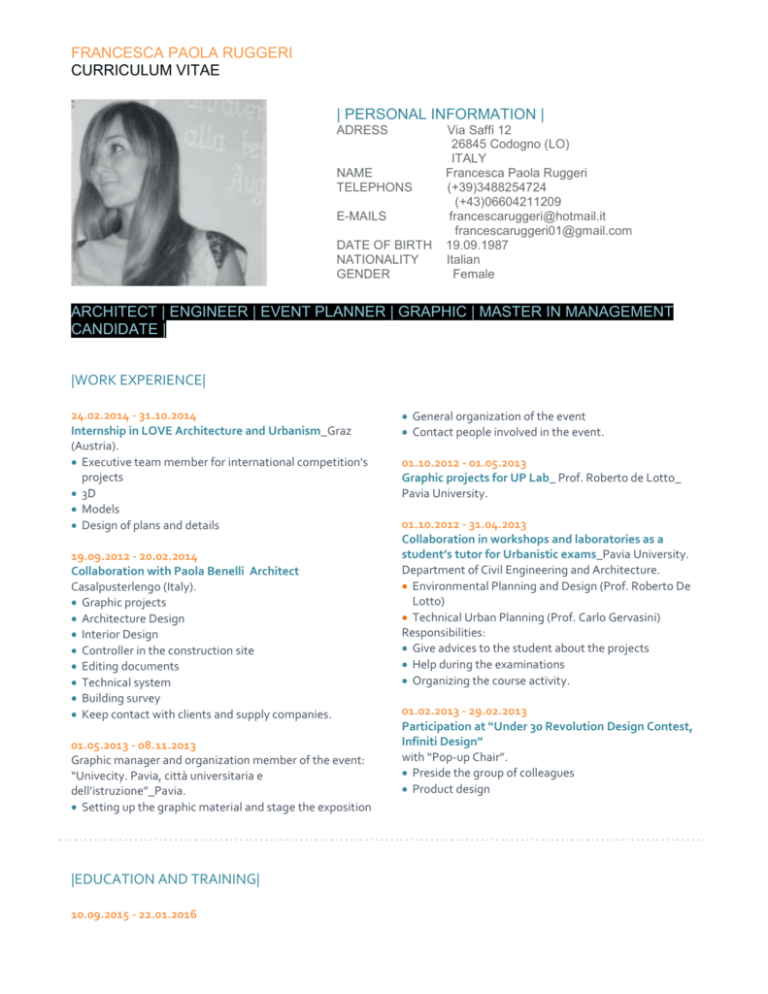 FRANCESCA PAOLA RUGGERI
CURRICULUM VITAE
| PERSONAL INFORMATION |
ADRESS
NAME
TELEPHONS
E-MAILS
DATE OF BIRTH
NATIONALITY
GENDER
Via Saffi 12
26845 Codogno (LO)
ITALY
Francesca Paola Ruggeri
(+39)3488254724
(+43)06604211209
francescaruggeri@hotmail.it
francescaruggeri01@gmail.com
19.09.1987
Italian
Female
ARCHITECT | ENGINEER | EVENT PLANNER | GRAPHIC | MASTER IN MANAGEMENT
CANDIDATE |
|WORK EXPERIENCE|
24.02.2014 - 31.10.2014
Internship in LOVE Architecture and Urbanism_Graz
(Austria).
 Executive team member for international competition's
projects
 3D
 Models
 Design of plans and details
19.09.2012 - 20.02.2014
Collaboration with Paola Benelli Architect
Casalpusterlengo (Italy).
 Graphic projects
 Architecture Design
 Interior Design
 Controller in the construction site
 Editing documents
 Technical system
 Building survey
 Keep contact with clients and supply companies.
01.05.2013 - 08.11.2013
Graphic manager and organization member of the event:
"Univecity. Pavia, città universitaria e
dell'istruzione"_Pavia.
 Setting up the graphic material and stage the exposition
|EDUCATION AND TRAINING|
10.09.2015 - 22.01.2016
 General organization of the event
 Contact people involved in the event.
01.10.2012 - 01.05.2013
Graphic projects for UP Lab_ Prof. Roberto de Lotto_
Pavia University.
01.10.2012 - 31.04.2013
Collaboration in workshops and laboratories as a
student's tutor for Urbanistic exams_Pavia University.
Department of Civil Engineering and Architecture.
 Environmental Planning and Design (Prof. Roberto De
Lotto)
 Technical Urban Planning (Prof. Carlo Gervasini)
Responsibilities:
 Give advices to the student about the projects
 Help during the examinations
 Organizing the course activity.
01.02.2013 - 29.02.2013
Participation at "Under 30 Revolution Design Contest,
Infiniti Design"
with "Pop-up Chair".
 Preside the group of colleagues
 Product design
MIM_ Master in Management Candidate
IE University, Madrid
18.10.2014 - 18.12.2014
German Course in the Academy "Deutsch in Graz"
01.08.2013 - 31.08.2013
International Summer Academy for Architecture, Design
and Art_Wismar Hochschule (Germany).
Courses:
 Product Design Course, hold by Stephan Schulz.
Industrial designer. Creation of a design lighting structure
 Fashion Design Couse with TUTU Wagner, Fashion
Designer from Berlin. Production of a fashion cloth and
organization of stage activity
 Painting Curse, hold by Reinhard Stangl, Painter.
Introduction to different techniques of painting
 Photography Course with Iris vom Stein. Photographer
and designer. Production of artistic portrait.
10.10.2006 - 21.04.2012
Master Degree in Civil Engineering and Architecture with
high marks (100/110)_Pavia University.
 THESIS: "MASTERPLAN E SPAZI APERTI DELLA PLAZA
DE LA CEBADA: SPERIMENTAZIONE DI URBAN
DESIGN". Rapporteurs of the Thesis: Prof. Ing. Roberto
De Lotto, Gonzalo Melián Marrero_Director del Centro de
Estudios Superiores Online de Madrid Manuel Ayau
(OMMA). 100/110
 PUBLICATION OF ARCHITECTURAL PROJECTS
After the course of Architecture and Composition 3,
University of Pavia published a book that focuses on the
relationship between the environment and the impact of
the project on the landscape.
"IEA Ingegneria Edile-Architettura. Project for Pavia_2010"
Publisher: Maggioli Editore
01.09.2011 - 20.12.2011
Research period abroad for the Thesis in collaboration with
Prof. Gonzalo Maliàn_IE University_Madrid.
01.05.2010 - 31.05.2010
Official 3D Rhinoceront Course Certification _Puertaverde
LAB_Madrid.
01.09.2009 - 31.07.2010
Erasmus mobility program at IE Univerity_Faculty of
Architecture_Segovia (Spain).
01.05.2010 - 31.05.2010
Workshop : "Design of Transitional Shelter for Haiti".
Event organized by University of Pavia in favor of the
International Organization for Migration IOM / OIM.
 Research on Housing Emergency's Problems
 Design an Emergency shelter using some specific
materials and easy technologies
12.09.2001 - 31.07.2006
High School diploma with high marks_ Liceo Scienti_co
G.Novello_
Codogno (Italy).
01.07.2003 - 31.07.2003 and 01.07.2004 - 31.07.2004
Course in English as a Foregign Language_Embassy CES
at Cambridge Regional College (U.K.).
_Allplan
_Adobe illustrator
|PERSONAL SKILLS AND COMPETENCE|
Mother Tongue:
Other languages:
Italian
Spanish_ C2*
English_C1* (TOEFL score: 100)
German_A2*
(*) Common European Framework of reference for Languages
|COMPUTER SKILLS AND COMPETENCE|
_ ECDL Computer licence _Adobe In Design
_Rhinoceront
_Office Suite
_V-Ray
_Mac OS, Windows
_Flamingo
_Adobe Photoshop
_Lumino
_Sketchup
_Grasshopper
_Autocad
|SOCIAL SKILLS AND COMPETENCE|
 TEAM WORK. I learn to develop project with others
students during
 My academic career.
 MEDIATING SKILLS improved in my activities at the town
hall.
 INTERCULTURAL SKILLS advanced in living in different
countries.
|HOBBIES AND INTERESTS|
_Art_Interior Design and fashion_Travels_Sailing
|DRIVING LICENCE|
Eu. B (cars).