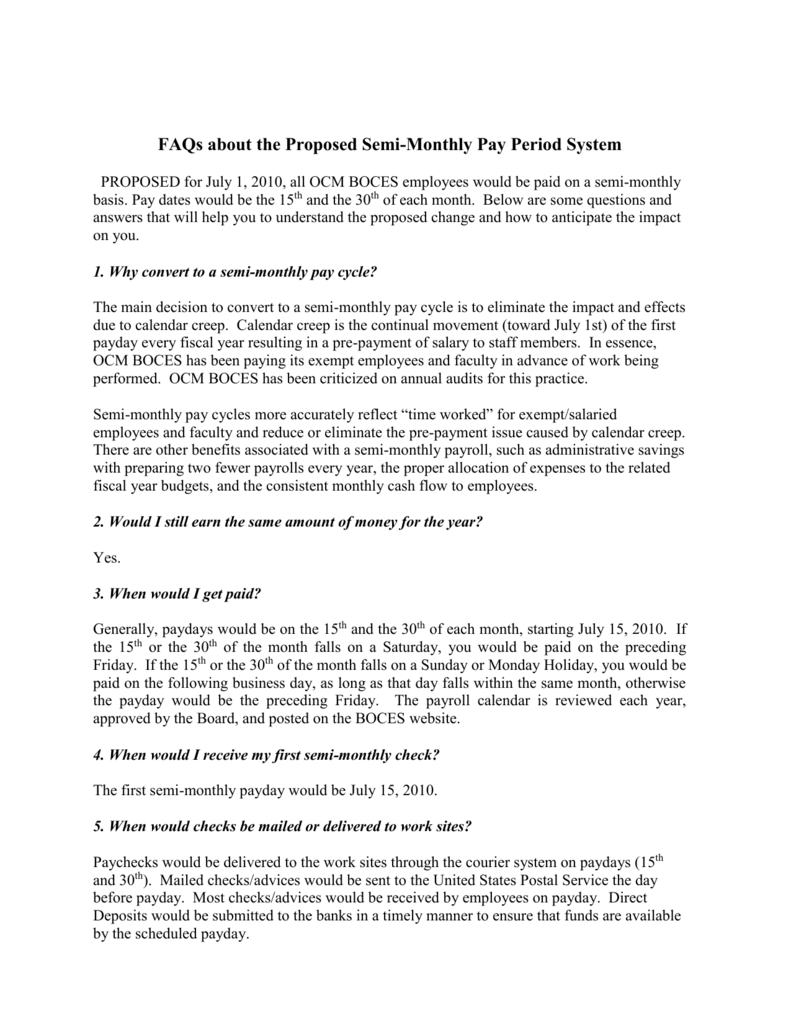 FAQs about the Proposed Semi-Monthly Pay Period System
PROPOSED for July 1, 2010, all OCM BOCES employees would be paid on a semi-monthly
basis. Pay dates would be the 15th and the 30th of each month. Below are some questions and
answers that will help you to understand the proposed change and how to anticipate the impact
on you.
1. Why convert to a semi-monthly pay cycle?
The main decision to convert to a semi-monthly pay cycle is to eliminate the impact and effects
due to calendar creep. Calendar creep is the continual movement (toward July 1st) of the first
payday every fiscal year resulting in a pre-payment of salary to staff members. In essence,
OCM BOCES has been paying its exempt employees and faculty in advance of work being
performed. OCM BOCES has been criticized on annual audits for this practice.
Semi-monthly pay cycles more accurately reflect "time worked" for exempt/salaried
employees and faculty and reduce or eliminate the pre-payment issue caused by calendar creep.
There are other benefits associated with a semi-monthly payroll, such as administrative savings
with preparing two fewer payrolls every year, the proper allocation of expenses to the related
fiscal year budgets, and the consistent monthly cash flow to employees.
2. Would I still earn the same amount of money for the year?
Yes.
3. When would I get paid?
Generally, paydays would be on the 15th and the 30th of each month, starting July 15, 2010. If
the 15th or the 30th of the month falls on a Saturday, you would be paid on the preceding
Friday. If the 15th or the 30th of the month falls on a Sunday or Monday Holiday, you would be
paid on the following business day, as long as that day falls within the same month, otherwise
the payday would be the preceding Friday. The payroll calendar is reviewed each year,
approved by the Board, and posted on the BOCES website.
4. When would I receive my first semi-monthly check?
The first semi-monthly payday would be July 15, 2010.
5. When would checks be mailed or delivered to work sites?
Paychecks would be delivered to the work sites through the courier system on paydays (15th
and 30th). Mailed checks/advices would be sent to the United States Postal Service the day
before payday. Most checks/advices would be received by employees on payday. Direct
Deposits would be submitted to the banks in a timely manner to ensure that funds are available
by the scheduled payday.
6. How would the new pay cycle be implemented?
For the 2010-2011 school year only, 12 month employees would receive an "extra" paycheck
on July 2nd, 2010. This check would help the transition from their last paycheck in the 20092010 school year (June 18th, 2010) to the first semi-monthly check on July 15th, 2010. The
employee's annual pay (after raises) would be divided by 25 pays in 2010-2011.
For the 2011-2012 school year, 12 month employees would have their annual pay divided over
24 pay periods (2 checks per month), and will receive their first check on July 15th, 2011.
Starting in the 2010-2011 school year, 10 month employees would receive their first semimonthly check on September 15th, 2010 and will receive 20 paychecks per year.
7. How would this affect my individual paycheck amount?
In the current (bi-weekly) system, an exempt/salaried employee earning $30,000 on an annual
basis receives 26 bi-weekly checks of $1,153.85 gross.
In the proposed (semi-monthly) system, that employee would be paid in 24 checks of
$1,250.00 gross. For non-exempt/hourly employees, the check would vary depending on the
hours worked during the pay period, just as it does now.
8. Would I still be eligible to choose the Annualized Salary Election Option (Balloon
Payment) on my 10 month salary?
Yes, the Balloon Payment Option will still be available to those eligible employees.
9. How would the Annualized Salary Election Option work under the proposed system?
Your annual salary would be divided into 24 pay periods to calculate the per pay amount. You
would receive 2 pays per month from September to June and would then receive 4 additional
pays at the end of June. YOU DO NOT NEED A NEW FORM IF YOU ARE
CURRENTLY SIGNED UP WITH THE BI-WEEKLY SCHEDULE.
10. What about overtime pay?
Overtime for eligible employees would still be calculated based upon actual hours worked in
excess of 40 hours during the work week. The work week for OCM BOCES starts on Sunday
and ends on Saturday. Overtime hours reported each pay period would be included with the
next paycheck cycle. Timesheet information/schedules would be posted on the BOCES
website.
11. When would hourly timesheets be due?
Timesheets would be due into the Business Office by the dates listed on the timesheet
schedule. Timesheets must be signed by both the employee and the supervisor in order to be
processed.
12. What would happen if timesheets are turned in after the deadline or without signatures?
Employees and supervisors are jointly responsible to make sure that timesheets are submitted
timely. The payroll department will make every effort to make sure that employees are paid
timely, however timesheets that are turned in after the deadline may be delayed to the next
payroll. Unsigned timesheets will be returned to the supervisor to be signed before the
timesheets can be processed.
13. What about vacation/sick/personal leave for employees?
There would be no change in the way that vacation/sick/personal leaves are calculated.
14. What would happen to my benefits and their cost if we move to a semi-monthly payroll?
Your benefits would continue uninterrupted. There might be a change in the amounts taken out
for each pay. Deductions would be adjusted for all employees to be in line with your new pay
frequency and per-pay-period wages.
15. What would happen with my 403(B) TSA deductions?
Employees currently have voluntary deductions taken from their paychecks on a per pay
amount. The per pay amounts will not change with the proposed semi-monthly pay. However,
if employees want to adjust their annual contribution due to the decrease in total pay periods,
they would need to submit a new Salary Reduction Agreement to adjust the amount deducted
per pay period. You would contact the Personnel Office to assist you with any necessary
changes to your 403(B) TSA.
16. What about deductions, such as for a car loan or mortgage payment, that I have
deducted from my bank account?
You would contact your financial institution to see if you need to adjust the automatic
deduction from your account. We can only assist you in deductions that come directly from
your paycheck.
17. Would my paycheck be deposited as usual for the new paydays?
It would, unless you change banks, account numbers or add a new deposit account. In those
instances, you would receive one paper check (pre-note) to assure that the Electronic Funds
Transfer (EFT) is set up correctly. Direct Deposit paperwork is still needed for any changes
with your bank accounts. Please contact the Payroll Office (433-2626) for questions/help with
Direct Deposit.
***
The Payroll and Personnel staff would be happy to talk to or meet with employees to discuss
their needs/concerns, if requested. Please feel free to contact Dennis Hill (x2626) or Jane
Kudlick (x2667) in the Payroll Office or Tammy Jones (x2632) in the Personnel Office for any
information or assistance.