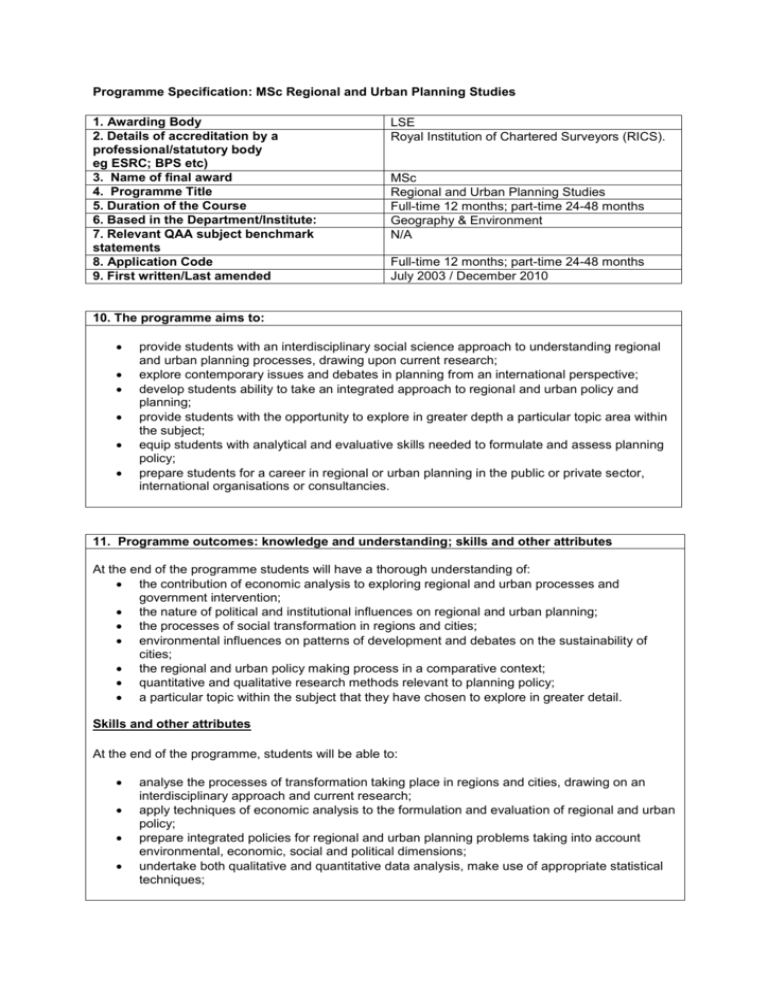 Programme Specification: MSc Regional and Urban Planning Studies
1. Awarding Body
2. Details of accreditation by a
professional/statutory body
eg ESRC; BPS etc)
3. Name of final award
4. Programme Title
5. Duration of the Course
6. Based in the Department/Institute:
7. Relevant QAA subject benchmark
statements
8. Application Code
9. First written/Last amended
LSE
Royal Institution of Chartered Surveyors (RICS).
MSc
Regional and Urban Planning Studies
Full-time 12 months; part-time 24-48 months
Geography & Environment
N/A
Full-time 12 months; part-time 24-48 months
July 2003 / December 2010
10. The programme aims to:






provide students with an interdisciplinary social science approach to understanding regional
and urban planning processes, drawing upon current research;
explore contemporary issues and debates in planning from an international perspective;
develop students ability to take an integrated approach to regional and urban policy and
planning;
provide students with the opportunity to explore in greater depth a particular topic area within
the subject;
equip students with analytical and evaluative skills needed to formulate and assess planning
policy;
prepare students for a career in regional or urban planning in the public or private sector,
international organisations or consultancies.
11. Programme outcomes: knowledge and understanding; skills and other attributes
At the end of the programme students will have a thorough understanding of:
 the contribution of economic analysis to exploring regional and urban processes and
government intervention;
 the nature of political and institutional influences on regional and urban planning;
 the processes of social transformation in regions and cities;
 environmental influences on patterns of development and debates on the sustainability of
cities;
 the regional and urban policy making process in a comparative context;
 quantitative and qualitative research methods relevant to planning policy;
 a particular topic within the subject that they have chosen to explore in greater detail.
Skills and other attributes
At the end of the programme, students will be able to:




analyse the processes of transformation taking place in regions and cities, drawing on an
interdisciplinary approach and current research;
apply techniques of economic analysis to the formulation and evaluation of regional and urban
policy;
prepare integrated policies for regional and urban planning problems taking into account
environmental, economic, social and political dimensions;
undertake both qualitative and quantitative data analysis, make use of appropriate statistical
techniques;


write clear, succinct, analytical and policy papers, based on evidence derived from multiple
sources;
prepare and deliver effective oral presentations.
See information relating to careers. .
12. Teaching, learning and assessment strategies to enable outcomes to be achieved and
demonstrated
Students will acquire their knowledge and understanding through lectures, seminars, a project, a
10,000 word Long Essay, and guided independent study. All courses contain a seminar programme in
which students prepare a paper to present for discussion.
Most of those involved in the programme delivery are at the forefront of research in the field – and as
such, students have direct insight into current thinking in the field. This aspect of provision is further
enhanced through the array of LSE public lectures, visiting Professorships, and input from the
research centre 'LSE London: Centre for Metropolitan and Urban Research'. In addition there is
specific visiting speaker series oriented to the Regional and Urban Planning Programme in which
invited planning practitioners and researchers talk about their current work. Students are strongly
encouraged to make use of electronic information sources, where appropriate. Course reading lists
generally include references to current research, and other primary sources including official
documents and web references, as well as original academic works.
Assessment:
Most courses are half-units and are assessed by two hour unseen written examinations. Some also
have a course work component. Students have to satisfy examiners on their proficiency in Research
Methods and complete a 10,000 word Long Essay. (see course regs. for details).
Teaching and learning strategies
Skills are developed through guidance and feedback from tutors in the context of:







regular seminars, presentations, and the preparation of course essays;
one-to one tutorials;
policy project group work integrating different analytical approaches;
research skills workshops, which include practical project work, and training in data analysis;
use of case study material in lecture programmes;
economic problem classes for those without a background of undergraduate Economics;
a week study trip to another city exploring contemporary planning issues.
Assessment
Students are encouraged to submit essays based on the seminars to tutors for feedback during the
year. Tasks undertaken on the research methods workshop and economics class receive ongoing
feedback from tutors. Examination skills are developed through feedback from diagnostics Mock
exams held at the start of the Lent Term.
The Long Essay tutorials develop the student's ability to frame and organise a research project and
the essay itself draws together a number of skills. Most essays involve original case study work.
13. Programme structures and requirements, levels modules and awards.
See the MSc RUPS programme regulations
Additional Information
14. Criteria for admission to the programme


An upper second undergraduate degree or equivalent;
English proficiency. IELTS score of at least 6.5 or TOEFL score of at least 603 or 250 on
Computer based test.
15. Indicators of quality
RAE (2008): 70 per cent of the department's research was judged as either world-leading or
internationally excellent.
The LSE Careers Centre website provides data on career destinations of LSE graduates.
16. Methods for evaluating and improving the quality and standard of teaching and learning








The Teaching and Learning Centre is available to monitor and observe teaching and offers
constructive advice on how to improve the standard of teaching and quality;
Departmental TLAC review once every five years;
The Teaching Learning and Assessment Committee which regulates all aspects of teaching
quality;
The Graduate Studies Sub-Committee which oversees all graduate programmes and ensures
that significant changes to programmes and courses pass through a sequence of formal
stages, so that curricular changes are appropriate and compatible with other developments;
Departmental Teaching Committee;
SSLC meetings;
Course teaching surveys by TQARO;
The Department's system of periodic review for its programmes.