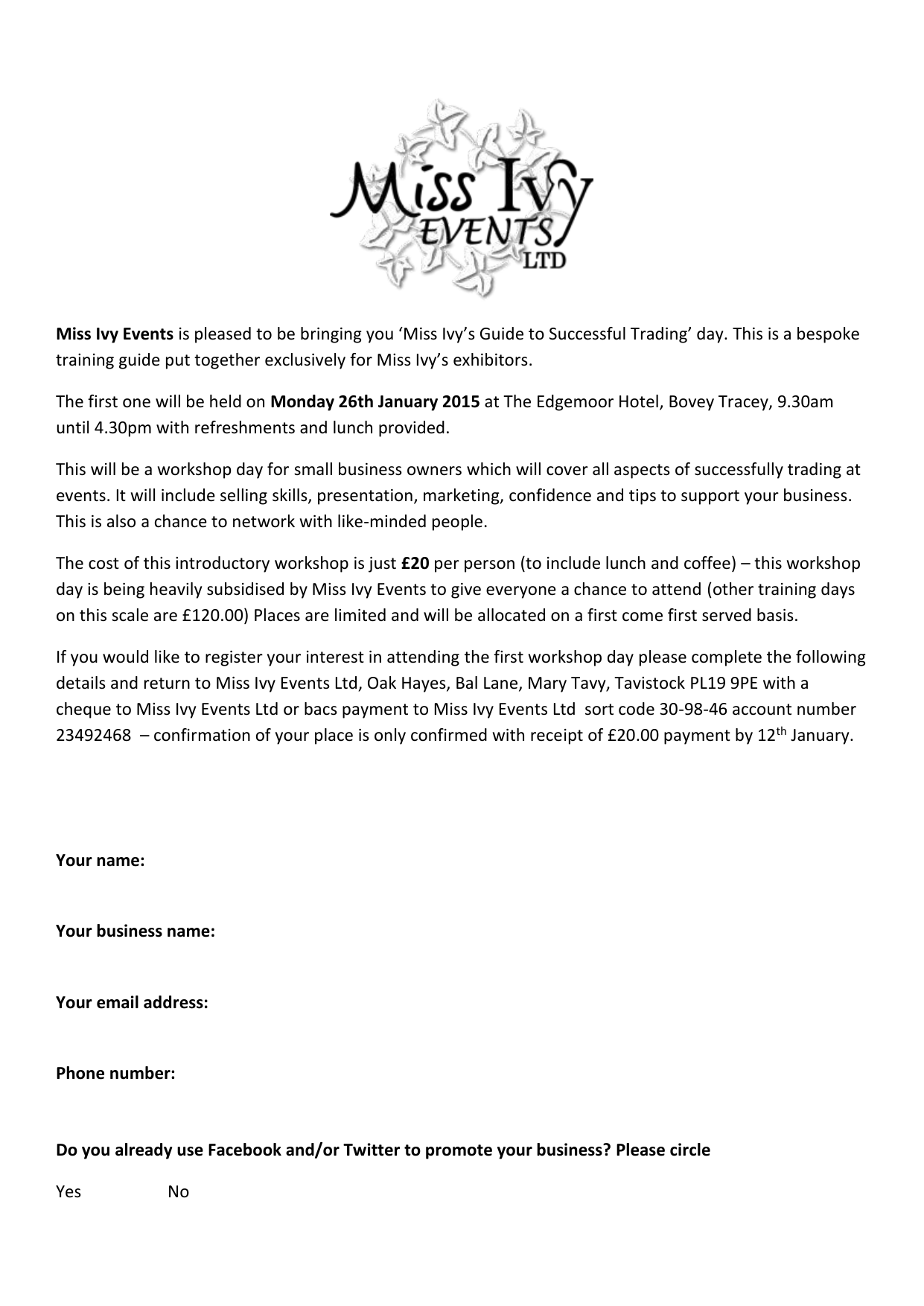 Miss Ivy Events is pleased to be bringing you 'Miss Ivy's Guide to Successful Trading' day. This is a bespoke training guide put together exclusively for Miss Ivy's exhibitors. The first one will be held on Monday 26th January 2015 at The Edgemoor Hotel, Bovey Tracey, 9.30am until 4.30pm with refreshments and lunch provided. This will be a workshop day for small business owners which will cover all aspects of successfully trading at events. It will include selling skills, presentation, marketing, confidence and tips to support your business. This is also a chance to network with like-minded people. The cost of this introductory workshop is just £20 per person (to include lunch and coffee) – this workshop day is being heavily subsidised by Miss Ivy Events to give everyone a chance to attend (other training days on this scale are £120.00) Places are limited and will be allocated on a first come first served basis. If you would like to register your interest in attending the first workshop day please complete the following details and return to Miss Ivy Events Ltd, Oak Hayes, Bal Lane, Mary Tavy, Tavistock PL19 9PE with a cheque to Miss Ivy Events Ltd or bacs payment to Miss Ivy Events Ltd sort code 30-98-46 account number 23492468 – confirmation of your place is only confirmed with receipt of £20.00 payment by 12 th January.
Your name: Your business name: Your email address: Phone number: Do you already use Facebook and/or Twitter to promote your business? Please circle
Yes No
If so, please list your Facebook page name (for example: www.facebook.com/MissIvyEvents) and/or your Twitter name (for example: @missivyevents)
Facebook: Twitter:
Are you confident with selling your products and business?
Excellent Good OK
Is there any other support, training, workshops etc. that you feel the Miss Ivy could offer you in the future? If so, please let us know below: Thank you for registering your interest in the new Miss Ivy Guide to Successful Trading Day – we will be in touch with further details very soon! For any further enquiries or questions about the Miss Ivy Training day, please contact Jo (Miss Ivy Events) at [email protected]