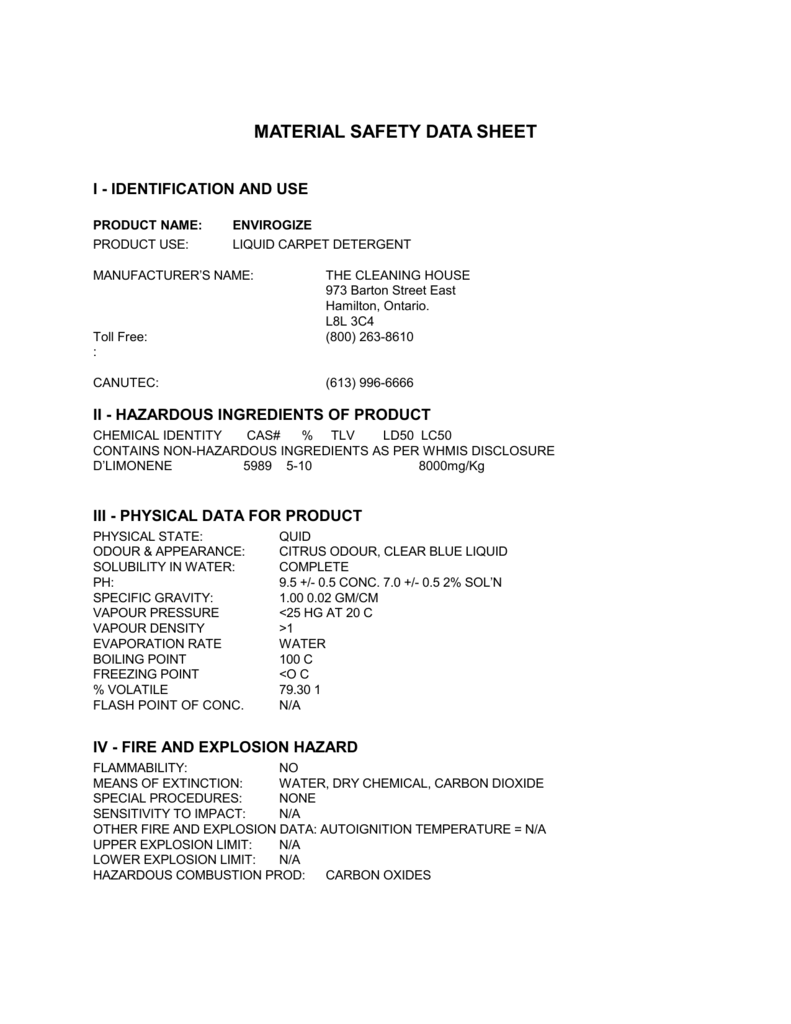 MATERIAL SAFETY DATA SHEET
I - IDENTIFICATION AND USE
PRODUCT NAME:
ENVIROGIZE
PRODUCT USE:
LIQUID CARPET DETERGENT
MANUFACTURER'S NAME:
Toll Free:
:
CANUTEC:
THE CLEANING HOUSE
973 Barton Street East
Hamilton, Ontario.
L8L 3C4
(800) 263-8610
(613) 996-6666
II - HAZARDOUS INGREDIENTS OF PRODUCT
CHEMICAL IDENTITY
CAS#
% TLV
LD50 LC50
CONTAINS NON-HAZARDOUS INGREDIENTS AS PER WHMIS DISCLOSURE
D'LIMONENE
5989 5-10
8000mg/Kg
III - PHYSICAL DATA FOR PRODUCT
PHYSICAL STATE:
ODOUR & APPEARANCE:
SOLUBILITY IN WATER:
PH:
SPECIFIC GRAVITY:
VAPOUR PRESSURE
VAPOUR DENSITY
EVAPORATION RATE
BOILING POINT
FREEZING POINT
% VOLATILE
FLASH POINT OF CONC.
QUID
CITRUS ODOUR, CLEAR BLUE LIQUID
COMPLETE
9.5 +/- 0.5 CONC. 7.0 +/- 0.5 2% SOL'N
1.00 0.02 GM/CM
<25 HG AT 20 C
>1
WATER
100 C
<O C
79.30 1
N/A
IV - FIRE AND EXPLOSION HAZARD
FLAMMABILITY:
NO
MEANS OF EXTINCTION:
WATER, DRY CHEMICAL, CARBON DIOXIDE
SPECIAL PROCEDURES:
NONE
SENSITIVITY TO IMPACT:
N/A
OTHER FIRE AND EXPLOSION DATA: AUTOIGNITION TEMPERATURE = N/A
UPPER EXPLOSION LIMIT:
N/A
LOWER EXPLOSION LIMIT:
N/A
HAZARDOUS COMBUSTION PROD:
CARBON OXIDES
V - REACTIVITY DATA
CHEMICAL STABILITY:
YES
INCOMPATIBILITY MATERIALS: ACIDS (MIXTURE WITH ACIDS WILL DAMAGE PRODUCT)
REACTIVITY CONDITIONS:
REACTIVE WITH ACIDS, BUT NOT DANGEROUSLY HAZARDOUS
DECOMPOSITION PRODUCTS: NONE
VI - TOXICOLOGICAL PROPERTIES
ROUTE OF ENTRY:
SKIN CONTACT
EYE CONTACT
INGESTION
INHALATION
NO
YES
YES
YES
EFFECTS OF ACUTE EXPOSURE TO PRODUCT: EYE: MAY CAUSE SOME STINGING, BURNING
OR IRRITATION TO EYES. SKIN CONTACT: NO EFFECTS EXPECTED DUE TO CONTACT.
HOWEVER PROLONGED CONTACT MAY CAUSE SOME SKIN IRRITATION TO SOME INDIVIDUALS.
INGESTION: MAY CAUSE GASTROINTESTINAL DISCOMFORT. MAY CAUSE VOMITING,
DIARRHOEA. SKIN ABSORBTION: NO KNOWN HAZARD DUE TO SKIN ABSORPTION.
EFFECTS OF CHRONIC EXPOSURE TO PRODUCT: NONE
EXPOSURE LIMITS: T.L.V. > 48,000 MG/KGM
IRRITANCY OF MATERIAL: EYES
SENSITIZATION OF MATERIAL: EYES
SYNERGISTIC MATERIALS: NONE KNOWN
CARCINOGENICITY: NON REGULATED AS CARCINOGEN
REPRODUCTIVE EFFECTS, TERATOGENICITY, MUTAGENICITY: NONE KNOWN
LD50 OF MATERIAL: > 17,000 MG/KGM (ORAL, RAT)
VII - PREVENTIVE MEASURES
PERSONAL PROTECTIVE EQUIPMENT:
 GLOVES
NONE REQUIRED
 EYE
GLASSES IF POSSIBLE EYE CONTACT  RESPIRATORY
NONE REQUIRED  OTHER
NONE REQUIRED
ENGINEERING CONTROLS: GENERAL VENTILATION
LEAK AND SPILL PROCEDURE: SMALL QUANTITIES MAY BE FLUSHED WITH COPIOUS
QUANTITIES OF WATER; LARGE QUANTITIES AMOUNTS, CONTAIN SPILL AND COLLECT INTO
WASTE CONTAINER. FLUSH SPILL AREA WITH WATER.
WASTE DISPOSAL: SMALL QUANTITY: SANITARY SEWER.
LARGE QUANTITY: HANDLE THROUGH; VIA LANDFILL DILUTION OR INCINERATIONS
HANDLING PROCEDURES AND EQUIPMENT: AVOID CONTACT WITH EYES
SPECIAL SHIPPING INFORMATION: NONE REQUIRED
STORAGE REQUIREMENTS: STORE IN CLOSED CONTAINERS, AWAY FROM CHILDREN
SPECIAL PRECAUTIONARY STATEMENTS: PLEASE READ AND FOLLOW THE DIRECTIONS ON
THE PRODUCT LABEL. THEY ARE YOUR BEST GUIDE TO USING THIS PRODUCT IN THE MOST
EFFECTIVE WAY, AND THEY ALSO GIVE THE NECESSARY SAFETY PRECAUTIONS TO PROTECT
YOUR HEALTH.
VIII - FIRST AID MEASURES
EYES:
IMMEDIATELY FLUSH WITH LARGE AMOUNTS OF WATER LIFTING UPPER AND
LOWER LIDS.
SKIN:
INGESTION:
WASH WITH WATER
INDUCE VOMITING. GIVE AT LEAST TWO GLASSES OF WATER OR MILK AND GET
MEDICAL ATTENTION
PREPARED BY: ECO-CHOICE SOLUTIONS LAB GROUP
DATE: JANUARY 2014
NOTICE: INFORMATION CONTAINED IN THIS MSDS IS DRAWN FROM RELIABLE SOURCES. WE
DO NOT ASSUME ANY LIABILITY IN CONNECTION WITH ITS INADEQUATE USE.