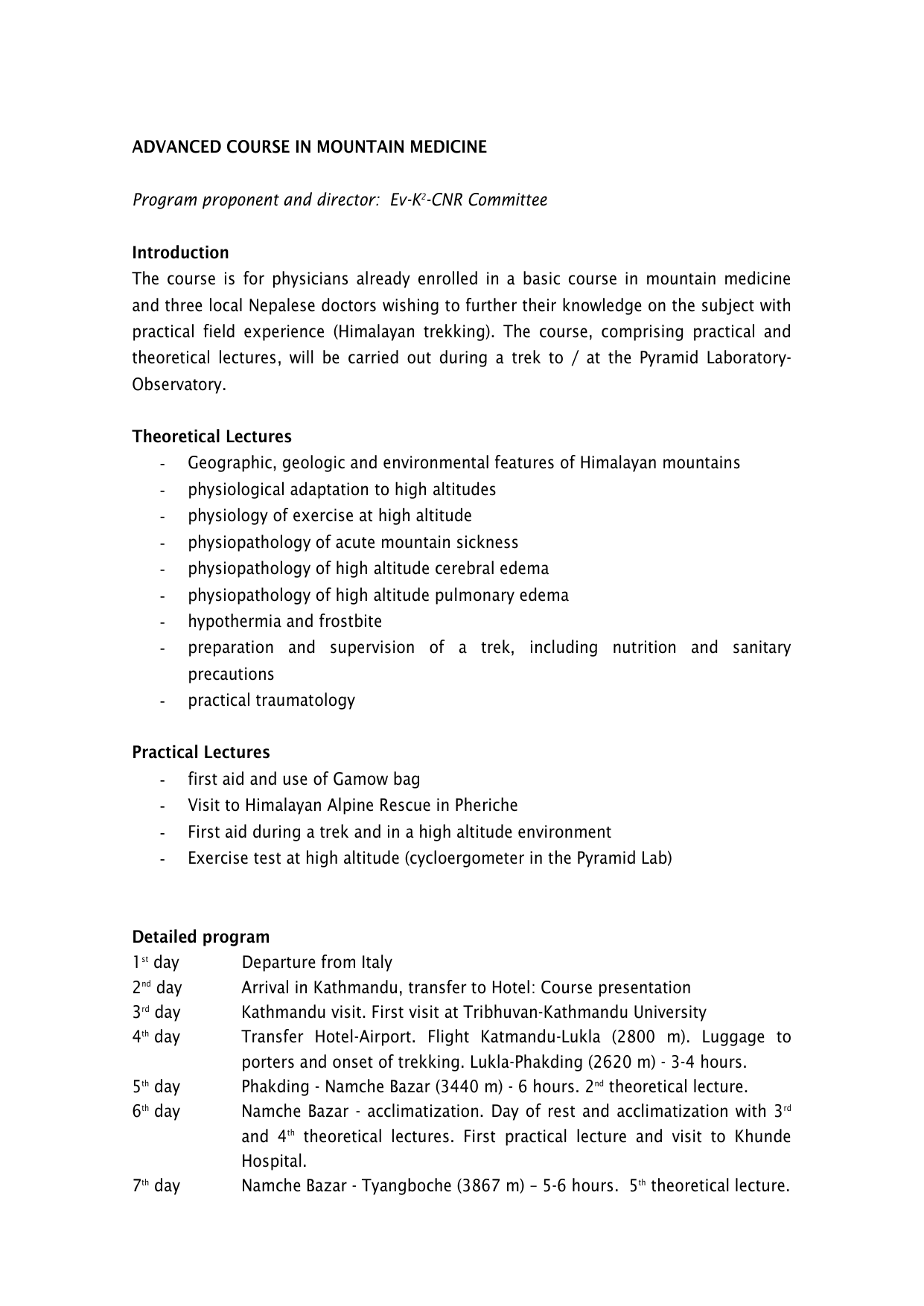 ADVANCED COURSE IN MOUNTAIN MEDICINE
Program proponent and director: Ev-K2-CNR Committee
Introduction
The course is for physicians already enrolled in a basic course in mountain medicine
and three local Nepalese doctors wishing to further their knowledge on the subject with
practical field experience (Himalayan trekking). The course, comprising practical and
theoretical lectures, will be carried out during a trek to / at the Pyramid LaboratoryObservatory.
Theoretical Lectures
-
Geographic, geologic and environmental features of Himalayan mountains
-
physiological adaptation to high altitudes
-
physiology of exercise at high altitude
-
physiopathology of acute mountain sickness
-
physiopathology of high altitude cerebral edema
-
physiopathology of high altitude pulmonary edema
-
hypothermia and frostbite
-
preparation and supervision of a trek, including nutrition and sanitary
precautions
-
practical traumatology
Practical Lectures
-
first aid and use of Gamow bag
-
Visit to Himalayan Alpine Rescue in Pheriche
-
First aid during a trek and in a high altitude environment
-
Exercise test at high altitude (cycloergometer in the Pyramid Lab)
Detailed program
1st day
Departure from Italy
nd
2 day
Arrival in Kathmandu, transfer to Hotel: Course presentation
rd
3 day
Kathmandu visit. First visit at Tribhuvan-Kathmandu University
th
4 day
Transfer Hotel-Airport. Flight Katmandu-Lukla (2800 m). Luggage to
porters and onset of trekking. Lukla-Phakding (2620 m) - 3-4 hours.
th
5 day
Phakding - Namche Bazar (3440 m) - 6 hours. 2nd theoretical lecture.
6th day
Namche Bazar - acclimatization. Day of rest and acclimatization with 3 rd
and 4th theoretical lectures. First practical lecture and visit to Khunde
Hospital.
th
7 day
Namche Bazar - Tyangboche (3867 m) – 5-6 hours. 5th theoretical lecture.
8th day
9th day
10th day
11th day
12th day
13th day
14th day
15th day
16th day
17th day
Tyangboche - Pheriche (4243 m) - 5 hours. 6th theoretical lecture and
visit to the Clinic of Himalayan Rescue Association in Pheriche.
Pheriche - Lobuche – Ev-K²-CNR Pyramid (5050 m) – 6-7 hours. 7Th
theoretical lecture.
Acclimatization in Pyramid. Visit to the lab: cycloergometer test (2 nd
practical lecture) and 8th theoretical lecture.
Climb to Kala Pattar (5545 m) – 7-8 hours. Excursion to see Mt. Everest
via Gorak Shep (5160m). 3rd practical lecture.
Pyramid - Pangboche (4067 m) — 5/6 hours. 4th practical lecture (Gamow
bag) and 9th theoretical lecture.
Pangboche - Namche Bazar - 5/6 hours — 10th theoretical lecture.
Namche - Lukla - 7 hours — 11th theoretical lecture.
Flight Lukla – Kathmandu. Transfer to hotel — 12th theoretical lecture.
Visit to Kathmandu. Closure of Course.
Transfer Hotel- Airport. Flight back to Italy.