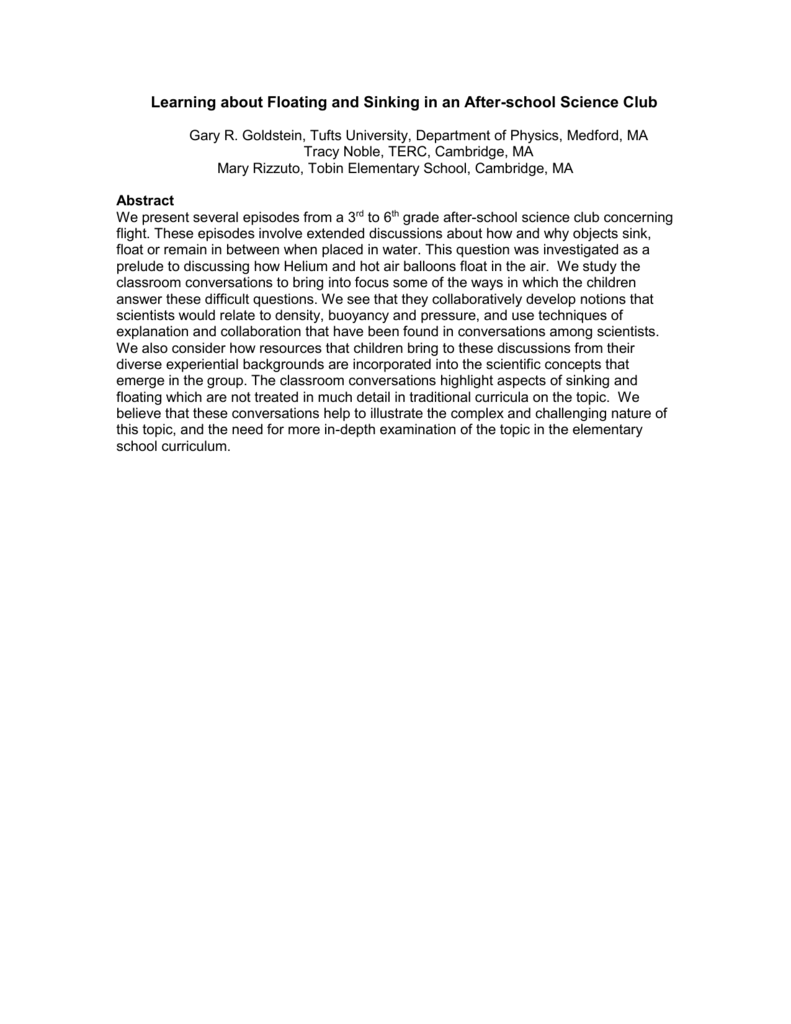 Learning about Floating and Sinking in an After-school Science Club
Gary R. Goldstein, Tufts University, Department of Physics, Medford, MA
Tracy Noble, TERC, Cambridge, MA
Mary Rizzuto, Tobin Elementary School, Cambridge, MA
Abstract
We present several episodes from a 3rd to 6th grade after-school science club concerning
flight. These episodes involve extended discussions about how and why objects sink,
float or remain in between when placed in water. This question was investigated as a
prelude to discussing how Helium and hot air balloons float in the air. We study the
classroom conversations to bring into focus some of the ways in which the children
answer these difficult questions. We see that they collaboratively develop notions that
scientists would relate to density, buoyancy and pressure, and use techniques of
explanation and collaboration that have been found in conversations among scientists.
We also consider how resources that children bring to these discussions from their
diverse experiential backgrounds are incorporated into the scientific concepts that
emerge in the group. The classroom conversations highlight aspects of sinking and
floating which are not treated in much detail in traditional curricula on the topic. We
believe that these conversations help to illustrate the complex and challenging nature of
this topic, and the need for more in-depth examination of the topic in the elementary
school curriculum.