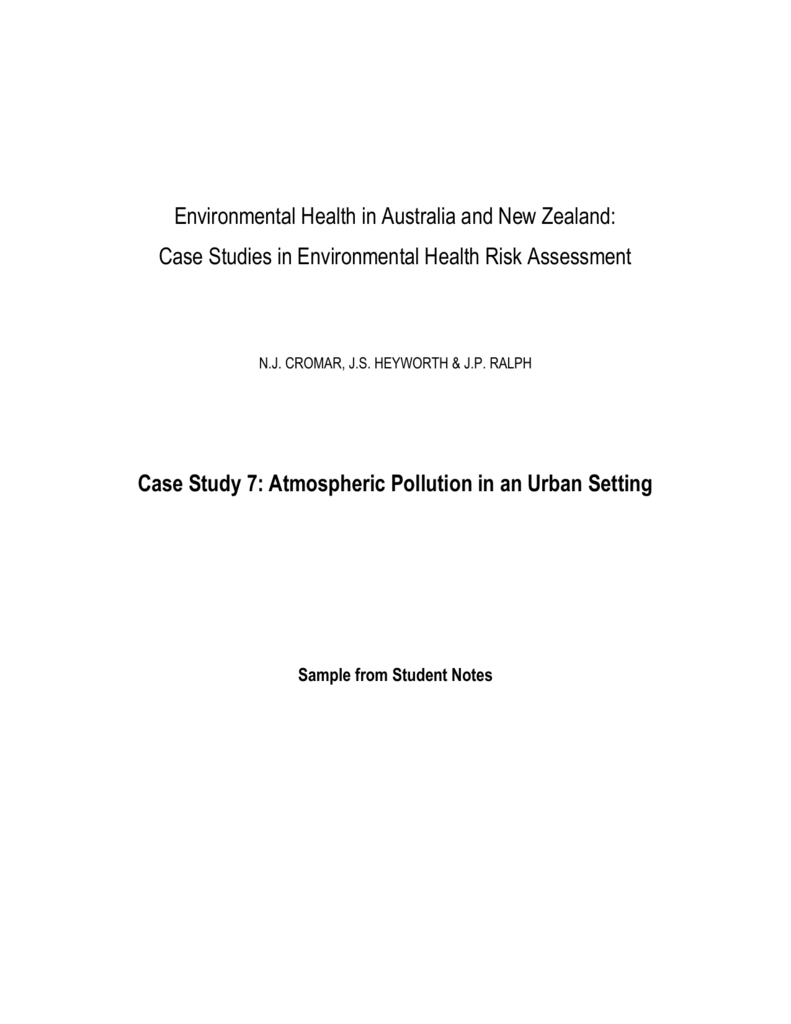 Environmental Health in Australia and New Zealand:
Case Studies in Environmental Health Risk Assessment
N.J. CROMAR, J.S. HEYWORTH & J.P. RALPH
Case Study 7: Atmospheric Pollution in an Urban Setting
Sample from Student Notes
Introduction
This case study introduces the student to the process of assessing and managing public
and environmental health risks in an urban setting. The exercise presents a hypothetical
scenario in which members of an urban community have complained that their health is
being adversely affected by industrial noise and atmospheric pollution. The task of the
student is to develop a research methodology that investigates this concern. Specifically
the methodology should seek to address the following questions:
1. Are residents exhibiting excessively high levels of respiratory health problems?
2. Are ambient levels of air and noise pollution excessive?
3. Could emissions from local industry be contributing to local health problems?
The research methodology should also include the participation of the local community.
Learning Objectives
Upon completion of this case study, students will:
1.
2.
3.
4.
5.
6.
7.
8.
9.
be able to propose methods to investigate the health status of a defined
population;
be able to cite sources of information which are relevant to determining
the
health status of a population;
be aware of associations between health, particularly respiratory health,
and industrial activities in urban environments;
to understand questionnaire design and validation for estimating the health
status, environmental exposure and risk behaviours of a population;
be able to identify the hazardous chemicals potentially emitted by selected
small industries;
be able to cite noise and air quality standards adopted by health and
environment authorities in their region;
know the major sources and hazardous properties of common air
pollutants;
be aware of the difficulties of ascribing health effects to air pollutants
present
at very low levels in urban areas;
know and understand the components of the risk assessment protocol.