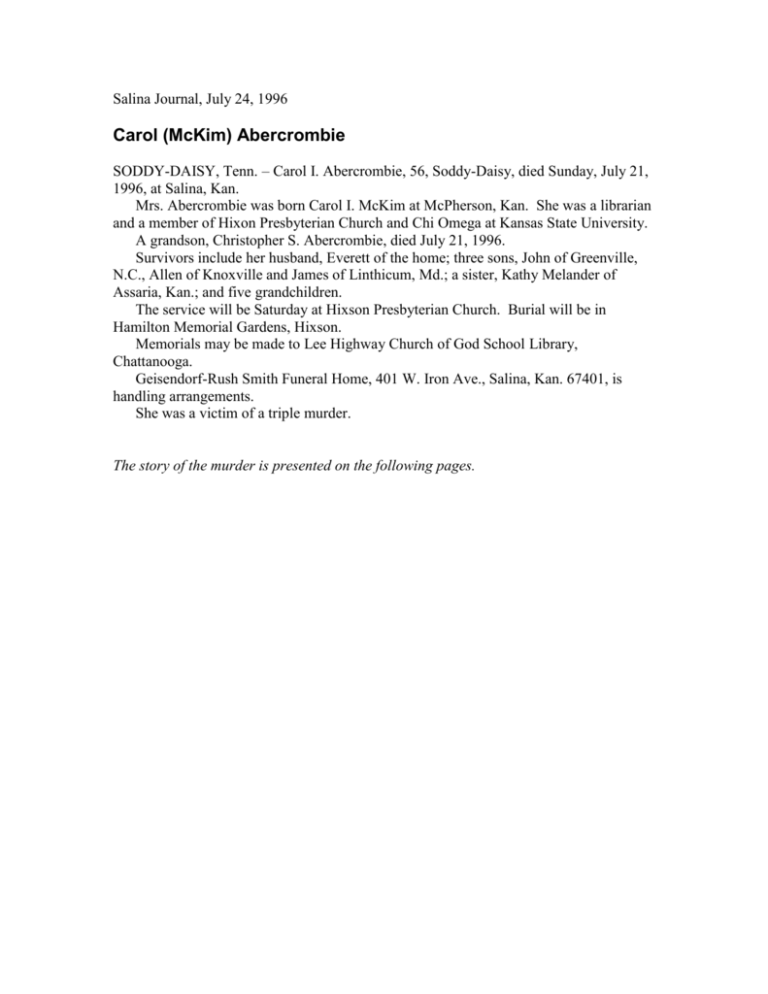 Salina Journal, July 24, 1996
Carol (McKim) Abercrombie
SODDY-DAISY, Tenn. – Carol I. Abercrombie, 56, Soddy-Daisy, died Sunday, July 21,
1996, at Salina, Kan.
Mrs. Abercrombie was born Carol I. McKim at McPherson, Kan. She was a librarian
and a member of Hixon Presbyterian Church and Chi Omega at Kansas State University.
A grandson, Christopher S. Abercrombie, died July 21, 1996.
Survivors include her husband, Everett of the home; three sons, John of Greenville,
N.C., Allen of Knoxville and James of Linthicum, Md.; a sister, Kathy Melander of
Assaria, Kan.; and five grandchildren.
The service will be Saturday at Hixson Presbyterian Church. Burial will be in
Hamilton Memorial Gardens, Hixson.
Memorials may be made to Lee Highway Church of God School Library,
Chattanooga.
Geisendorf-Rush Smith Funeral Home, 401 W. Iron Ave., Salina, Kan. 67401, is
handling arrangements.
She was a victim of a triple murder.
The story of the murder is presented on the following pages.
The Murder of Carol (McKim) Abercrombie
Class of '57 Web Site, October 2009
I found web sites that tell the tragic story in a comprehensive
way while giving a sense of how the story unfolded and the
case solved. I've added comments in brackets here and there.
Note: Carol's father, Jim McKim, was a ham radio operator,
a factor in the crime, with the call sign of W0CY. He died a
few months before the murders, probably another important
factor in the crime.
Web site for the ARRL [American Radio Relay League] Letter Electronic Update, July
26, 1996.
Salina, Kansas, police are investigating the apparent murders of Delores McKim
-- the widow of Jim McKim, W0CY -- her daughter and a great-grandson. The three
died sometime on the weekend of July 20-21 [1996] at the McKim residence in an
upscale neighborhood of Salina. A friend notified authorities to check the house
after she had been unable to reach Mrs McKim, who was 80. Lt Mike Sweeney of
the Salina Police Department said someone forced their way into the house
intending to burglarize it. He identified the other victims as Carol [McKim]
Abercrombie, 56, and her grandson, Christopher Abercrombie, 5. Carol
Abercrombie was from Chattanooga, Tennessee. Sweeney would not say how the
victims died. Reports in the Salina Journal say all three were found inside the house.
The killer apparently took Jim McKim's car, still bearing his W0CY call sign
license plates, but the vehicle was recovered about a mile away where it had been
abandoned at an apartment complex. The car reportedly had not been driven since
Jim McKim died on February 14 [1996] at the age of 80.
W0CY was a longtime AMSAT [Radio Amateur Satellite Corporation] member
and, until only a few months prior to his death, served as net control for the Midcontinent 75-meter AMSAT Net. He was a life member of AMSAT, ARRL and
QCWA, and was regarded as a pioneer on the VHF and UHF bands.
The Topeka Capital Journal, Sunday, August 4, 1996 [from Betty (Harr) Baxter]
KBI says $25,000 being offered
for details in Salina triple-murder,
hopes release of photos will help
What seems most insignificant to Joe or Jane Average could be the very break a murder
investigation needs. That's why $25,000 in reward is being offered for even the slightest
sliver of information that could help solve the baffling July 21 triple murder in Salina of
an 80-year-old Salina window, her daughter and her 5-year-old great grandson, according
to the Kansas Bureau of Investigation.
The KBI has released photos of the three victims in hopes that putting faces to their
names will help citizens who may be able to
aid Salina police. "When you actually see the
faces of the victims," said KBI spokesman
Scott Teeslink, "it totally turns this thing
around – especially that little boy 5-year-old
eyes."
Dorothy "Delores" McKim, 80, was found
dead early afternoon July 21 in her Salina home, along with her daughter Carol Ina
Abercrombie, 56, of Soddy-Daisy, Tenn., and Abercrombie's grandson, Christopher
Abercrombie, 5, of Greenville, N.C.
Christopher, the only child of John and Leah Abercrombie, was staying with his
grandmother while his parents settled in Greenville shortly after moving there. He and
Carole Abercrombie went to Salina to visit McKim on July 10 and were planning to
return to Tennessee on July 22, Teeslink said.
Salina police think the three were killed between 7 p.m. Saturday, July 20, when they
were last seen by friends at McKim's 1721 Glen home, and 9:15 a.m. Sunday, July 21,
when another daughter of McKim, Kathy Melander of Assaria, started calling.
Melander grew concerned when no one answered her calls. She went to McKim's home
and went next door to call police because McKim's maroon 1988 Oldsmobile Cutlass
was missing and doors from the garage to the house and back yard were open.
Teeslink said the trio was beaten to death, but a murder weapon wasn't left at the scene.
McKim was in her bedroom in nightclothes and Abercrombie and Christopher were
similar dressed in another bedroom. Authorities don't know if they were murdered as
they slept. The home showed no sign of forced entry. The killers are suspected to have
ransacked the house leaving drawers open and furniture in disarray.
McKim's car was found July 21 at 4:40 p.m. in the parking lot of Heather Ridge
Apartments, 2130 East Crawford in Salina – one mile from the murder scene. Inside the
car were McKim's and Abercrombie's purses. No money was in either.
But at 4:56 a.m. July 21 – about eight hours before the victims were found – a credit
card belong to Carol Abercrombie was used to guy gas at Kwik Shop, 2629 Market
Place, in Salina. The person who used the credit card had no contact with the Kwik Shop
attendant on duty because the purchase was made electronically at the pump.
A little more than an hour later, at 6:10 a.m., July 21, someone tried unsuccessfully to
use the same credit card at an ATM machine at Bosselman Truck Stop, 1944 North Ninth
St., which is visible from interstate 70. Teeslink said a video camera caught an image of
the credit card user at the ATM site. That picture must be enhanced to enable
identification, which could take as long as two weeks.
Though the two transactions took place in early morning hours, Teeslink said
authorities hope anyone at or near that Kwik Shop and Bosselman Truck Stop who might
have seen the car, the card user, or anything else will report that information. "People
often see something so minute they think it won't help," Teeslink said. "Those little
pieces, when put with something else is how we start cases."
In the week since the murders, authorities have checked more than 525 leads, he said.
Anyone who thinks he or she can help should call the Salina Police Department at (913)
826-7216, Salina Crime Stoppers at (913) 825-TIPS, or the KBI at (800) KS-CRIME.
America's Most Wanted (AMW) web site.
11/9/96 – Following the cancellation of AMW [debuted in 1988], an outpouring of
support from governors, law enforcement officials and viewers changes Fox's plan – and
the nation's No. 1 crime-fighting show returns to the airways, kicking off its "debut" by
capturing Alan Eugene White just 30 minutes after the show airs.
On a web site by a Jon Dahl, apparently.
Where I live in Salina, there is virtually zero crime. We have the occasional murder,
but almost all of those are drug related. (Or at least that's what the newspaper says).
On July 22nd, 1996 there was a triple homicide here. It was in a very prestigious part
of Salina. People felt safe here and unfortunately that causes us to let our guard down.
An elderly woman, her daughter, and her granddaughter's five year old son were beaten
to death with a hammer, and the two women were raped. Even typing that still brings
tears to my eyes.
The story was featured on America's Most Wanted. The film crew came to Salina and
actually filmed the reenactment in the house where the crime took place. They captured
Alan Eugene White on November 10th, 1996.
Salina only has 40 or 50,000 people living here. I remember the mass mob mentality
that was forming as people were looking for someone to blame. My father, who was an
ex-cop and assistant chief of police here, told me when they find the guy who did that,
they're going to tear him apart. Instead, he's being supported by tax payers and living in a
jail cell for the next 200 years.
Here's an article I [Jon Dahl] found that was originally posted on a HAM website.
A ham-radio acquaintance of the late VHF/UHF pioneer Jim McKim, W0CY,
has been charged in the July murders of McKim's widow, daughter and a greatgrandson at the McKim home in Salina, Kansas. The arrest of 26-year-old Alan
Eugene White, KA0QNB, came shortly after the November 9 broadcast of the TV
program America's Most Wanted, which publicized the case and the fact that White
had disappeared from the Salina area and was wanted for questioning. Authorities
caught up with White at a Boston, Massachusetts, homeless shelter. Boston Police
acted on a tip from someone who had recognized White from the TV program.
Kansas media reports say that Administrative District Judge Daniel Hebert
signed warrants November 12 charging White with the murders of Dolores McKim,
80, of Salina; her daughter, Carol Abercrombie, 56, of Soddy-Daisy, Tennessee; and
McKim's great-grandson, Christopher Abercrombie, 5, of Greenville, South
Carolina. White also was wanted for a parole violation and faces other charges.
White has held a Novice class [ham radio status] since late 1992. He and Jim
McKim both belonged to the Central Kansas Amateur Radio Club, and White
reportedly had visited the McKim residence for club functions. Jim McKim died in
February [1996]. --Bruce Frahm, K0BJ/Bill Pasternak, WA6ITF
Topeka Capital-Journal web site, April 11, 1998.
Alan Eugene White avoided the death penalty by pleading guilty Friday to killing two
women and a young boy in a Salina home. White, 27, will spend the rest of his life in
prison.
The former Salina man admitted committing the July 1996 murders of Dolores
McKim, 80; her daughter, Carol Abercrombie, 56, of Soddy-Daisy, Tenn.; and McKim's
great-grandson, Christopher Abercrombie, 5, of Greenville, N.C.
In exchange for White's guilty plea, prosecutors agreed not to seek the death penalty. The
judge asked White whether he understood that he would spend the rest of his life in
prison, and White replied, "Yes."
White, who had been living in Formoso, Kan. [north of Salina], was sentenced to the
maximum 157 years in prison plus two years on a previous burglary charge. Of the 157year sentence, he received 120 years without possibility of parole for pleading guilty to a
capital murder charge and two first-degree murder charges.
Everett Abercrombie, Carol Abercrombie's husband, said he has slept with a shotgun
next to his bed since his wife was killed. John Abercrombie, Christopher's father, said
White was using the justice system to save his "cowardly self."
As part of the plea agreement, White agreed to a videotaped confession to answer any
questions the victims' family might have and to give up his right to appeal or seek
clemency.
Under the plea agreement, White also admitted breaking into McKim's home to kill,
rape and rob her. He was a member, along with McKim's late husband, of the Central
Kansas Amateur Radio Club of Salina and had been at the McKim home previously.
Court documents filed Friday gave this account of the crimes:
White sneaked into the home through a window and was surprised to find Carol
Abercrombie and Christopher. He struck Abercrombie with a pipe wrench. When
Christopher woke up screaming, White beat the little boy with the wrench, then beat and
killed McKim.
All three victims were beaten and left to die. Carol Abercrombie was raped. Before
leaving the home, White said, he drank a soda, then took McKim's car, her purse and
Abercrombie's purse. He got rid of the pipe wrench by melting it.
Abercrombie's credit card was used to buy gasoline in Salina the day the bodies were
found. McKim's grandson, Brent Melander, a correctional officer for the Saline County
Sheriff's Department, saw White at McKim's funeral on July 25. White was spotted in
Salina several times after the murders and met with his probation officer on Aug. 2.
He was arrested months later at a homeless shelter in Boston after being featured on
the television program "America's Most Wanted."
While being held in the Saline County jail, White admitted the crimes to fellow inmate
Christopher Spellman, who had been expected to testify at the trial previously scheduled
to begin this week in Topeka.
-------------------------------------------Carol's school activities, as listed in the 1957 Trail:
This clipping from March 4, 1957 is
in the scrapbook created by Brenda
Berringer during our senior year.
The small caption says this:
"LAMBS AND LASSIE -- When it's
lambing time can spring be far
away? Proof of the pudding are
these three squirming lambs held by
Carol McKim, 1404 S. 10th, a Salina
high senior. The lamps, triplets, are
owned by R. Bruce Johnson, RFD 1.
(JOURNAL PHOTO by Bill
Huggins)"
A full page of the June 3, 1956
Salina Journal had photos of many in
the Class of '57 in various activities
at Kanopolis lake. Below is a photo
of Carol that the Journal oddly titled
"Sun Deck." Journal page provided
by Marlene (Pinkham) Jones; the photos are also in Brenda's scrapbook for the Junior
year.