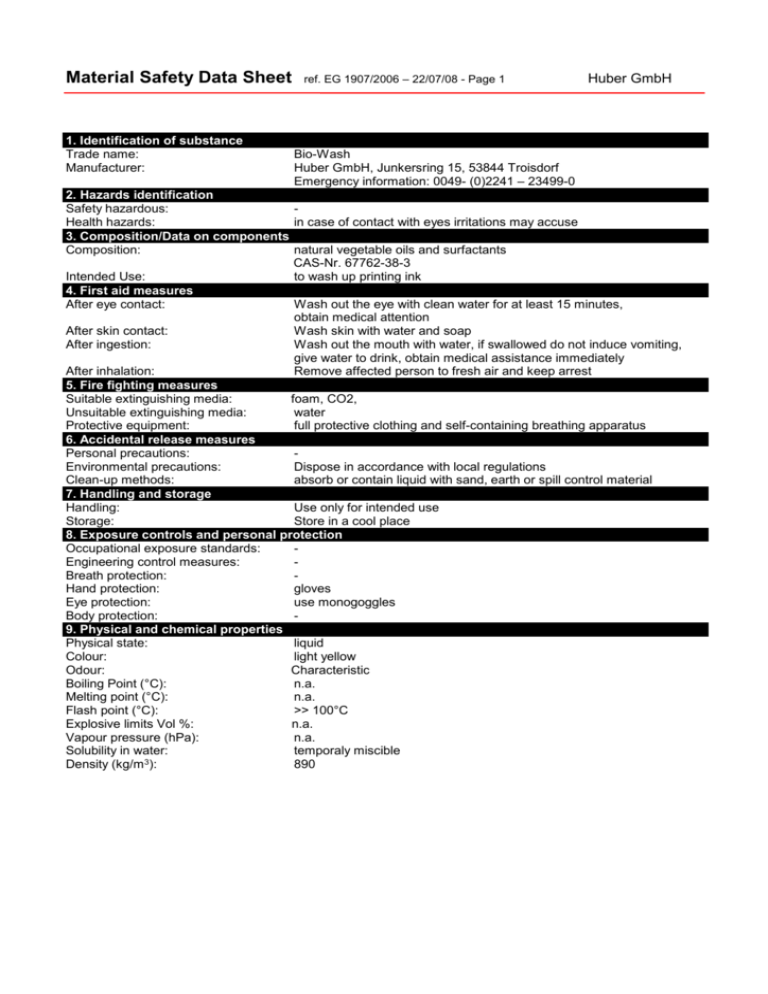 Material Safety Data Sheet
1. Identification of substance
Trade name:
Manufacturer:
ref. EG 1907/2006 – 22/07/08 - Page 1
Huber GmbH
Bio-Wash
Huber GmbH, Junkersring 15, 53844 Troisdorf
Emergency information: 0049- (0)2241 – 23499-0
2. Hazards identification
Safety hazardous:
Health hazards:
in case of contact with eyes irritations may accuse
3. Composition/Data on components
Composition:
natural vegetable oils and surfactants
CAS-Nr. 67762-38-3
Intended Use:
to wash up printing ink
4. First aid measures
After eye contact:
Wash out the eye with clean water for at least 15 minutes,
obtain medical attention
After skin contact:
Wash skin with water and soap
After ingestion:
Wash out the mouth with water, if swallowed do not induce vomiting,
give water to drink, obtain medical assistance immediately
After inhalation:
Remove affected person to fresh air and keep arrest
5. Fire fighting measures
Suitable extinguishing media:
foam, CO2,
Unsuitable extinguishing media:
water
Protective equipment:
full protective clothing and self-containing breathing apparatus
6. Accidental release measures
Personal precautions:
Environmental precautions:
Dispose in accordance with local regulations
Clean-up methods:
absorb or contain liquid with sand, earth or spill control material
7. Handling and storage
Handling:
Use only for intended use
Storage:
Store in a cool place
8. Exposure controls and personal protection
Occupational exposure standards:
Engineering control measures:
Breath protection:
Hand protection:
gloves
Eye protection:
use monogoggles
Body protection:
9. Physical and chemical properties
Physical state:
liquid
Colour:
light yellow
Odour:
Characteristic
Boiling Point (°C):
n.a.
Melting point (°C):
n.a.
Flash point (°C):
>> 100°C
Explosive limits Vol %:
n.a.
Vapour pressure (hPa):
n.a.
Solubility in water:
temporaly miscible
Density (kg/m3):
890
Material Safety Data Sheet
10. Stability and reactivity
Stability:
Dangerous decomposition products:
Material to be avoided:
Dangerous reactions:
11. Toxicological information
Acute toxicity:
Eye irritation :
Skin irritation:
additional toxicological advises:
Human effects:
General remarks:
12. Ecological information
Mobility and bioaccumulation:
Biogradability and Persistence:
13. Disposal considerations
Waste disposal:
14. Transport informations
acc. EG 1907/2006 – 22/07/08 - Page 2 to Bio-Wash
Huber GmbH
with very high temperatures it can build organic vapour
none known
may cause irritation
may cause irritation
If the product is used for the intended application no
toxicological effect is known from our experience
not known
biodegradable
Dispose of in accordance with the local regulations
ADR/RID
GGVS/GGVE
IACO
IMDG-Code
GGVSee
IMDG-Page:
EMS-Nr.:
MFAG-Tafel:
UN-Nr.:
Class:
Item:
Packag.-group:
No dangerous good referring to the national and
Label:
international transport regulations
Proper Shipping Name:
15. Regulatory information:
Classification /Labelling regulations:
EC-Symbols:
Risk phrases:
Safety phrases:
16. Other information
This information is based on our current knowledge and is intended to describe the product for the purposes
of health and environmental requirements only. It should not therefore be construed as guaranteeing any
specific property of the product.