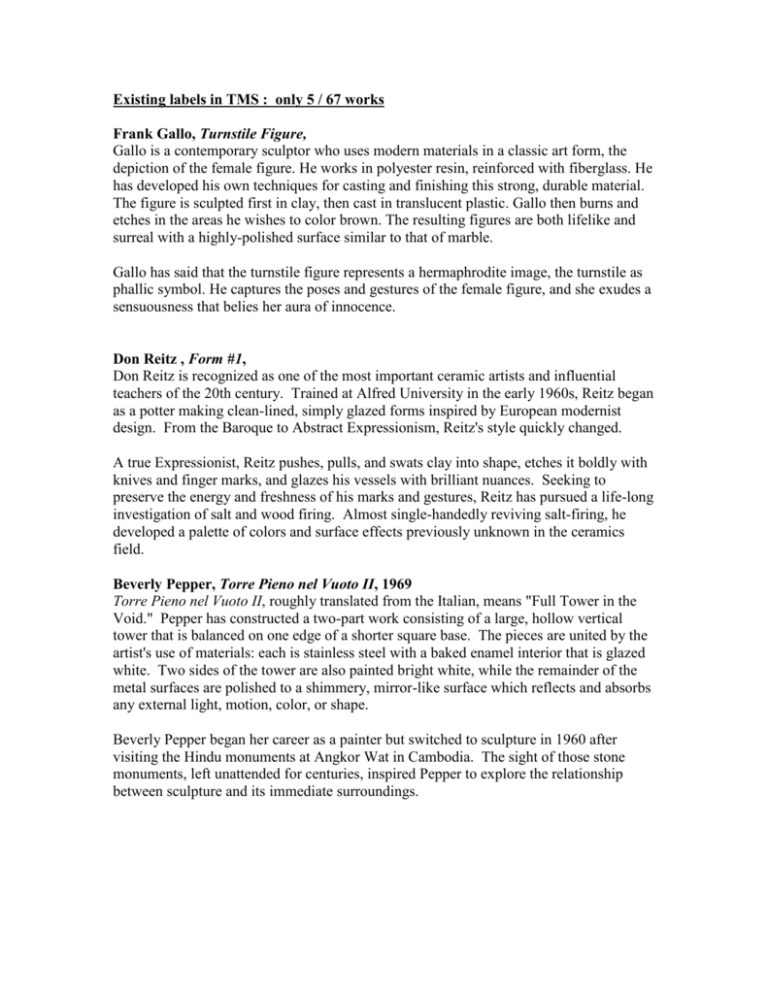 Existing labels in TMS : only 5 / 67 works
Frank Gallo, Turnstile Figure,
Gallo is a contemporary sculptor who uses modern materials in a classic art form, the
depiction of the female figure. He works in polyester resin, reinforced with fiberglass. He
has developed his own techniques for casting and finishing this strong, durable material.
The figure is sculpted first in clay, then cast in translucent plastic. Gallo then burns and
etches in the areas he wishes to color brown. The resulting figures are both lifelike and
surreal with a highly-polished surface similar to that of marble.
Gallo has said that the turnstile figure represents a hermaphrodite image, the turnstile as
phallic symbol. He captures the poses and gestures of the female figure, and she exudes a
sensuousness that belies her aura of innocence.
Don Reitz , Form #1,
Don Reitz is recognized as one of the most important ceramic artists and influential
teachers of the 20th century. Trained at Alfred University in the early 1960s, Reitz began
as a potter making clean-lined, simply glazed forms inspired by European modernist
design. From the Baroque to Abstract Expressionism, Reitz's style quickly changed.
A true Expressionist, Reitz pushes, pulls, and swats clay into shape, etches it boldly with
knives and finger marks, and glazes his vessels with brilliant nuances. Seeking to
preserve the energy and freshness of his marks and gestures, Reitz has pursued a life-long
investigation of salt and wood firing. Almost single-handedly reviving salt-firing, he
developed a palette of colors and surface effects previously unknown in the ceramics
field.
Beverly Pepper, Torre Pieno nel Vuoto II, 1969
Torre Pieno nel Vuoto II, roughly translated from the Italian, means "Full Tower in the
Void." Pepper has constructed a two-part work consisting of a large, hollow vertical
tower that is balanced on one edge of a shorter square base. The pieces are united by the
artist's use of materials: each is stainless steel with a baked enamel interior that is glazed
white. Two sides of the tower are also painted bright white, while the remainder of the
metal surfaces are polished to a shimmery, mirror-like surface which reflects and absorbs
any external light, motion, color, or shape.
Beverly Pepper began her career as a painter but switched to sculpture in 1960 after
visiting the Hindu monuments at Angkor Wat in Cambodia. The sight of those stone
monuments, left unattended for centuries, inspired Pepper to explore the relationship
between sculpture and its immediate surroundings.
Maria Scott, Salt Bowl, 1999
A small vessel is contained within a larger one, surrounded and secured by layers of
bright white rock salt and stubby twigs. The artist has challenged the traditional vessel
form by filling it with non-traditional items. The result is an earthy, textural exploration
for all our senses. The rough, knobby twigs and hard, jagged pieces of salt contrast
sharply with the smooth clay surface. Notice the layers of dark, light and dark again as
you move from the center to the outer edge. This is also visible on the mottled exterior.
We can imagine the taste of the salt as well as the sound of crunching twigs.
Maria Scott was born and raised in Chicago but has lived in Kalamazoo since 1984
following her graduation from Siena Heights College. Although she sketches new ideas
constantly, she rarely works from them. Most often, she allows her sculptures to follow
their own course. Her hand built forms are bisque-fired, then buried in sawdust which is
set on fire. The burning sawdust leaves the artwork with a smoky finish that the artist
feels suits her forms.
Noi Volkov, Leonardo's Beauty, 2004
Born in 1947, in a small village in Russia, Volkov was immersed in a formal art
education from the time he was in middle school. He was awarded a Masters degree in
Fine Art and Ceramics from the exclusive Mukchina Institute of Art and Design in
Leningrad.