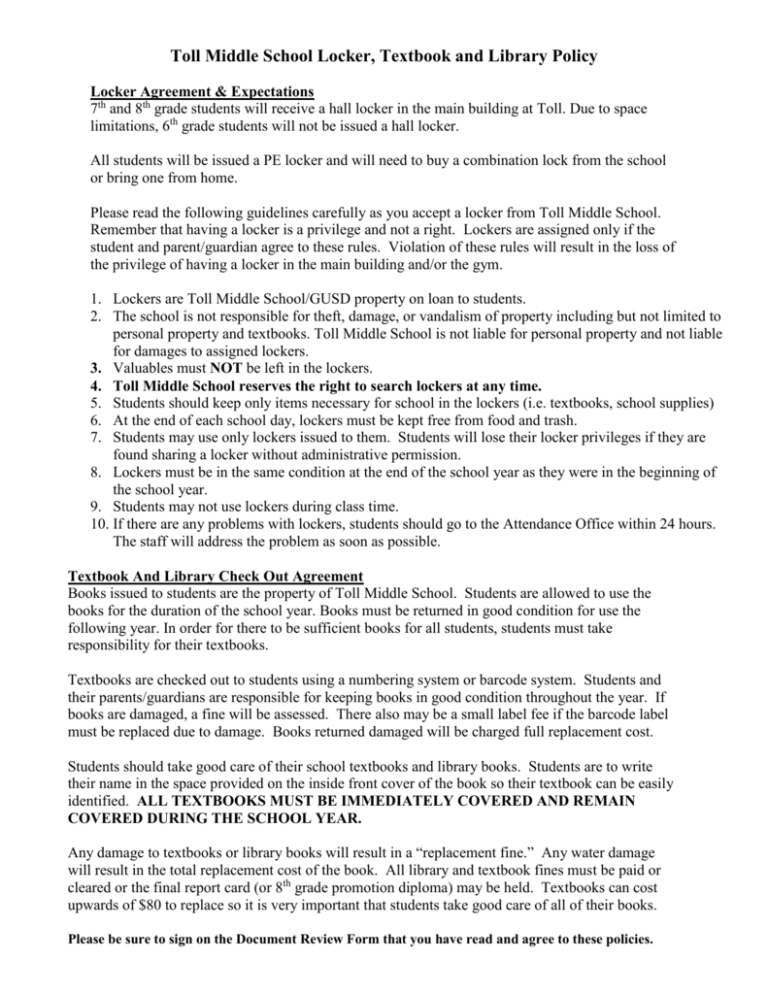 Toll Middle School Locker, Textbook and Library Policy
Locker Agreement & Expectations
7th and 8th grade students will receive a hall locker in the main building at Toll. Due to space
limitations, 6th grade students will not be issued a hall locker.
All students will be issued a PE locker and will need to buy a combination lock from the school
or bring one from home.
Please read the following guidelines carefully as you accept a locker from Toll Middle School.
Remember that having a locker is a privilege and not a right. Lockers are assigned only if the
student and parent/guardian agree to these rules. Violation of these rules will result in the loss of
the privilege of having a locker in the main building and/or the gym.
1. Lockers are Toll Middle School/GUSD property on loan to students.
2. The school is not responsible for theft, damage, or vandalism of property including but not limited to
personal property and textbooks. Toll Middle School is not liable for personal property and not liable
for damages to assigned lockers.
3. Valuables must NOT be left in the lockers.
4. Toll Middle School reserves the right to search lockers at any time.
5. Students should keep only items necessary for school in the lockers (i.e. textbooks, school supplies)
6. At the end of each school day, lockers must be kept free from food and trash.
7. Students may use only lockers issued to them. Students will lose their locker privileges if they are
found sharing a locker without administrative permission.
8. Lockers must be in the same condition at the end of the school year as they were in the beginning of
the school year.
9. Students may not use lockers during class time.
10. If there are any problems with lockers, students should go to the Attendance Office within 24 hours.
The staff will address the problem as soon as possible.
Textbook And Library Check Out Agreement
Books issued to students are the property of Toll Middle School. Students are allowed to use the
books for the duration of the school year. Books must be returned in good condition for use the
following year. In order for there to be sufficient books for all students, students must take
responsibility for their textbooks.
Textbooks are checked out to students using a numbering system or barcode system. Students and
their parents/guardians are responsible for keeping books in good condition throughout the year. If
books are damaged, a fine will be assessed. There also may be a small label fee if the barcode label
must be replaced due to damage. Books returned damaged will be charged full replacement cost.
Students should take good care of their school textbooks and library books. Students are to write
their name in the space provided on the inside front cover of the book so their textbook can be easily
identified. ALL TEXTBOOKS MUST BE IMMEDIATELY COVERED AND REMAIN
COVERED DURING THE SCHOOL YEAR.
Any damage to textbooks or library books will result in a "replacement fine." Any water damage
will result in the total replacement cost of the book. All library and textbook fines must be paid or
cleared or the final report card (or 8th grade promotion diploma) may be held. Textbooks can cost
upwards of $80 to replace so it is very important that students take good care of all of their books.
Please be sure to sign on the Document Review Form that you have read and agree to these policies.