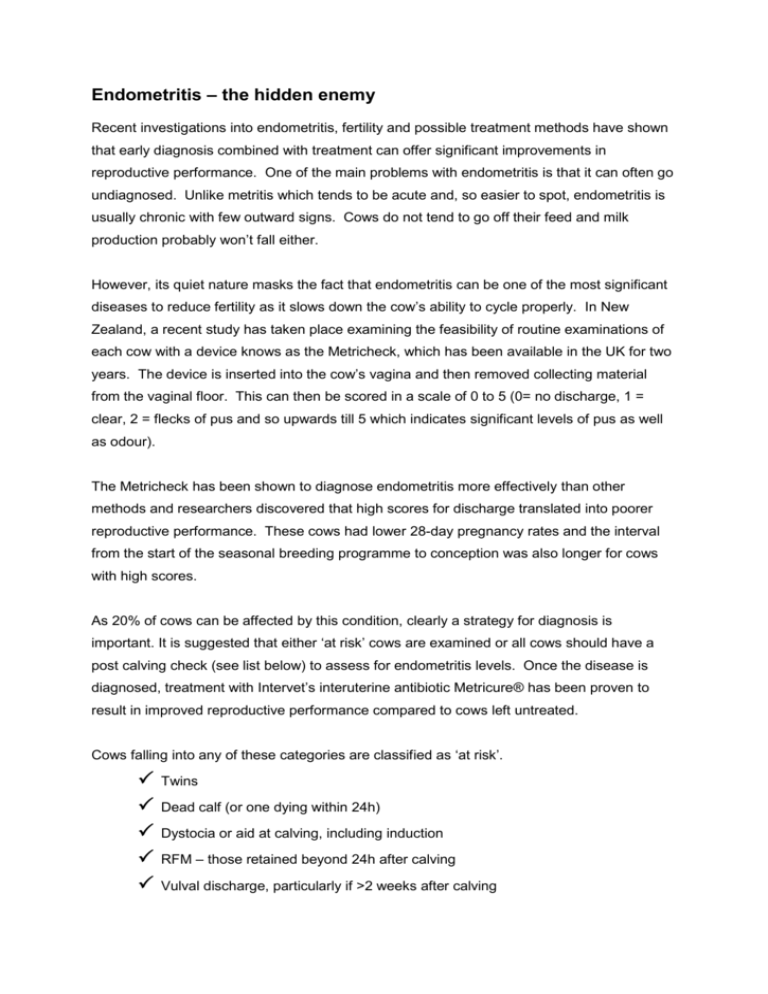 Endometritis – the hidden enemy
Recent investigations into endometritis, fertility and possible treatment methods have shown
that early diagnosis combined with treatment can offer significant improvements in
reproductive performance. One of the main problems with endometritis is that it can often go
undiagnosed. Unlike metritis which tends to be acute and, so easier to spot, endometritis is
usually chronic with few outward signs. Cows do not tend to go off their feed and milk
production probably won't fall either.
However, its quiet nature masks the fact that endometritis can be one of the most significant
diseases to reduce fertility as it slows down the cow's ability to cycle properly. In New
Zealand, a recent study has taken place examining the feasibility of routine examinations of
each cow with a device knows as the Metricheck, which has been available in the UK for two
years. The device is inserted into the cow's vagina and then removed collecting material
from the vaginal floor. This can then be scored in a scale of 0 to 5 (0= no discharge, 1 =
clear, 2 = flecks of pus and so upwards till 5 which indicates significant levels of pus as well
as odour).
The Metricheck has been shown to diagnose endometritis more effectively than other
methods and researchers discovered that high scores for discharge translated into poorer
reproductive performance. These cows had lower 28-day pregnancy rates and the interval
from the start of the seasonal breeding programme to conception was also longer for cows
with high scores.
As 20% of cows can be affected by this condition, clearly a strategy for diagnosis is
important. It is suggested that either 'at risk' cows are examined or all cows should have a
post calving check (see list below) to assess for endometritis levels. Once the disease is
diagnosed, treatment with Intervet's interuterine antibiotic Metricure® has been proven to
result in improved reproductive performance compared to cows left untreated.
Cows falling into any of these categories are classified as 'at risk'.





Twins
Dead calf (or one dying within 24h)
Dystocia or aid at calving, including induction
RFM – those retained beyond 24h after calving
Vulval discharge, particularly if >2 weeks after calving


Metabolic disorder (e.g. milk fever)
Any other peri-parturient disease
For more information about identifying and presenting your 'at risk' cows and using the
Metricheck to diagnose endometritis, contact the practice.