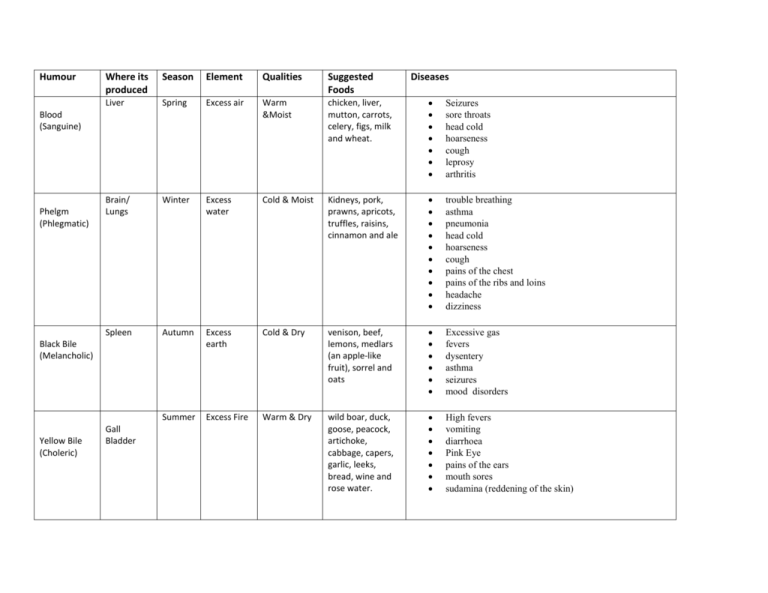 Humour
Where its
produced
Season
Element
Qualities
Suggested
Foods
Liver
Spring
Excess air
Warm
&Moist
chicken, liver,
mutton, carrots,
celery, figs, milk
and wheat.







Seizures
sore throats
head cold
hoarseness
cough
leprosy
arthritis
Brain/
Lungs
Winter
Excess
water
Cold & Moist
Kidneys, pork,
prawns, apricots,
truffles, raisins,
cinnamon and ale










trouble breathing
asthma
pneumonia
head cold
hoarseness
cough
pains of the chest
pains of the ribs and loins
headache
dizziness
Spleen
Autumn
Excess
earth
Cold & Dry
venison, beef,
lemons, medlars
(an apple-like
fruit), sorrel and
oats






Excessive gas
fevers
dysentery
asthma
seizures
mood disorders
Summer
Excess Fire
Warm & Dry
wild boar, duck,
goose, peacock,
artichoke,
cabbage, capers,
garlic, leeks,
bread, wine and
rose water.







High fevers
vomiting
diarrhoea
Pink Eye
pains of the ears
mouth sores
sudamina (reddening of the skin)
Blood
(Sanguine)
Phelgm
(Phlegmatic)
Black Bile
(Melancholic)
Yellow Bile
(Choleric)
Gall
Bladder
Diseases
Symptoms
Dry Symptoms
Wet Symptoms
Cold Symptoms
Warm Symptoms
Loss of strength; trouble sleeping; rough skin; worse in autumn
Tired; trouble digesting foods; sleepiness; excess mucus; rough skin; diarrhea;
swollen eyes
Fever; Lack of thirst; weak joints and muscles; achy joints; worse in winter
Inflammations and high fevers; high pulse; excessive thirst; bitter tastes;
heartburn; lack of energy. Worse in summer
Helpful Herbs
Middle Ages Medicine to treat the Black Death
The Black Death held a massive mortality rate of between 30 and 40%. Victims had no idea what had caused the disease. And
neither did the doctors in the Middle Ages. The Black Death was treated by lancing the buboes and applying a warm poultice
of butter, onion and garlic. Various other remedies were tried including arsenic, lily root and even dried toad.
Medieval Medicine to treat Headache and Aching joints
Head Pains were treated with sweet-smelling herbs such as rose, lavender, sage, and bay. A mixture of henbane and hemlock
were applied to aching joints. Coriander was used to reduce a fever.
Middle Ages Medicine to treat Stomach Pains and Sickness
Stomach pains and sickness were treated with wormwood, mint, and balm.
Middle Ages Medicine to treat Lung Problems
Lung problems were given the medical treatment of a medicine made of liquorice and comfrey. Horehound cough syrups and
drinks were prescribed for chesty and head-colds and coughs.
Middle Ages Medicine to treat Wounds
Wounds were cleaned and vinegar was widely used as a cleansing agent as it was believed that it would kill disease. Mint was
also used in treating venom and wounds. Myrrh was used as an antiseptic on wounds. Yarrow, or Achillea was used to treat
headaches and wounds, especially battle wounds.
Urine Color Analysis
White or colorless
urine generally indicates a Cold temperament prevailing in the organism; there is insufficient metabolic heat to adequately
ripen the toxins and other wastes for elimination. Besides coldness, colorless, watery urine can also be due to excessive
fluid consumption, and consequently fluid elimination, which is diluting the urine; if such is the case, the volume of urine
being passed will usually be copious.
The basic normal color of urine, if it is to have color, is various shades of yellow. This typical yellow color we now know
to be due primarily to the presence of uric acid, but it was traditionally considered to be a manifestation of the action of the
Metabolic Heat; the greater the heat, the darker the shade of yellow. Galen considered the yellowness of the urine to be a
byproduct or waste product, of the hot, bilious humor in the liver.
Straw yellow and
citron yellow
Avicenna, in his Canon of Medicine, describes the various possible shades of yellow as: straw yellow, citron yellow, reddish
yellow, orange-yellow, flame yellow; saffron yellow, also called perfect yellow; and saffron colored, or bright red.
, Avicenna states, denote a balanced, normal heat level and an equable temperament. Lighter shades of yellow would
be colder in temperament.
saffron and flame
The darker shades of yellow denote a hotter, bilious temperament. This is particularly true of acute hot natured diseases.
With extreme heat, the urine can even be brownish in color. Insufficient fluids can also concentrate the urine and turn it
a darker color. And then, a bright yellow colored urine can also be due to the consumption of vitamin supplements.
red
Obviously, urine tinted usually indicates the presence of blood, or hematuria; most commonly, there is bleeding in the
bladder, kidneys or urinary tract. Some foods, like saffron or beets, may color the urine red.
Brown
urine is usually a very concentrated form of yellow, denoting an extremely hot or bilious temperament. Brown urine is
usually associated with biliousness, jaundice, or the abnormal charring of bile. The heat level is even greater if the urine
burns when being excreted.
Green
urine generally indicates a lack of Innate Heat, and an insufficient combustion or coction of the humors. A bright
rainbow green is usually indicative of poisoning, and is particularly serious if no sediment is present. A green
resembling bronze rust or patina indicates a total extinguishing of the Innate Heat, and is usually terminal.
Black, dark brown,
gray or ashen
shades of urine are generally associated with black bile. A greenish black denotes the presence of normal black bile. A
brownish black is associated with Sanguineous forms of black bile. Black urine that is very dark is a grave sign; it can
either indicate a high level of charring, or oxidation; great interior cold; impending death; or a great catharsis of
superfluous black bile.
The passing of dark or abnormal shades of urine can be a good sign if it occurs in acute diseases, especially at the time
of the crisis, which is a catharsis, or cleansing of morbid matter from the body. If seen at the commencement or at the end
of an acute illness, however, it is generally an ominous sign. Dark urine passed in the elderly, or in the chronically ill, does
not bode well, and often indicates a great destruction of the internal organs and tissues.